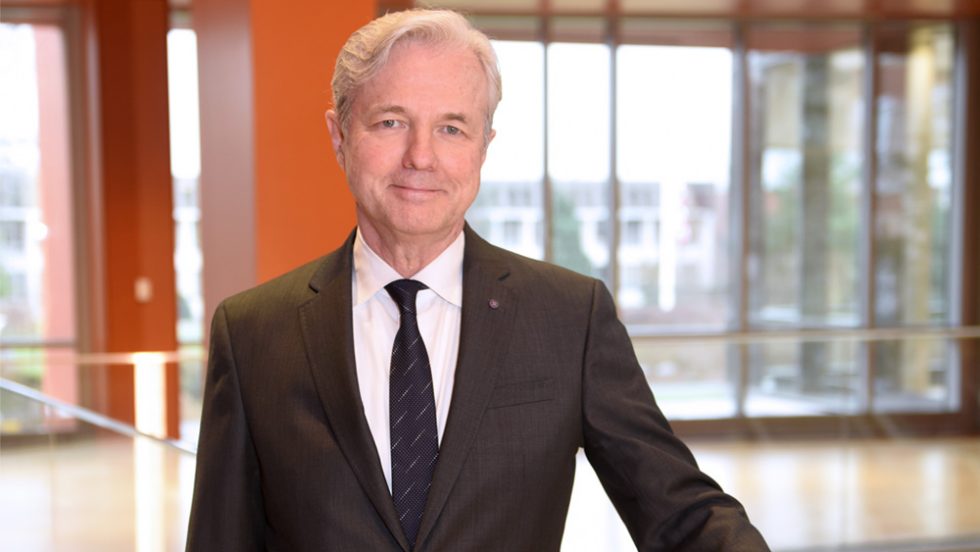 Provost Steve Everett, DMA, connects music composition to computer literacy and how technology shapes cognition.
Provost Steve Everett, DMA, connects music composition to computer literacy and how technology shapes cognition.
Steve Everett, DMA, was something of an outlier among music students. The young man who would go on to become an innovative composer and—as of last summer—Adelphi's provost was fascinated by the nascent field of what was then called "computer music." His studies required an education in both composition and computer science, leading him into realms that have since become commonplace.
"In the '70s, when I was in college and started to compose, electronic music was one little closet with all this crazy equipment," he remembered. "It was never a part of the mainstream music training…It was always on the side because technology and electronics weren't part of how you trained a composer or a musician."
It's hard to imagine that now, when many incoming first-year music students have spent the better part of their lives composing, performing and recording music on their laptops and then posting them on the web. But such ease of creating and sharing work is far from the struggles Dr. Everett faced as a student.
"You would program and then you'd wait for days or sometimes weeks to generate a score. Then you'd translate that into sound," he said. "Today, a laptop is the tool for composers. You almost can't be a composer or musician without deep knowledge of how to use technology."
As the laptop became a tool of the trade for composers, Dr. Everett found ways to adapt the software he uses to aid in the study of cognitive disorders, such as epilepsy and Alzheimer's disease. He's also seen computer literacy become a standard part of the music curriculum at traditional institutions like the Juilliard School. Using computers is no longer a rarefied practice.</p>
Tuning In to Tech
With digital literacy now an essential skill in almost any profession, a college education includes not just specific understandings of technology and coding but also a new kind of critical thinking, Dr. Everett said. Students need to learn how to distinguish between evidence-based reports and the pseudo-news they find online and to recognize the difference between opinions and peer-reviewed studies, whether in print or online. They need to be taught how to "take primary evidence and still run it through the critical analysis that's part of the process. It's something I'm constantly vigilant about, and you can see the results when you don't have people trained for an ethically engaged, data-driven world," he said, referencing the Cambridge Analytica–Facebook interference during the 2016 presidential election.
Part of the needed training that any university should provide includes knowing when to step away from the screen, Dr. Everett noted. "We have to always be able to step back and understand what technology is doing to our cognitive capacities and what it does to help us achieve our intended goals."
Adelphi has done a good job in advancing digital literacy training, Dr. Everett said, citing the new minor in scientific computing—the first of its kind on Long Island—that Adelphi will offer this fall in partnership with Brookhaven National Laboratory.
But there's room to grow. "I want to have those discussions with our faculty here," he said. "We can't ignore questions about digital literacy and how we teach our students to use those skills."