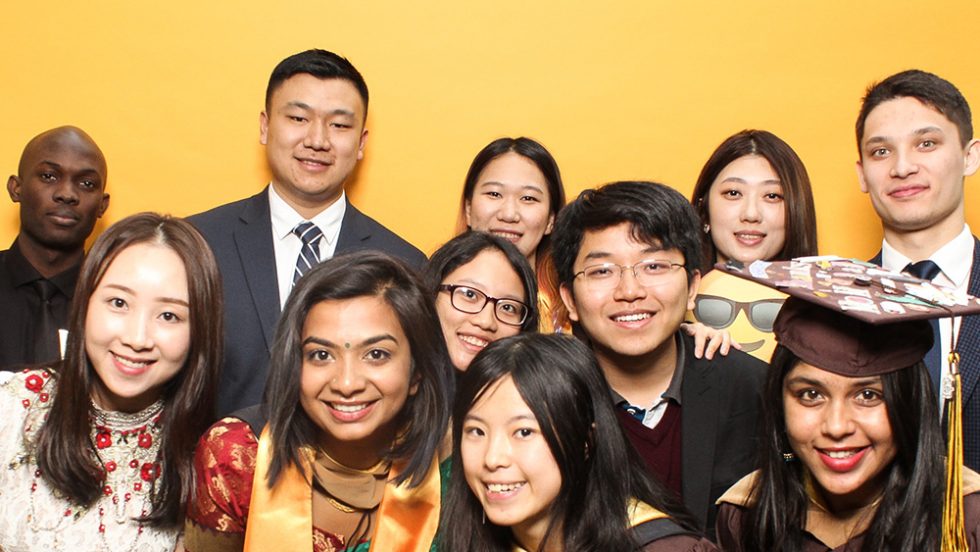 In the fall of 1926, the first international student crossed the Atlantic to attend what was then Adelphi College. Today, young men and women come from all over the world to attend Adelphi.
In the fall of 1926, the first international student crossed the Atlantic to attend what was then Adelphi College. She was from the University of Grenoble in France, receiving free tuition thanks to a vote by the Adelphi University Board of Trustees. Her presence represented an attempt to establish "… a deeper Franco-American sympathy, particularly in these times," in the words of Adelphi's president at the time, Frank D. Blodgett.
Today, young men and women come from all over the world to attend Adelphi. A recent effort in the past two years has helped increase the number of international students 62 percent, from 371 to 602, said Shannon Paul, Adelphi's director of international admissions.
Most of Adelphi's current international students are from China, Saudi Arabia, Vietnam, South Korea and India. But students from countries as far-flung as Uzbekistan, Ethiopia, Bhutan and Azerbaijan are here, too, attracted by the University's growing international reputation and rankings: Forbes America's Top Colleges, Wall Street Journal / Times Higher Education College Rankings—up 13 points, Money magazine Best College and a new College Factual ranking for the Robert B. Willumstad School of Business as one of the top business schools in New York state. The news has spread far: This fall, Adelphi welcomes its first student from Mongolia to the Honors College.
In the past two years, Adelphi has attracted students from 57 countries. Most international students attend the School of Business, but computer science is also popular for undergraduates. Many graduate students attend the College of Nursing and Public Health.
"Adelphi has had a really long history with international student recruitment," Paul said.
Nationally, this has been a difficult time for American universities seeking to attract international students. Colleges nationally have seen international applications decline 7 percent, mainly due to increased visa restrictions and the social and political climate in the United States, according to press reports.
But this makes Adelphi's population increase even more impressive, Paul said. "It is a huge goal of ours to continue to project our college as a welcoming and safe environment," she said.
Adelphi attributes much of its recent success to Adelphi International, a campus partner that actively recruits students from abroad. The organization acts as a one-stop shop to assist international students, designing curriculum, creating schedules, and offering advising services and other support, including career development courses and internship assistance.
Adelphi International's support begins at the airport, where students are picked up on arrival. A two-day orientation before school starts includes a basic primer on American quirks—for instance, our proclivity for sandwiches and for ice in beverages, both uncommon elsewhere. Those who need to improve their English can join Adelphi's English for Academic Purposes program.
The University celebrates holidays from around the world, including the colorful Indian festival known as Holi and a Chinese fall festival. It offers programs for international students during breaks, when American students usually go home to visit family, and students are allowed to stay in dorms over the winter and summer breaks for an extra fee. Many international students don't return home for several years while attending Adelphi, Paul said.
Minh Le, now a senior, came from Vietnam to attend the University's nursing program. She knew of Adelphi from her internet searches and was impressed by its proximity to New York City and the many healthcare jobs and internships available there. Meanwhile, her parents were impressed when Paul made a special visit to their home in Hanoi, part of a longer trip to visit prospective students abroad.
"She helped me a lot during the application process," Le said.
After Le arrived in America, she quickly befriended a fellow Vietnamese student. On the down side, it took Le a while to get used to hamburgers and fried chicken. And although initially excited by the concept of snow—it doesn't happen in Vietnam—she quickly decided she didn't like it.
"It melts and everything is a mess," she said.
Isuri Wijesundara, a native of Sri Lanka and a theater performer, graduated from Adelphi in May 2018. She came to New York City before college to attend a conference and fell in love with the region—and the University. She currently works with Adelphi's Office of University Admissions and performs in the New York City area and beyond.
"There was something about Adelphi that felt closer to home, and the people were a lot nicer. It felt more like a community than a school that was just trying to market itself," she said.
As a senior, Wijesundara became president of her class. On campus, she had access to mentors who worked professionally in the theater, as well as great internship opportunities and discounted tickets to Broadway shows.
"I was surrounded by a great community of people, and I was constantly pushed to do my best work," she said.
---
For further information, please contact:
Todd Wilson
Strategic Communications Director 
p – 516.237.8634
e – twilson@adelphi.edu