Adelphi provides powerful services for our military students. Now we're spearheading an initiative to further strengthen this support system.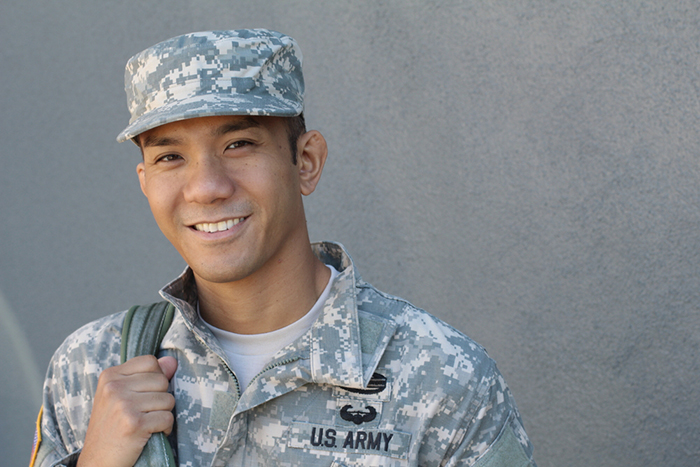 Transitioning into and out of school can be tough for active, reserve and veteran military students, who may grapple with challenges like financial hardship, isolation, disruption and instability. Many of these students turn to Adelphi for an education that fulfills their personal and academic needs.
As a Military Friendly school, we exceed the benchmark standards for campus culture and commitment by 81 percent. We also participate in the Yellow Ribbon program, which provides significant education benefits to veterans, and we are ranked in the top 100 colleges for veterans by U.S. News and World Report.
But while Adelphi already has systems in place to support students who serve our country, new resources are rapidly being designed at the request of President Christine M. Riordan. Perry Greene, Ph.D., vice president for diversity and inclusion, and Christina A. Wease, University College academic adviser, are spearheading the effort. "We've had substantive conversations with the president about what else we could be doing, and we're in the process of putting together a proposal to accomplish that," Dr. Greene said. The plan includes a wide-ranging network of services to engage and empower this student population.
First up is a mentoring program for veterans—modeled after the Adelphi University Mentoring Program led by Chotsani West, director of student mentoring—that will help relieve stress and get students on track to success. Dr. Greene and Wease also aim to implement a specific point of contact in admissions for military students. "Although admissions staff are already very helpful, it would be ideal to have that one dedicated person as a direct contact," Wease explained. Future admissions protocol for military students might also incorporate elements like portfolios and experiential learning, which would translate their nontraditional learning experiences into academic credit.
Other measures on the agenda include focus groups, counseling services tailored to veterans, a mentoring program and an annual alumni event. Wease and Dr. Greene also plan to work more closely with the Center for Career and Professional Development to ensure that students are plugged into job and graduate school opportunities.
Creating more safe spaces for military students is also vital. Wease and Dr. Greene intend to reach out to external audiences that serve veterans, such as counseling centers, veterans affairs agencies and affinity groups. "We're not looking to reinvent the wheel here," Dr. Greene noted. "We want to collaborate and connect our veterans, both with each other and the broader community as effectively as possible."
---
For further information, please contact:
Todd Wilson
Strategic Communications Director 
p – 516.237.8634
e – twilson@adelphi.edu