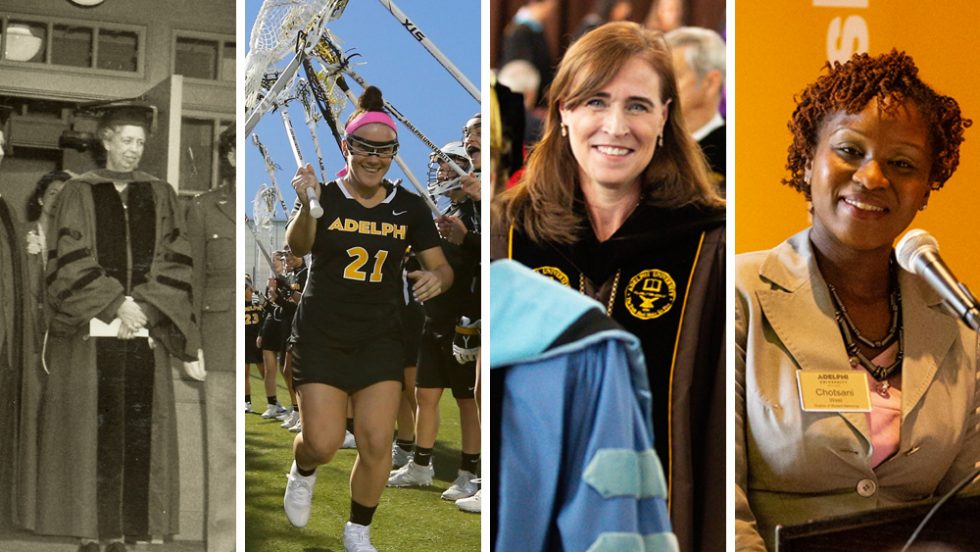 To celebrate Women's History Month, we're highlighting some notable women who have taught, attended or spoken at Adelphi, as well as how we have advanced education for women over the years.
From its founding, Adelphi has been committed to the belief that female students deserve the same education as their male counterparts. To celebrate Women's History Month, we're highlighting some notable women who have taught, attended or spoken at Adelphi, as well as how we have advanced education for women over the years. A special shout-out goes to Jennifer Fleischner, Ph.D., professor and acting chair of the Department of English and author of A History of Adelphi University, which offers a comprehensive account of women and Adelphi and the history of our University.
A safe space for women's learning
In 1896, Adelphi College was founded and Charles H. Levermore was named our first president. We were the first college in Brooklyn to offer a bachelor of arts degree as well as the first college in Brooklyn for women. Women dove into art, music and other liberal arts studies. By 1912, Adelphi became a college exclusively for women.
A woman in the White House
In 1933, sociology professor Frances Perkins became the first woman appointed to the U.S. Cabinet. Working with presidents Franklin D. Roosevelt and Harry S. Truman, Perkins was the fourth United States Secretary of Labor. Serving the longest in her position, Perkins played a key role in establishing unemployment benefits, pensions, minimum wage and overtime laws, as well as the 40-hour workweek.
I believe I can fly—and dance too
In 1938, renowned dancer Ruth St. Denis became the head of one of the first dance departments at an American university. A year later Adelphi became the first women's college in the East to offer courses in aviation. We don't offer courses in aviation anymore, but our dance department is stronger than ever. Notable faculty and alumni over the years include Pearl Lang, Hanya Holm, Carmen de Lavallade '03 (Hon.) and Melissa Riker '96.
The first lady dedicates our first dormitories
In 1944, first lady Eleanor Roosevelt dedicated our first dormitories, Harvey Hall and Alumnae Hall, to house nurse cadets. These dormitories, now home to multiple classrooms, were financed by the Federal Works Agency to increase the number of nursing students.
Set in stone
Women have not only reflected academic success but made their names known at Adelphi, literally. The School of Education was named in honor of Ruth S. Ammon '42, mother of Carol A. Ammon, M.B.A. '79, '10 (Hon.), Adelphi trustee and benefactor. The Alice Brown Early Learning Center was named after former director of the Early Learning Center, Alice Brown, M.A. '85; the largest residence hall on campus, Earle Hall, for Genevieve Beavers Earle '07, '42 (Hon. LL.D.), the first woman member of the New York City Council; and Waldo Hall for Ruth Fanshaw Waldo '09, one of the first women executives in American advertising. She graduated in 1909 and was an Honorary Life Trustee.
Killing it on and off the field
In 1984, Adelphi had a groundbreaking moment when women's athletics broke off from physical education to officially become a part of Adelphi Athletics. In 2004, Adelphi not only celebrated its 75th anniversary in Garden City, but it also celebrated the women's lacrosse team winning the National Collegiate Athletic Association (NCAA) Division II Championship, the first national title for a women's program at Adelphi. Also, the women's soccer team advanced to the NCAA Championship game for the first time since 1992. In the following year, 2005, Adelphi celebrated 30 years of women's athletics. Since then, the women's lacrosse team has seen eight Division II National Championships and athletics has expanded to include such sports as women's bowling, golf and field hockey.
Honoring and hearing successful women
In 2006, Hillary Clinton, a senator at the time, delivered our 110th Commencement address at Nassau Coliseum. Other speakers through the years have included accomplished women such as Jane Goodall, Margaret Atwood, Marian Wright Edelman and Temple Grandin.
Collaborating for women, peace and justice
In December 2006, a group of women faculty members formed the Collaboration Project, a campuswide series of events focusing on women, peace and justice. After a year of successful programming and events, the founders decided to continue the project indefinitely.
Our first female president
In 2015, Christine M. Riordan, Ph.D., became Adelphi's 10th president. Working with a wide array of members of the Adelphi community, Dr. Riordan created a strategic plan, Momentum, and has been diligently working with the Adelphi community to attain the plan's goals, including increasing enrollment. In both 2016 and 2017, Adelphi enrolled two of its largest and most diverse first-year classes ever.
A future full of female leaders
In 2017, Adelphi held its first Women's Leadership Conference. Open to the public, this annual conference allows us to recognize the careers of alumni and friends of the University while providing the opportunity for attendees to network.
"One of the things that I've really been passionate about is empowering women and helping women develop," said Dr. Riordan at the first Women's Leadership Conference. "I don't feel like I've made enough progress, and I don't feel like we've made enough progress. But that doesn't mean that we stop."
Our commitment continues
This month will include events relating to women's empowerment and academic success.
On March 10, at a conference titled after their book, Why Does Patriarchy Persist?, renowned feminists and authors Carol Gilligan, Ph.D., and Naomi Snider, LL. M., will be discussing their book and how patriarchal gender codes can set us on a path of despair.
Every Friday through April 20, the Herstory Workshop will be sharing powerful stories about empowering others. The workshop is held in Homeplace Lounge, Alumnae Hall, Room 111A from 1:00 p.m. to 3:00 p.m.
On March 26, Adelphi University Libraries, in collaboration with other campus departments and organizations and the Long Island Women's Diversity Network, will be holding Human Library Adelphi, where the books are people who are selected by "readers" to share their stories. This year's Human Library will center on the stories of women and nonbinary individuals.
To keep the empowerment going into next month, on April 6, we plan to be part of 12,000 Voices, an all female reading of Twelve Angry Men. On April 10, the Center for Student Involvement will host Take Back the Night, featuring student performances and a march around campus to promote ending sexual violence and creating safe communities.