Can women entrepreneurs succeed in male-dominated, conservative countries? Research by Murat Erogul, Ph.D., assistant professor of management, shows they can—as long as they practice what he calls "strategic disobedience."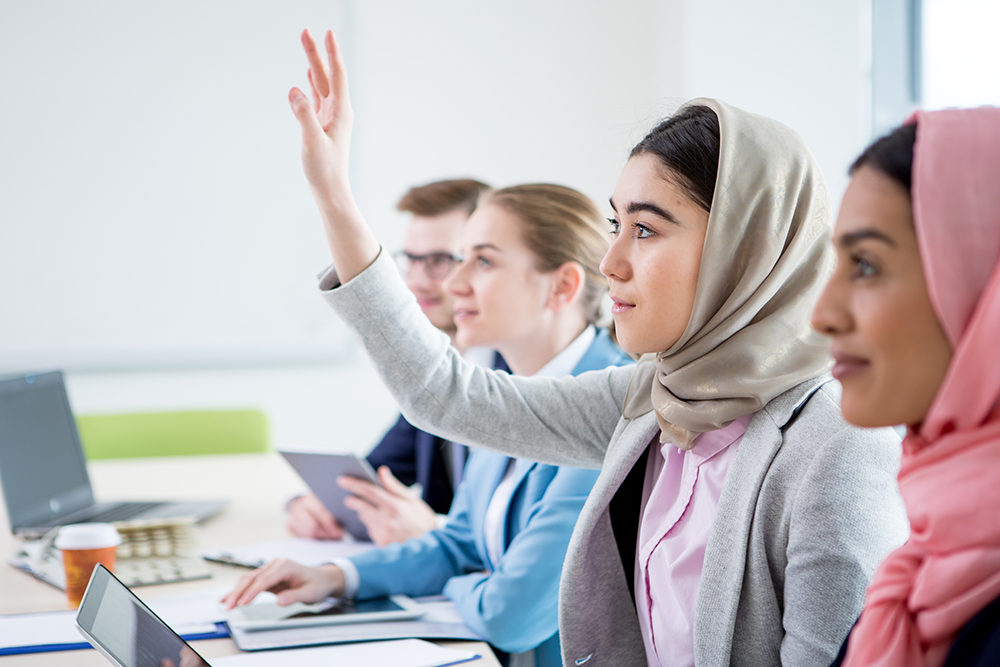 Operating a successful business is a challenge for any entrepreneur. Now add the challenge of being a woman entrepreneur in a male-dominated conservative society. Then add the layer of being a woman entrepreneur in an Islamic country, where religious teaching provides the foundation for patriarchal culture, and success for many is even more elusive.
What kind of woman succeeds under these circumstances? How does she?
A long-held interest in the status of women in patriarchal societies is what prompted Murat Sakir Erogul, Ph.D., assistant professor of management at Adelphi University, to research the subject of female entrepreneurs in developing and emerging countries including the United Arab Emirates (UAE), Saudi Arabia, Ghana, Turkey and Mexico.
Dr. Erogul recently published an article, "Strategic (dis)obedience: Female entrepreneurs reflecting on and acting upon patriarchal practices," in the journal Gender, Work & Organization. He collaborated with Salvador Barragan, Ph.D., of Thompson Rivers University in Canada and Caroline Essers, Ph.D., of Radboud University in the Netherlands.
Strategic disobedience, Dr. Erogul said, describes how women deviate from society's prescribed gender roles by using persuasiveness, determination and persistence to make the changes necessary to start businesses and succeed.
"I call it micro-emancipation," he said. "You're struggling, but you're making incremental progress as time goes by. You're establishing some sort of cooperation with the men who are the dominators. These women manage to organize themselves and organize the collective group to support their goals."
Under normal circumstances, a man would find it difficult to persuade women in Islamic societies to speak candidly about this subject. However, Dr. Erogul, who lived in the UAE for 11 years and taught at Zayed University in Dubai when the school was for women only, had established the credibility and trust required to conduct the interviews for his research.
"I learned that the women who are successful are able to change the minds of their male family members," he said. "It could be a father, a brother, a husband or all of them. These women use their communication skills, collaborative skills and persistence to change these men from dominators to network partners. These women are able to convince a man to escort her to a business meeting, particularly a meeting in the evening, or travel outside of the country with her."
Women in Saudi Arabia were not issued driver's licenses until June 2018. Women in the UAE and many other Gulf Cooperation Council countries (GCC) are permitted to drive. But for these women, having rights and exercising them can be two distinctly different things.
"Women told me that getting a driver's license took a lot of patience and constant communication and negotiation with the men in their lives," Dr. Erogul said. "Without a car, without the independence to drive when and where you want, women entrepreneurs can find it quite difficult to meet with potential customers, suppliers and distributors."
Additionally, Dr. Erogul found, women seeking to expand their business—to sell products to male customers as well as females, for example—have to engage in strategic disobedience in a society where any interaction with a man who is not a family member could be misinterpreted.
Dr. Erogul is involved in other research projects, including an examination of Turkish women in the armed forces, an analysis of internet and technology usage by women entrepreneurs in Ghana, and a study of women entrepreneurs in Mexico.
"The challenges women entrepreneurs face in Mexico don't have the same religious tones as in Islamic countries; Catholicism has some influence in Mexico, but not nearly as much as Islamic religion in Arab countries," he said. "In Mexico, the challenge is more about the culture—what men don't want women to do—rather than the religious teachings."
Establishing a unique area of research, Dr. Erogul is adding to our understanding of how women of different cultures on different continents are defining ways to overcome patriarchal constraints and achieve success.
---
For further information, please contact:
Todd Wilson
Strategic Communications Director 
p – 516.237.8634
e – twilson@adelphi.edu