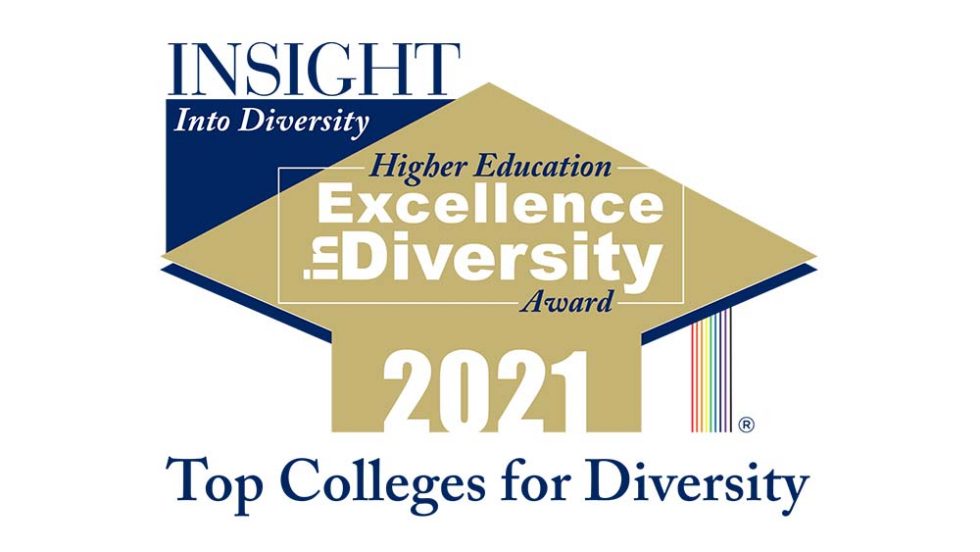 For the fourth year in a row, Adelphi has won a top national award for its commitment to fostering diversity, equity and inclusion (DEI) on its campus.
The 2021 INSIGHT Into Diversity Higher Education Excellence in Diversity (HEED) Award honors universities that foster diversity among students, faculty and staff. Adelphi was named a Top College for Diversity, an honor roll of sorts for universities that are working to make their campuses reflect the diversity of their communities and the nation. The award is given by INSIGHT Into Diversity magazine, the oldest and largest diversity-focused publication in higher education. Adelphi won honors for programs that encourage cultural, religious, gender, socioeconomic and international diversity, as well as neurodiversity.
"This award is the result of teamwork," said Jacqueline Jones LaMon, JD, vice president of diversity, equity and inclusion. "I can point to so many initiatives, so many different groups at the University that have done the work to yield these results. I'm grateful our hard work is seen and recognized."
Adelphi's strategic plan, Momentum, prioritizes making the University "a model of diversity and inclusion. " Winning the HEED Award shows that goal is being realized," LaMon said.
Some of the Adelphi's standout DEI programs and initiatives include:
LGBTQIA+ Programs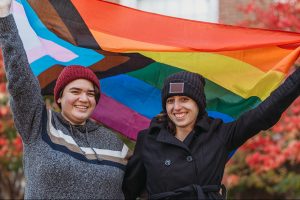 In 2021, Adelphi began supporting transgender students and employees who elect to change their names on their ID card without legally changing their names. The University also created an LGBTQ+ and Allies Excellence Fund to pay for scholarships for LGBTQIA+ students. And the newly created LGBTQIA+ Empowerment Group provides a support network for students to meet and discuss topics relevant to the LGBTQIA+ community. Adelphi's commitment to this community has raised the University's overall rating on the Campus Pride Index—a nationally recognized measure of LGBTQ-friendliness—to 87 percent. That's 30 points higher than it was five years ago.
Support for Neurodivergent Students
Adelphi's pioneering Learning Resource Program, created in 1979, established the University's reputation for supporting neurodivergence in its students. The Bridges to Adelphi program, created to support students on the autism spectrum, continues the tradition. The graduation rate of students in the Learning Resource Program is nearly double the national average for students with learning disabilities.
Diversity in STEM
The

 

Horace G. McDonell Science Research Fellowship program

 

awards grants to outstanding chemistry, biology and physics students allowing them to spend 10 summer weeks conducting research in Adelphi labs. Two-thirds of McDonell fellows have been women, a group that's vastly underrepresented in the STEM workforce. The program won an

 

INSIGHT Into Diversity

 

Inspiring Programs in STEM Award in 2018.
The New York Noyce STEAM Pipeline Program

r

ecruits, supports and prepares students from underrepresented groups for careers as science teachers. Students earn an MA in education and a New York State Teaching Certificate in five years. The program pays $26,000 in tuition for the graduate program and trains participants in STEAM (STEM + Art and Design) practices they can use to teach students in grades seven through twelve.

 

INSIGHT Into Diversity

 

magazine gave the program its 2019 Inspiring Programs in STEM Award.
Adelphi's Collegiate Science and Technology Entry Program (CSTEP) and Science and Technology Entry Program (STEP) won

 

INSIGHT Into Diversity's

 

2021 Inspiring Programs in STEM Award. The program supports students from underrepresented groups who are pursuing careers in STEM and health-related fields.
First-Generation and Historically Underrepresented Students
The Nassau-Adelphi Gateway, a college bridge program launched in 2021, partners with Nassau Community College to allow its students to live on Adelphi's campus while taking courses. The program's goal is streamlining the path to a four-year degree for first-generation college students and historically underrepresented groups. The program builds on the success of the Personalized Enrollment Initiative (PEI) that connects prospective students from underrepresented groups with faculty and staff members throughout the admissions process. PEI won an Eduventures Innovation Award and resulted in the 2021 incoming first-year class being the most diverse in Adelphi's history.
Social Justice Education
More than 1,000 students, faculty and staff took part in Creating Ongoing Respect and Equity (CORE) training in 2021, a series of workshops that address diversity, equity and inclusion. The courses cover racism, implicit bias, microaggressions and gender bias and teach participants how to recognize and confront these issues. The executive board members of all student organizations took CORE training to empower them to run better clubs and organizations and use their leadership positions to make Adelphi a safe and equitable space for all.
"That's a program we should all be proud of," LaMon said. "It's very difficult to change minds, to undo histories of oppression and disregard to inequities. We're teaching students to take that lesson outside of Adelphi, to take that lesson home to their family dinner table. We want to impact the world, not just our campus."