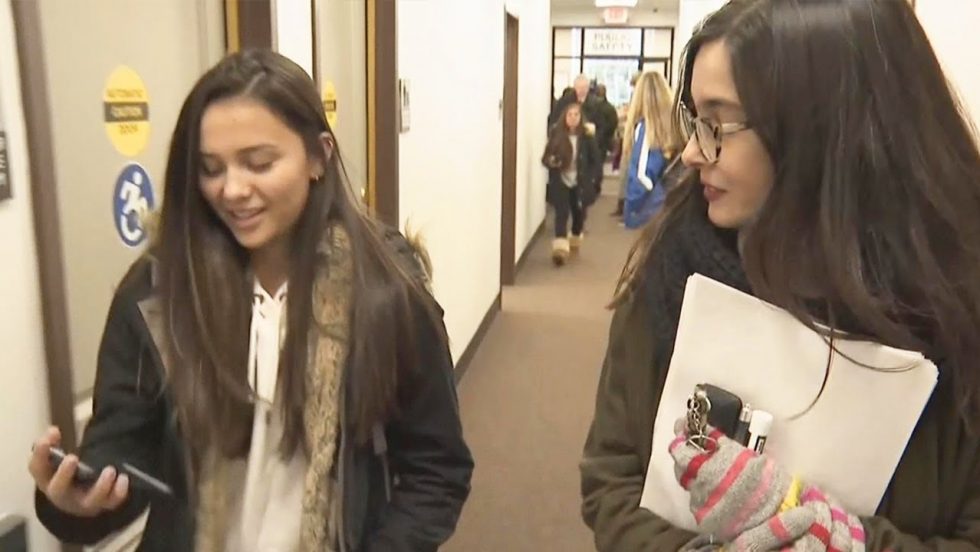 One class of first-year students took on the challenge of giving up their smartphones for an entire week in an effort to do what Donna Freitas, PhD, visiting professor of English, calls "unplugging."
It is no secret that smartphones have become an addiction for most of us, so much so that being without them seems like an impossible task. From November 7 to November 14, one class of first-year students took on the challenge of giving up their smartphones for an entire week in an effort to do what Donna Freitas, PhD, visiting professor of English, calls "unplugging."
The voluntary weeklong experiment was part of a first-year seminar course taught by Dr. Freitas called Life Unplugged (Fight the Feed). Dr. Freitas, author of Unplugged (Harper Teen, 2016) and The Happiness Effect: How Social Media is Driving a Generation to Appear Perfect at Any Cost (Oxford, 2017), is passionate about helping young people form healthier relationships with technology. It was this passion that inspired the theme of her course, which, she said, is "designed to interrupt your current usage and relationship with your devices and your social media platforms and avatars."
To ensure the students weren't tempted to cheat, they turned their cellphones in to officers in Adelphi's Department of Public Safety and Transportation, who held the phones for the duration of the experiment. Dr. Freitas joined in on the experiment by giving up her phone as well.
"I've become more and more concerned by my students' inability to sustain attention," said Dr. Freitas. "I'm interested in them just experiencing life and conversation and relationships without constantly grabbing for their phones." Through this experiment, she hopes her students consider the question, "What does it mean to live constantly interrupted?"
Although students gave up their phones, they were permitted to use other forms of technology, including laptops, desktop computers and tablets.
To prepare for the experiment, students made alternative communication plans with their parents, such as using email, a landline (if they could find one) or designating a friend as an emergency contact. Because many students have relied on their smartphones to wake them up in the morning or check the time, they purchased alarm clocks for their bedrooms.
Watch the video from Inside Edition, featuring coverage of the story.
From Cell Phone Fatigue to Withdrawal
On the first day of the experiment, a majority of students said they felt anxious about giving up their smartphones. They worried about how they would stay in touch with friends, wake up for their classes or stay busy while in public. Others said they looked forward to being detached from their phones and hoped they'd get more of their schoolwork done without the distraction of text and social media notifications.
At the halfway point of the experiment, the students returned to class to check in with Dr. Freitas about how they were feeling. Some students mentioned moments of withdrawal during the first days of the experiment and described looking for a device to grab or feeling a phantom vibration or notification. But after a day or two, the students expressed that they had come to enjoy the break from their phones. They said living life uninterrupted had positive effects on their lives—they were more productive with their schoolwork, felt more present while with family and friends, saw positive changes in their sleeping habits and felt more relaxed overall.
"It's really refreshing and relaxing," said Adrianna Cigliano, a first-year student. "I was able to fall asleep a lot easier."
Lessons From Life Without A Cell Phone
On day seven, the students returned to class to be reunited with their phones. When Dr. Freitas asked, "Who is excited to get their phones back?" all hands went up. While the students found the experience worthwhile, they were ready to return to their lives plugged in, but this time with more awareness of how their phones can affect them on a daily basis.
"I originally didn't think I was addicted to my phone, but this class made me realize how much I really am," said first-year student Ashley Castillero. "My screen time is definitely going to go down and I'm going to start to appreciate my surroundings more because usually, I'm looking at my screen all the time."
After students were reunited with their smartphones, they were quickly reminded of how overwhelming these devices can be. When one student-powered her phone back on, more than 200 notifications popped up on the screen. "I just want to turn it back off," she said.
What does Dr. Freitas hope her students consider after the experiment? "I really want them to feel more in control of their usage," she said. "I want them to become users of their phones as opposed to feeling used by their phones."
As students walked back into the world with their phones, she shouted, "Enjoy your phones—try not be zombies!"
The experiment caught the attention of several media outlets, being covered from beginning to end by CBS New York (follow up story), PIX 11 News (follow up story), Newsday and Inside Edition. The story was also shared by Yahoo! News.