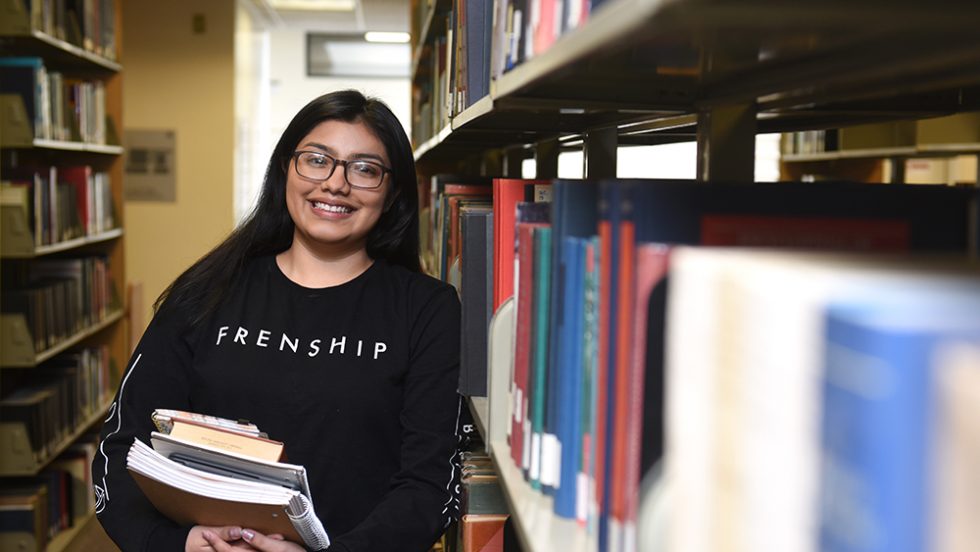 Students who are first in their family to attend college can face different kinds of pressures. Adelphi's personalized resources are designed to help them adjust and succeed.
As the first in her family to attend college, Carla Ojeda faced a great deal of pressure to succeed. In addition to blazing her own path, she'd be setting an example for her two younger sisters. So before she even started at Adelphi University, she frequently visited the campus to ask questions and receive help.
"What am I going to do about financial aid? How do I choose the right courses? All the questions that I would ask older siblings or my parents, I could ask Adelphi faculty," said Ojeda, now a sophomore. "And I'm really grateful, because I got all my questions answered."
Providing Personalized Support
Adelphi supports first-generation college students through a range of programs and resources, like the Mentoring Program and the College Science Advancement Program, which supports underrepresented groups in STEM (science, technology, engineering and mathematics) with workshops and research opportunities. Adelphi also runs the Hispanic Community Partnership Program, inviting Hispanic high school students from local schools to get a taste of college life through a weekend of events at Adelphi.
"For first-generation college students, this might be their first time away from home," said Chotsani West, MA '07, executive director of the Office of Diversity, Equity and Inclusion. "They may be hesitant to ask questions because they think everyone around them knows the answer. We give them the comfort to know that they can ask questions and receive personalized support."
The Power of Mentoring
Mario Romero Ramirez, a first-generation college student who graduated in 2019, thanks the Mentoring Program for helping him navigate his Adelphi experience. The program pairs students with a faculty member or alumnus for one-to-one meetings. In his junior year, Ramirez was paired with adjunct business professor Joseph Celentano, MBA '04.
"In the first meeting, he said, 'I'm just here to listen. And if you need help with something, I'll help,'" Ramirez said. "I'd never had anyone respect my time like that. I thought, 'Wow, not only does this person really care about me, but there's a whole program dedicated to students specifically in my position who need some help finding their direction.' Without his support and advice, I wouldn't have made the choices that led me to where I am now."
Ramirez is now studying for his LSAT exam in hopes of attending law school, and he plans to apply to be an alumni mentor for Adelphi.
"Adelphi made me more comfortable with the idea that I'm allowed to express myself," Ramirez said. "I'm allowed to express my ideology, my background and my struggles without having to feel like I'm carrying the weight of the world on my back."
Going forward, West hopes to expand Adelphi's support by gathering more feedback from first-generation college students about what programs they'd like to see—and which questions they need answered.
"I know that, in the future, I'm always going to have questions," Ojeda said. "There are always going to be new things for me to do and discover. And now I'm confident enough to know that when those questions arise, I'm in the right place to ask them."
---
For further information, please contact:
Todd Wilson
Strategic Communications Director 
p – 516.237.8634
e – twilson@adelphi.edu