Sarah Combs, one of the first students in our new five-year B.A./M.S. in Environmental Studies program, is heading to a remote corner of Minnesota to map the first settlements of the Ojibwe tribe.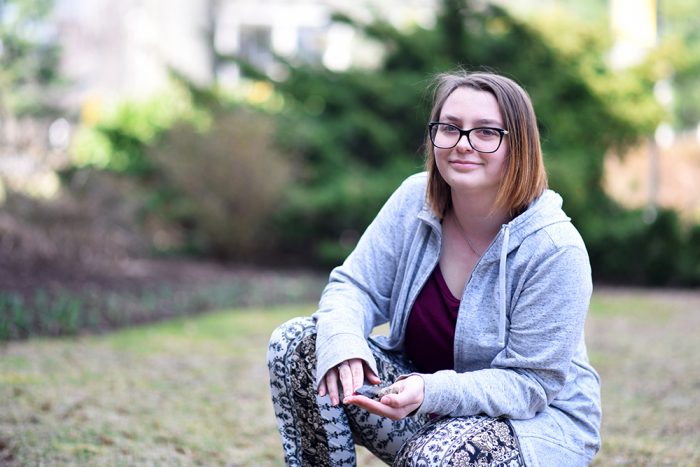 Sarah Combs has just about always been interested in environmental issues. While growing up in Oceanside, New York, she became so disappointed when people would not recycle waste items that she helped start an environmental club at her school.
Now she's among the first group of students in Adelphi's five-year B.A./M.S. program in environmental studies. After receiving her bachelor's degree in May, she will head to Grand Portage National Monument—located within the Grand Portage Indian Reservation on the banks of Lake Superior in the remote northeastern corner of Minnesota—for a powerful learning experience studying the way environmental changes affected the indigenous Ojibwe tribe.
Combs will spend a rough-and-ready summer in the chilly, rugged wilderness as an intern with Geoscientists in the Parks, a program run by The Geological Society of America and the National Park Service. She will devote much of that time to a research project with Susan Kilgore, Ph.D., visiting assistant professor of environmental studies at Adelphi, to map the Ojibwe's first settlements and document how environmental changes, such as retreating ice sheets and receding water levels, impacted them.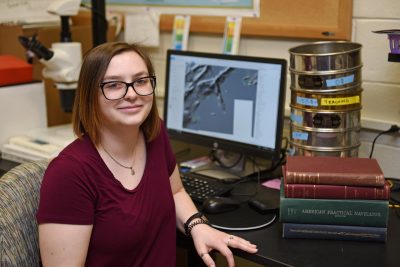 "I'm excited about the project—it's very important to have a chance to learn more about environmental science by being in the field," Combs said. "It's one thing to learn through textbooks, but it's going to be eye-opening to see it in person and do actual research in a national park."
In her coursework, Combs has learned to use two instruments that have been vital to the introductory phase of her research:
Geographic information system (GIS), a computer program designed to capture, store, analyze, manage and present geographic data
Light detection and ranging (LIDAR), a remote sensing tool used to examine the surface of the Earth
"I've used GIS to look for evidence of different shorelines and evidence of inhabitants on Lake Superior," Combs said. "GIS is used in so many different fields, and LiDAR is a valuable tool for looking at the land."
"Sarah and I will go to areas she found through GIS and LiDAR and actually dig into the ground, see what kind of sediment is there and do an in-depth assessment of what the actual land is like in those areas," Dr. Kilgore said. "Sarah will learn many different techniques—how to read the landscape, how to describe sediments and how to know what they indicate based on different factors. She can then take that knowledge and those practical skills and apply them in her graduate courses."
Students in the Adelphi B.A./M.S. in Environmental Science program are required to complete an internship or write a master's thesis. Combs intends to do both before pursuing her career goal.
"I hope to do some kind of research using GIS data after graduation," she said.
Combs will have an advantage over other graduates when it comes to applying for field-based jobs and research projects because of her experiential learning, said Dr. Kilgore, who benefited from an internship at Grand Portage National Monument as a graduate student at the University of Iowa.
"For me, the internship was life changing because it really gave me deeper knowledge and expanded my fields of expertise," Dr. Kilgore said. "For Sarah, there's no substitute for being able to put these experiences on her résumé—the research project and the internship itself. The experiential learning and her having hands-on experience with GIS and LiDAR will give her a leg up."
---
For further information, please contact:
Todd Wilson
Strategic Communications Director 
p – 516.237.8634
e – twilson@adelphi.edu