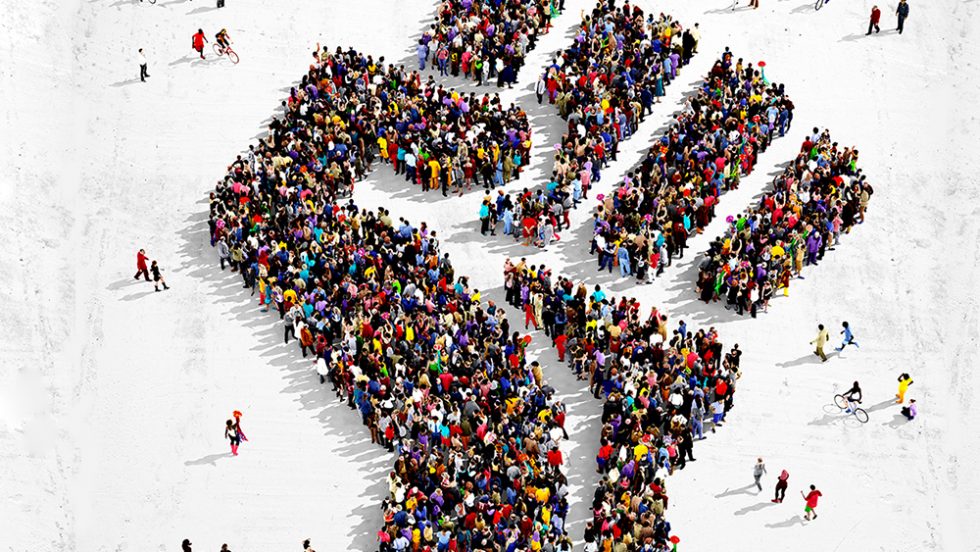 Adelphi has a long-standing commitment to civic engagement and to addressing the challenges facing society. As part of this tradition, a growing number of faculty members are striving to produce research that resonates beyond academia—community-based research that may help resolve issues and enhance quality of life for marginalized populations.
Adelphi faculty transform lives through community-engaged scholarship.
Adelphi has a long-standing commitment to civic engagement and to addressing the challenges facing society. As part of this tradition, a growing number of faculty members are striving to produce research that resonates beyond academia—community-based research that may help resolve issues and enhance quality of life for marginalized populations.
These scholars are reframing their questions to focus on the strengths—rather than the weaknesses—of the populations they study. They are spending time getting to know the people who are participating in their research, then sharing their results with community organizations that can use them to effect sustainable change.
Here is a look at five Adelphi faculty members who exemplify the University's commitment to social justice and whose work is broadening the scope of academic research.
Inspired by a sense of community
For Wahiba Abu-Ras, PhD, a professor in Adelphi's School of Social Work, community has always served as an inspiration for academic work. Dr. Abu-Ras' earliest research was inspired by an event that took place when she was in high school: One of her friends in Illute, the village where she grew up in northern Israel, was murdered to preserve a family's honor.
Early on, Dr. Abu-Ras decided that her responsibility was to raise awareness about the issues faced by Arab and Muslim populations. "As academics, we all came from a community, live in a community and practice in a community," she said. "These communities know more about their needs than any scientist. Our work with them is to plan, design and develop interventions that best fit their needs and that address their concerns through research."
Dr. Abu-Ras has published her findings in dozens of national and international journals. She has examined the rise in bias against Muslims after the 9/11 attacks in 2001 and again after the presidential election in 2016, resulting in the article "Muslim Americans' safety and well-being in the wake of Trump: A public health and social justice crisis" in the January 2018 issue of the American Journal of Orthopsychiatry. She has also taken a hard look at discrimination experienced by Muslim members of the armed forces in "Understanding resiliency through vulnerability: Cultural meaning and religious practice among Muslim military personnel," in Psychology of Religion and Spirituality (August 2015), and drinking among Muslim college students in "Respondent-driven sampling of alcohol use among Muslim undergraduate U.S. college students and alcohol use: a pilot study," in Social Psychiatry and Psychiatric Epidemiology (September 2012).
"Over the past seven years, I have focused most of my scholarship on trauma and mental health issues among Muslim and Arab Americans,"Dr. Abu-Ras said. "These research topics have only received sporadic attention within the Muslim community. My research attempts to fill this gap."
Dr. Abu-Ras, who is also a visiting professor at Qatar's Doha Institute for Graduate Studies, said that her current work, a three-year study designed to identify the barriers to mental health care in Qatar, will have a direct impact on residents of the small Middle Eastern country. The research aims to provide tangible guidelines and policies for the country's mental health care providers, policymakers and administrators. Dr. Abu-Ras regularly attracts large-scale funding for her efforts, such as the $600,000 she received from the Qatar National Research Fund.
Creating scholarship models for the next generation
Melanie E.L. Bush, PhD, associate professor of sociology, is another Adelphi scholar making meaningful investments in new, holistic kinds of scholarship. "There's not one community, there are many communities," noted Dr. Bush. "The University itself is a community. If we're asking whether we at the University need to be part of the world, I would say, urgently, yes."
Dr. Bush's work takes her around the world, where she regularly meets with a wide range of people working on social justice issues both inside and outside the traditional university setting. She is speaking at numerous upcoming events, including Unsettling Paradigms: The Decolonial Turn, a conference at South Africa's University of Pretoria. She organized and will moderate a panel, "The Reshaping of Social Relations through a Global Teaching Collaboration," which includes students from Adelphi and the University of South Africa, based on their discussions in 2018 on topics such as land reform and decolonizing knowledge.
Later this year, Dr. Bush will travel to Ghana for the International Studies Association Conference to speak on the panel "Critical Practices for Collectively Challenging Academic Imperialism." Then she will present on a session she organized with scholars from Mozambique, Mexico and Portugal titled "Solidarity Economy Projects in Diverse Social Contexts," which has been accepted for the upcoming International Sociological Association Forum of Sociology in Brazil.
Dr. Bush also edited Rod Bush: Lessons from a Radical Black Scholar on Liberation, Love, and Justice (Human Architecture: Journal of the Sociology of Self-Knowledge, Edited Collection Series, 2019), an anthology about her recently deceased husband and longtime collaborator. The book brings together more than 20 writers from a variety of fields, which Dr. Bush saw as a learning experience. "All of us benefit from engaging with the community, regardless of our discipline and where we choose to invest our time and energy," she said. "Our scholarship is so much more thoughtful because of that engagement. Our ideas shift when we are among people as they go about living their lives."
Taking advantage of "radical changes" in academia
Chana Etengoff, PhD, assistant professor of psychology, is, like Dr. Abu-Ras, focused on researching subsets of the Muslim community. She has just finished the data collection phase of what will be the largest study to date of LGBTQ Muslims, drawing from a pool of more than 600 participants worldwide. "It's amazing to be able to put together a study of this size," she said. "Those that have been published in the past have had very small sample sizes, sometimes less than 20."
Dr. Etengoff's work on the subject—which includes lectures to medical professionals at colleges and hospitals, papers presented at international conferences, and journal articles—has already garnered attention in the academic community. She was recently awarded a $2,000 Equality Knowledge Project Grant from Eastern Michigan University.
Dr. Etengoff says her work is possible because of what she calls "radical changes" in her field. "Psychology is pretty late to come to the table," she said, pointing out that social work and other fields have been open to more intersectional research methods. In 2017, the American Psychological Association updated its guidelines to include intersectional approaches to research after many years of discussion.
The first article emerging from Dr. Etengoff's research, "Lesbian Muslims' Family Conflicts, Depression and Online Support Experiences," will be published in the forthcoming special issue of the Journal of Homosexuality. "I happen to think that research is only as valuable as it is meaningful," said Dr. Etengoff, who is co-editing the issue and sought to cover a topic that would resonate with the larger LGBTQ community. "Researchers put together these large-scale quantitative studies, but they often aren't meaningful to people outside of academia. When you zoom in on something specific, it can have a much greater impact."
The majority of Dr. Etengoff's research has examined the intersection of sexuality and religion, notably "Gay men's and their religiously conservative family allies' scriptural engagement," which was published in the November 2017 issue of Psychology of Religion and Spirituality. Much of the earlier work on this topic focused on the challenges gay men and others faced when coming out, she notes. But this deficit model failed to tell their whole story.
"My research focuses on the resilience of the community," said Dr. Etengoff. "There were always a lot of success stories out there, but we weren't listening to them. I look at my work as amplifying what they have to say. Then we can think about what lessons we can learn from their experiences and build systems to support them."
Dr. Etengoff is now studying the transgender community, employing a narrative content analysis to explore how this historically marginalized population enacted their own transformative development through the use of online videos. Her article "Transvlogs: Online Communication Tools for Transformative Agency and Development" was just accepted for an upcoming issue of the journal Mind, Culture, and Activity.
Using statistical analysis to illuminate real-world disparities
Ryan Lee-James, PhD, assistant professor in Adelphi's Department of Communication Sciences and Disorders, shares Dr. Etengoff's commitment to broadening the scope of academic research.
Dr. Lee-James is currently investigating the factors that influence the language and reading skills of African American children. "I'm trying to talk about these issues in a more positive light," she said. "We need to figure out what these young people can do rather than what they can't do."
The first step is gathering the data to provide these answers. Dr. Lee-James was among the researchers involved in a study of almost 900 African American elementary school students whose progress was tracked annually for five years. The data, published in the journal Reading & Writing Quarterly in January 2019 as "Reading and Language Performance of Low-Income, African American Boys in Grades 1–5," revealed no statistically significant differences in performance on language or intelligence measures between boys and girls. However, by the fourth and fifth grades, girls had outpaced boys in two measures: reading comprehension and fluency.
Dr. Lee-James is especially interested in the language skills of African American children who are bidialectal, that is, use two dialects of the same language. She addressed this issue in "Language skills of bidialectal and bilingual children: Considering a strengths-based model," published in the January­–March issue of Topics in Language Disorders. Using a strengths-based perspective, Dr. James and her fellow researchers looked at the language skills of bidialectal and bilingual students. "For the most part, these kids are navigating two different worlds and doing it pretty successfully," she said. "Now we need to figure out how to bridge the gap between their strengths and their weaknesses."
Facilitating mental health recovery and community integration
When clinical psychologist Lauren Gonzales, PhD, assistant professor of psychology, discusses her research involving individuals diagnosed with "serious mental illnesses," she emphasizes that none of it would be possible without face-to-face conversations. "My research evaluates social factors affecting the recovery of people diagnosed with mental illnesses," she said. "Think of recovery as the ability to live successfully in the community and to feel a sense of agency and empowerment in their lives. That requires talking with people."
Dr. Gonzales is among the many Adelphi faculty members whose work reflects changing trends in academic research. "Getting more involved in the community is definitely where we are headed in my field," she explained. "And it's a natural progression for universities like Adelphi to do the same thing."
For her own work, Dr. Gonzales engages with people living with diagnoses in the community, asking them about their lives in order to get a real sense of the challenges they face. These discussions often include issues of stigma and discrimination experienced within the neighborhoods in which they reside. Although these topics can seem challenging, Dr. Gonzales reports that the response is often overwhelmingly positive.
"In my experience, people with mental illness diagnoses are very willing to talk and tell their stories," said Dr. Gonzales. "They aren't asked about themselves very often in these contexts. They aren't given a chance to tell their stories from their own perspectives."
The effort has been a rewarding one. In the past year, research conducted by Dr. Gonzales and her colleagues has been published in three peer-reviewed journals: "Can reduced homelessness help explain public safety benefits of mental health court?" in Psychiatry, Public Policy, and Law (May 2018), "The Role of Neighborhood Factors and Community Stigma in Predicting Community Participation Among Persons With Psychiatric Disabilities" in Psychiatric Services (September 2017) and "Association between housing, personality capacity factors and community participation among persons with psychiatric disabilities" in Psychiatry Research (December 2017).
Signs of Progress
For researchers conducting long-term studies of specific populations, changes in the community are beginning to emerge.
Dr. Abu-Ras witnessed this recently when conducting research on Palestinian parents of children with disabilities. Returning to her own village in Israel—the one that inspired her first research more than two decades earlier—she found a community completely transformed.
"I felt so proud of the changes these women made after the case of killing for family honor," she said. "I no longer see weak and vulnerable women who are abused by family cultures and traditions. I found women who stood up for their and their children's rights and who worked together for their family's well-being. I sense the advocacy in their voices and the strength they were able to build."