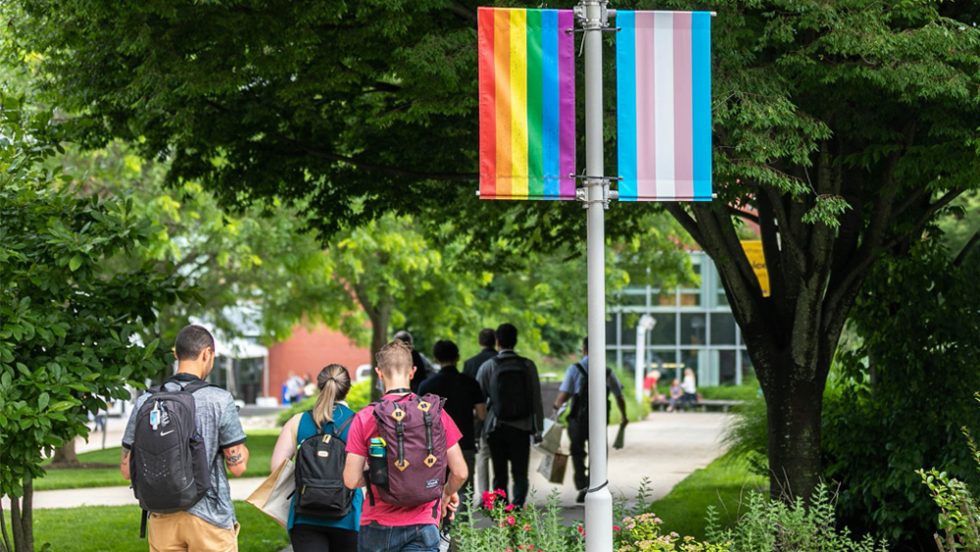 Since May 2016, the Adelphi community has been greeted by the sight of an LGBTQ+ Pride flag. Displayed between the Ruth S. Harley University Center and the Hagedorn Hall of Enterprise, the flag is a permanent representation of the University's support for and inclusion of the LGBTQ+ community.
Bringing the flag to campus was a combined effort of the Office of Diversity and Inclusion, the LGBTQ+ Task Force, the LGBTQ+ and Allies Committee, and the LGBTQ+ Empowerment Group.
"The LGBTQ+ and Allies Committee worked over the 2015–2016 academic year to get the LGBTQ+ Pride flag displayed on campus," said Adam Visconti, associate director of residential life and housing and the LGBTQ+ Task Force chair. "A few members met with President Riordan in late April of 2016 to ask for her help, and the LGBTQ+ Pride flag went up in early May of 2016."
Transgender Pride
Three years later, in May 2019, a Transgender Pride flag joined the LGBTQ+ flag. The flag appeared with no announcement or fanfare, leaving some in the Adelphi community wondering who was responsible for bringing it to campus. The answer? The idea was spearheaded by Mena Sposito '10.
In addition to being an alum, Sposito—who uses they/them pronouns—is a gender-fluid person and an advocate for transgender awareness, education and rights. They are a member of the LGBTQ+ and Allies Committee and the LGBTQ+ Task Force and have given lectures and trainings on gender inclusivity at Adelphi and throughout the tristate area since 2015.
Sposito is also a videographer who has shot and edited several Adelphi University videos, including "Adelphi University, New York: Orientation 2019″ and "Adelphi University's 2019 Holiday Video."
In the "Post-it Wall of Dreams: Adelphi Giving Day" video, Sposito filmed various members of the Adelphi community writing and posting their dreams and goals and shared one of their own: to bring a Transgender Pride flag to campus.
Speaking out against transphobia, advocating for transgender rights
Sposito said trangender people face many challenges. They are often rejected by family and friends. Employers and both healthcare and housing providers can discriminate against transgender people—legally, in many states. "There are no federal laws to protect transgender people," Sposito said. "Not having the government give you basic human rights is like being told you don't deserve respect, you don't deserve to live."
The experiences of being excluded, bullied, or physically or emotionally abused puts transgender people at high risk for depression and anxiety and, according to a 2014 survey, 41 percent of transgender respondents reported attempting suicide, compared to 4.6 percent of the overall U.S. population and 10 to 20 percent of lesbian, gay and bisexual adults (2014, National Gay and Lesbian Task Force and National Center for Transgender Equality).
Even though the "T" in "LGBTQ+" stands for transgender, Sposito said that transgender people can feel excluded even within the LGBTQ+ community.
A symbol of respect, support and safety
Sposito asked Visconti if the University could have a Transgender Pride flag next to the LGBTQ+ Pride flag, and Visconti worked with the Office of Diversity and Inclusion to make it happen.
The Transgender Pride flag was designed in 1999 by Monica Helms, a transgender woman, activist, author and Navy veteran. It combines stripes of light blue (the traditional color associated with males) and pink (female) on either side with a white stripe in the middle representing those who are intersex, transitioning or consider themselves as having a neutral or undefined gender.
Sposito said that by displaying the flag, "Adelphi sends a powerful message that transgender people deserve to be here; we deserve to be respected, included and safe."
Always striving for improvement
The flag is the latest in a series of initiatives that have earned Adelphi a four-and-a-half rating (out of five stars) on the Campus Pride Index.
"Through substantive work like this, the LGBTQ+ Task Force and its members continue to increase equity for diversity on campus as the University becomes a model of diversity and inclusion," Visconti said. "Our goal is for Adelphi to be recognized as a five-star campus on the Campus Pride Index. We are thankful for the support of our LGBTQ+ community and our allies in the Adelphi community, because this is ongoing work that can only be accomplished if we continue to listen to each other and work together."