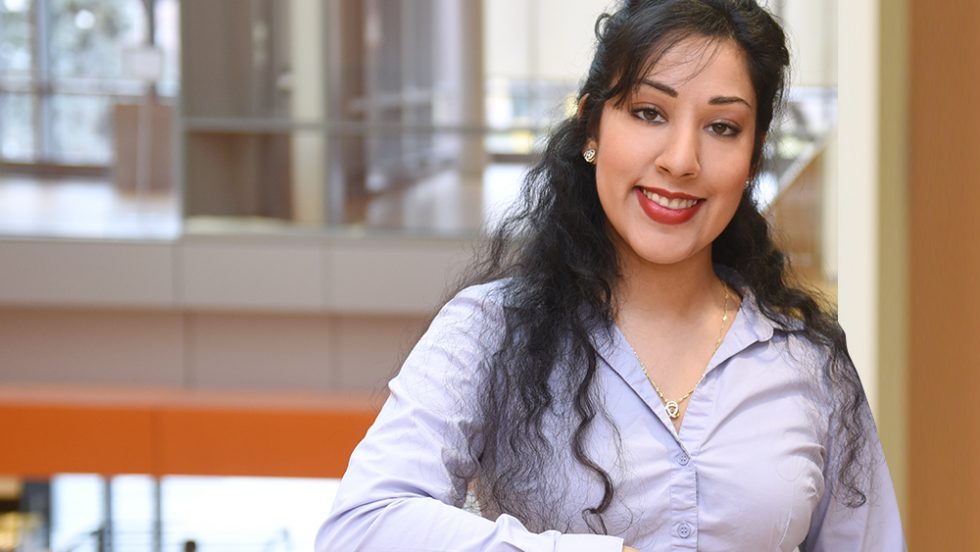 Still looking for a permanent position where she can get the supervision needed to earn her license as a mental health therapist, Aaiza Kausar '17, MA '20, is gaining experience—and strength—as a consultant counseling parents of children with special needs.
Like many, Aaiza Kausar '17, MA '20, has quite the 2020 story.
She got her MA in mental health counseling from Adelphi in May, after spending her final semester in classes that had been pushed online as the COVID-19 pandemic ravaged New York. Her graduation ceremony was canceled, as were the large parties that were planned to celebrate it.
Then, just weeks after Kausar graduated, she was diagnosed with chronic Lyme disease. It wasn't the coronavirus that knocked her down. It was a tick.
She spent the summer recuperating from numb limbs, brain fog and anxiety. By the time she was healthy again and able to look for her dream job as a mental health counselor working toward licensure, full-time jobs for a newly minted graduate were rare in an economy devastated by the pandemic.
Kausar applied for job after job, only to be told that companies were short on the supervisory staff she would need to work toward licensing. (Mental health graduates need thousands of hours of professional supervision to earn a professional license.) She was in a catch-22. While pandemic-related stress had created a great need for mental health professionals, healthcare companies were so strained, they weren't hiring recent graduates.
Contract Work Fills the Gap
But Kausar hung tough and kept hunting. In September, she finally found a contract job as a behavioral intervention specialist and parent trainer for Blue Sea Educational Consulting in Huntington, New York. She counsels parents of children with special needs who are struggling in classes that had gone virtual due to the pandemic.
"It's so difficult for parents when they're juggling their work from home and their child is coming to them for help with school. Parents are very frustrated," Kausar said. "I help them deal with that frustration, talk about it, learn how to express it in a healthy way and learn how to better communicate with their child how they're feeling."
Kausar works with parents who are required to seek help by the Hempstead Union Free School District in Hempstead, New York. The district is struggling. Located in an area with a high rate of poverty, it has some of the lowest average test scores and graduation rates in the state.
The job doesn't give Kausar benefits or the supervised hours she needs to work toward licensure, which means her career still isn't in full gear. But she likes the work because she's making a difference in her clients' lives. "The parents I see really benefit from my help," she said. "They don't have a lot of resources."
She says her time at Adelphi—where she got her bachelor's degree in psychology as well as her master's degree in mental health counseling—helped prepare her emotionally for a difficult job market, a difficult job and difficult times.
"Looking back as an alum now, I can say I really enjoyed grad school," said the 25-year-old. "I felt surrounded by the right people, in the right environment. People who lifted me up. It didn't feel so hard. They all helped me break out of my shell, for which I'm very thankful."
She says Adelphi helped her become more confident because she was able to take on leadership roles. She was president of the Graduate Student Council, served on the University's search committee for the new vice president of student affairs, and was a member of the networking committee at the Gordon F. Derner School of Psychology.
The confidence she learned in school has carried over into her approach to working with her clients during the COVID-19 era. Even though she does much of her therapy on the phone, she's able to build a rapport with her clients.
Growing Through Adversity
Kausar credits Jerold Gold, PhD '80, professor of psychology in the Derner School, and Errol Rodriguez, PhD, assistant dean and program director of the master's degree programs in psychology and mental health counseling, with making her a good therapist. "Dr. Gold helped me think for myself, and he helped me develop better critical thinking skills," Kausar said.
Dr. Rodriguez supervised her seminar class and internship at the nonprofit Family & Children's Association in Mineola, New York, where she did in-home counseling for seniors. Through his guidance, she learned how to critically analyze the therapy she provided. "We shared our experiences and Dr. Rodriguez made us question how we approached our clients," she said. "He was truly amazing."
Eventually she hopes to work with seniors again, because that's where her passion lies. "The elderly are very overlooked. People think 'Oh, they're old, they don't need therapy,'" she said. "Many are on fixed incomes, which makes it hard to survive. Plus, they're facing grief, loss and isolation."
For now, she's working with younger people and that's fine, she said. All of the experiences have taught her to rise to the occasion, no matter what the occasion is.
"It's been a crazy year," Kausar said. "But as horrible as the pandemic is, it's given me some great experience. I get to understand just how much pressure I can handle and learn more about exercising self-care. I have to be more accountable (in this job) and there's a lot more responsibility. I've learned and grown so much."