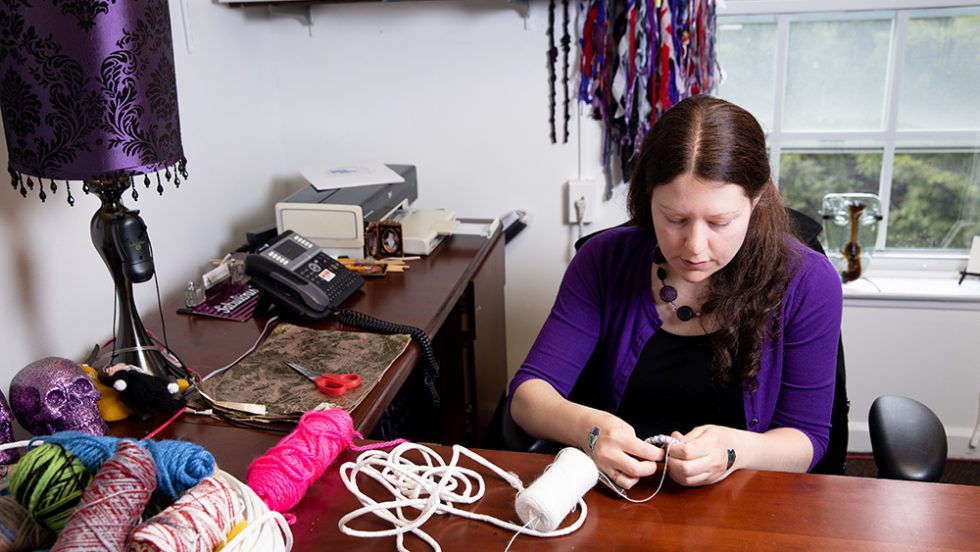 Dr. Weida's research examines the intersections between textiles and feminism in many art movements.
Picture this: Walking down a quiet street in upstate New York, you come upon an abandoned gas station with a pair of decommissioned gas pumps out front. The sight is ordinary, except that every surface of the station and pumps has been covered with squares of different fabrics and colors, all quilted together. What you've come across is "The Gas Station Project," a work of art meant to explore power structures and the world's reliance on fossil fuels. It's the fruit of a collaboration between dozens of artists worldwide, who are all part of the International Fiber Collective (IFC).
Working alongside the IFC to document, analyze and contribute to the collective's digital outreach was Courtney Lee Weida, EdD, associate professor and director of graduate art education. "The Gas Station Project" meshed naturally with Dr. Weida's long-standing interest in fiber feminism. "I think feminism should be interdisciplinary and intersectional," she said. "I approach it as an artist and female maker who is still learning from women's traditions of the past as well as contemporary artistic innovations."
Dr. Weida's research examines the intersections between textiles and feminism in many art movements, including the Pussyhat Project protests of President Donald Trump's inauguration and The Exquisite Uterus Project, which encourages artists to make art inspired by the uterine form. Since craftwork has traditionally been the domain of women, Dr. Weida sees a natural connection between textiles and feminism—or "craftivism."
Dr. Weida's interest in feminist art, however, is not limited to craft arts. In 2018, she contributed a chapter to the essay collection Jessica Jones, Scarred Superhero (McFarland), which received the Popular Culture Association's 2018 Susan Koppelman Award for best anthology in feminist studies in popular and American culture. In the chapter "From the Hellmouth to Hell's Kitchen," Dr. Weida analyzed the television series Jessica Jones and Buffy the Vampire Slayer through a feminist lens. She believes these shows are important parts of a larger feminist project in the age of #MeToo and #TimesUp.
"Both shows explore gender around psychological issues of extraordinary strength and of human frailty," Dr. Weida said. "And both shows emphasize very deep female friendship." The eponymous heroines of Jessica Jones and Buffy find support, motivation and empowerment in their strong female networks.
Yet Jessica and Buffy still struggle to persevere in the face of the overwhelming problems confronting contemporary women. Indeed, Jessica Jones is "revolutionary" because the show presents "rape as told and defined by survivors, substance addiction and recovery, lesbian sexuality and domestic violence, abortion following sexual assault, and various women's responses to post-traumatic stress disorder." Buffy—though very much a creature of the 1990s with its whitewashed cast—also explores queerness, sexual assault and addiction in surprising ways.
These shows do not shy away from depicting the consequences of the injustices their heroines face, either. Dr. Weida points to the ambivalence Jessica and Buffy feel about their strength, their morality and their place in the world—investigations of female power that resonate deeply with her students and offer much-needed diversity in superhero world. "If we conceptualize superheroes as fictional leaders, role models or even unlikely educators, these representations matter," Dr. Weida said.
Dr. Weida's current research maintains her focus on new intersections of art and feminist activism, from superhero shows' examinations of motherhood to further collaborations with fiber artists. "Activist craftwork stands at the forefront of a new political language," she writes in her chapter in Makers, Crafters, Educators: Working for Cultural Change (Routledge 2018), "with all its possibility to build community and creativity."