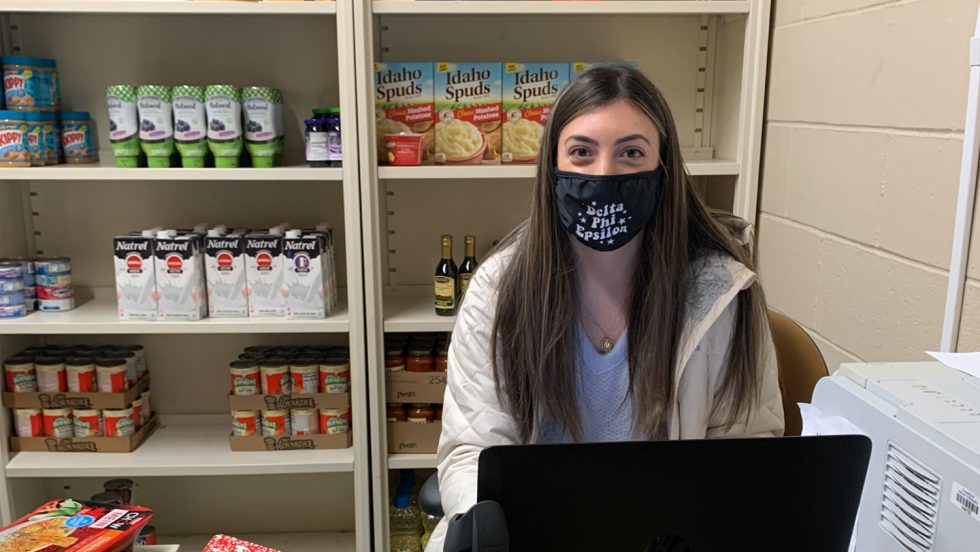 Food insecurity is defined as "limited or uncertain availability of nutritionally adequate foods, including involuntarily cutting back on meals and food portions or not knowing the source of the next meal." It's one of the most pressing issues of our times. Anyone can experience food insecurity, including college students, faculty and staff.
At Adelphi, we take pride in caring for one another in so many ways. Helping Panthers who are experiencing food insecurity is no exception. That's why Adelphi, under the Interfaith Center and Student Affairs, founded the Panther Pantry in 2018. Here, any member of the Adelphi community in need can receive basic food items, personal care products, clothing and household items—free of charge. The Panther Pantry aims to lessen the burden of those impacted by food insecurity and should be seen as a support for all members of the Adelphi community.
Meeting the Challenges of 2020
Prior to COVID-19, Adelphi community members could access the pantry in person, by visiting our location on the lower level of Residence Hall A, or virtually. When access to campus was limited in 2020 due to the pandemic, we moved to a completely virtual ordering system. Users can safely place orders through the Panther Pantry eCampus page. We are so grateful that we had the system in place to be able to switch to fully virtual and continue providing our services. In 2020, the Panther Pantry filled 427 orders and distributed 6,933 items.
This year, the Panther Pantry created the following:
An advisory board consisting of stakeholders from across the Adelphi community to help guide and advise the growth and development of the pantry
Our Food Insecurity Outreach and Education Team, to help destigmatize food insecurity and shed light on the negative impact food insecurity can have on our physical and mental wellness—even our academic and/or job performance
Our Nutrition Team, with the goal of educating about the importance of nutrition on our overall health. The Nutrition Team is comprised of primarily volunteers from the Adelphi Master of Science in Nutrition program, but is open to all who have an interest in nutrition. They will help lead workshops and cooking demonstrations and create content around nutrition education.
A shift supervisor and outreach and education supervisor role to help students gain management experience, leadership skills and more
Gaining Skills While Giving Back
At the Panther Pantry, we're dedicated to helping students, faculty and staff gain valuable leadership skills through our volunteer opportunities. You can get involved with the pantry by filling orders or by volunteering on one of these two outreach and education teams.
Volunteer with the Panther Pantry! Email volunteer@adelphi.edu to get started. If you cannot volunteer, you can help by raising your level of awareness and compassion for food insecurity issues. Many members of the Adelphi community struggle with food insecurity. Your classmate or friend might be silently struggling. Remember to show compassion to others and put yourself in their shoes.
If you would like to place an order with the Panther Pantry, go to eCampus and click on the Panther Pantry icon. All orders are confidential.