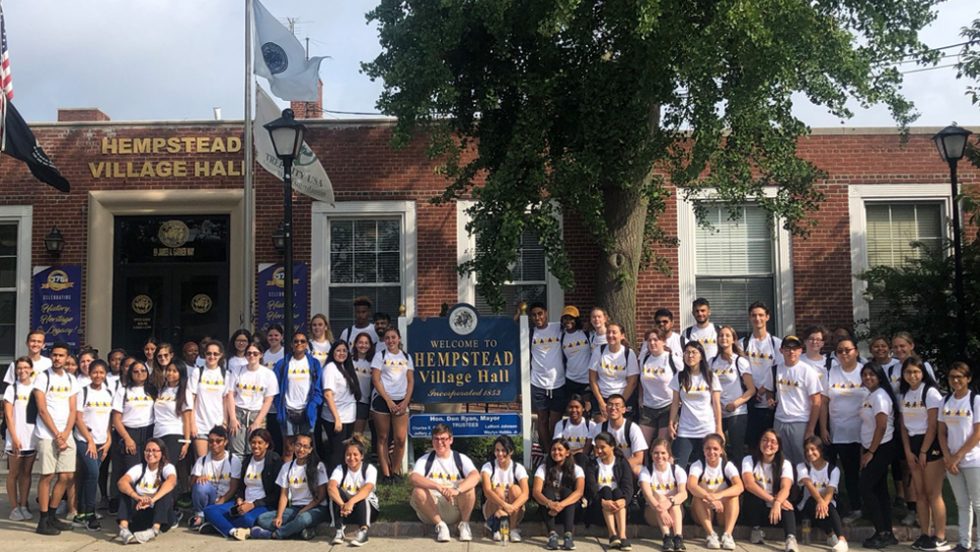 Each year, a group of first-year students and their student leaders kick off the fall semester by giving back to the community as part of Adelphi's First-Year Community Action Program (FCAP). From August 19 to August 21, 61 students and three professional staff members from the Center for Student Involvement volunteered at various locations across Long Island and in New York City.
The program gives incoming students the opportunity to participate in various volunteer and community service projects in the community prior to the start of classes. FCAP students get a chance to jump-start their college experience by making new friends, gaining valuable hands-on civic engagement experience, and meeting and learning from Adelphi sophomores, juniors and seniors.
"Throughout this program, students go out into different areas and really push themselves in ways they couldn't have imagined," said Arianna Livreri, senior assistant director of the Center for Student Involvement. "They have built friendships and built a community, not only among themselves but with the individuals they served."
The community projects began with leaders collecting 260 pounds of food and more than $150 in donations for Island Harvest and recycling 750 water bottles, with proceeds going to the Thirst Project. Through the Youth Service Opportunity Program (YSOP), leaders served the Bronx, Brooklyn and Queens in soup kitchens, gardening and working at food pantries. More than 1,500 sandwiches were made that day.
They also spent time doing beautification work at the VA hospital in Northport and around the Village of Hempstead at the train station and the Barack Obama Elementary School. The mayor of Hempstead, Don Ryan '66, was on hand to cheer on students from his alma mater for their volunteer efforts.
To continue the giving spirit, FCAP implemented a new initiative this year called FCAP Beyond, in which leaders host "pay it forward" programs for the first two weeks of classes. The goal is to foster a passion for service in first-year students that they can continue throughout their time at Adelphi and beyond.
"Through this program, I hope that they have learned the value of community service and giving back," said Livreri.