After graduating from Villanova in the spring of 2019, he decided to finish his college basketball career as a graduate transfer at Adelphi playing along side his brother.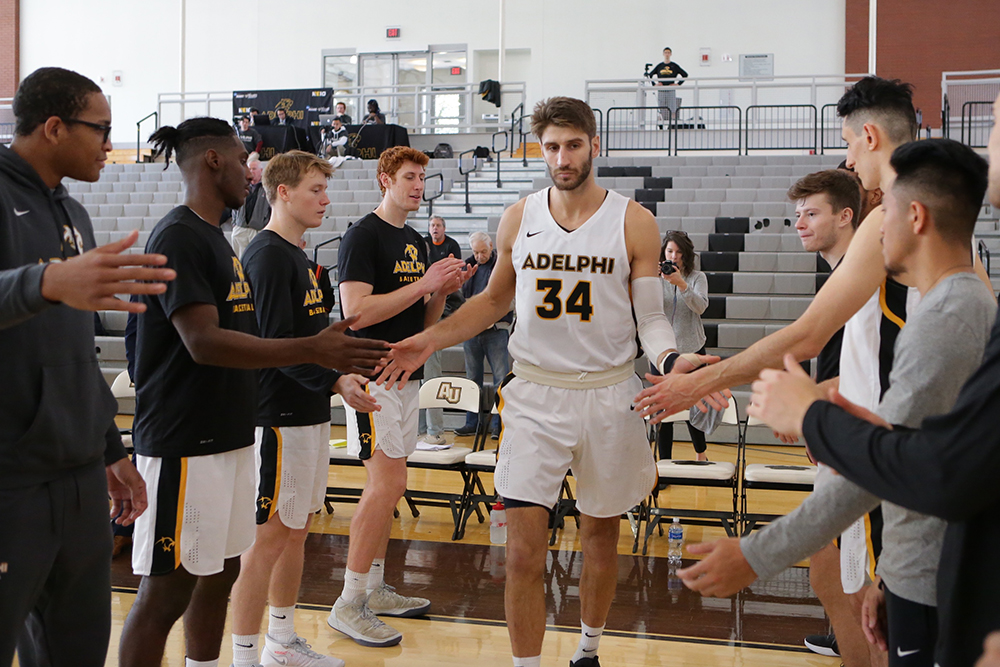 Tim Delaney wanted an MBA.
A 6-foot-9-inch forward who played on two NCAA National Championship basketball teams at Villanova University, he also wanted to play hoops alongside his little brother, Andrew Delaney, a highly sought-after, 6-foot-6-inch guard who was set to enter Adelphi as a first-year student.
So when he graduated from Villanova in the spring of 2019 with a bachelor's degree in finance and with a year of NCAA eligibility left, he decided to finish his college basketball career as a graduate transfer at Adelphi.
"I really, really wanted to come play with Andrew," he said.
He was also attracted by the small classes and personalized attention he would get at Adelphi.
The Delaney brothers hit the court together as Panthers in the fall of 2019 and played the entire season together. (The Adelphi men's basketball season ended on March 1, before the COVID-19 pandemic shuttered NCAA play.)
"It's been awesome," Tim said. "I love playing with my brother. And I love the contact I'm getting with my professors at Adelphi."
A dynamic duo
Adelphi marks the first time the Delaneys have played on the same team. They played plenty of street ball growing up in Mullica Hill, New Jersey, but their age difference—Tim is 23 and Andrew is 19—meant they never played in the same league, much less on the same team.
Being teammates on a college team required learning new skills.
"We had to be tuned in to one another's moves," Tim said.
Their coach had them play against each other during practice, because the best way to learn to play as a unit is to learn to play as opponents.
Against opposing teams, the brothers averaged a combined 8.4 points a game, scoring 10.5 percent of the team's total output. The dynamic duo powered the Panthers to an 11-8 record, the third best in the NCAA's Division II Northeast-10 conference.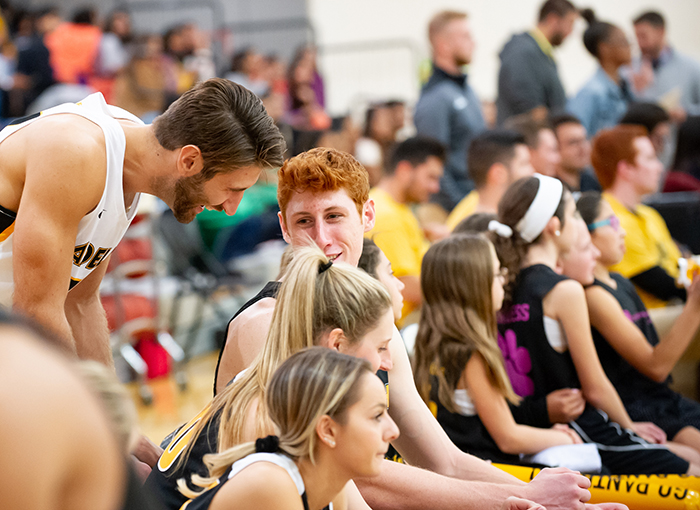 From hoops to algorithms
Off the court since the coronavirus crisis, Tim is working on his master's degree in business analytics. It's a new, STEM-designated program at Adelphi that teaches data science, covering data management as well as descriptive, predictive and prescriptive analytics. Tim plans to be a data scientist when he finishes the one-year program in May.
"I felt like this degree was the next logical step for me," he says. "I learned the broader sense of finance [at Villanova] where you're reliant on others giving you numbers. Now I'll know how to get them myself and I understand them more."
When Tim had trouble getting enough class credits to fit his schedule and stay eligible for basketball, adjunct professor Robin Shoemaker, PhD, of the Robert B. Willumstad School of Business set up a class just for him.
"He created a new course, a new agenda, and he met with me one-on-one," Tim said. "It's an independent study class on portfolio management."
Tim has started a job as an analyst at Shareably, a digital media network based in New York. And even though his days of college ball are over and he spends his days with algorithms, he still lives for the game.
"I go to my little brother's basketball games every day," he says. "I love basketball, and I'm always going to be around it."
---
For further information, please contact:
Todd Wilson
Strategic Communications Director 
p – 516.237.8634
e – twilson@adelphi.edu