Read about some of the projects the Office of Information Technology worked on over the summer.
The Office of Information Technology is constantly working on ways to improve your experience at Adelphi. In addition to researching external innovations, we look to students, faculty and staff to help us stay up on the latest trends in technology. We hope you'll give us feedback about our services.
If you're looking for one-on-one help with conquering your technology challenges, reach out to our Help Desk to schedule an appointment. There are many ways toe many ways to contact IT—including phone, email, chat or stopping by the Help Desk on the second floor of Swirbul Library.
---
Here are some of the projects we worked on this summer:
Website Makeover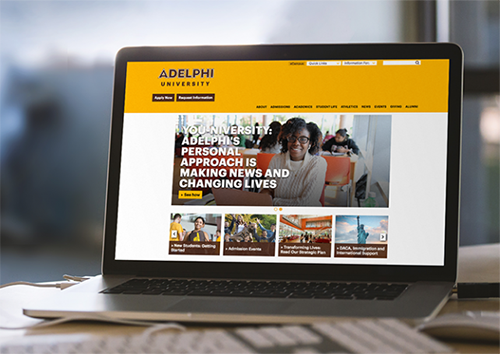 We launched a visual upgrade to the website in July to align with the new Adelphi brand. You'll notice a clean, streamlined appearance, updated color palette and new brand fonts.
A few more noteworthy changes: Our live feeds for news and events have been added to the homepage; banner headlines across the site will be shorter and optimized for viewing on mobile devices; and social buttons will be in the site footer instead of the header.
There are more changes to come with a top-to-bottom redesign of Adelphi's website and
 we want your input: Sign up to be part of a focus group for this exciting project.
Network Upgrades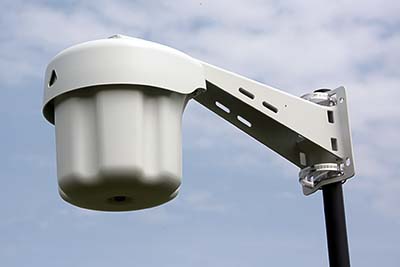 We've upgraded our old 300mbps internet circuits to 1Gbps circuit, effectively doubling internet speeds around campus.
We've also added outdoor access points (including Motamed Field) to increase coverage and reliability.
Multimedia Upgrades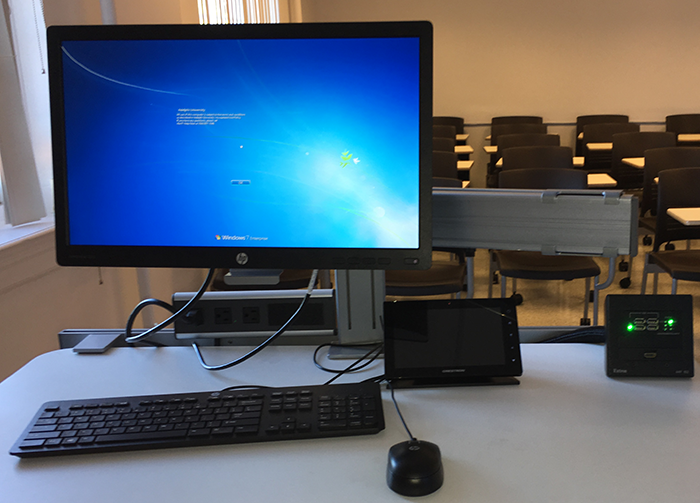 Over a dozen rooms, including labs, classrooms and meeting spaces, were transformed to include the latest technology 4K high-resolution LCD displays, upgraded sound systems, mobile tablets for collaboration, videoconferencing, wireless devices, and lecterns that allow the instructor to either sit or stand.
We look to bring this type of innovative classroom design to many more classrooms over the coming semesters.
» Get details on the tech that's part of these enhancements
Software and Hardware Upgrades
Labs saw a hardware upgrade on more than 150 units and Microsoft Office suites were upgraded to the latest version. In addition all new staff and faculty units which are deployed will have Office 2016 pre-installed. So far this year, 600 computers have been replaced across campus.
The Graphic Design Studio Lab in Blodget 312 and the Art Lab in Blodgett 304 have been outfitted with new 27-inch iMacs featuring 5K resolution displays.
New Service for Residential Students

The Help Desk and Web Communications team assisted Residential Life and Housing with launching their chat service. Look for the green "Chat With Us" button on the bottom of pages on housing.adelphi.edu.
Technology Competency Certificate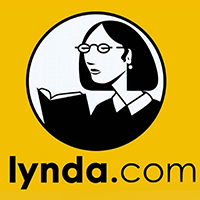 The Help Desk assisted the Office of Human Resources in launching a new Technology Certificate program for Adelphi's administrative professionals (Local 153), using Moodle and Lynda.com.
A similar technology certificate program is currently in development for students to help you succeed in all of your academics.
In the meantime, you can use Lynda.com online training for free on your own.
Get to Know Our IT Staff
Check out our profiles page, where you can learn about our team, including our dynamic student employees and some of our alumni. We'll be adding more throughout the semester and invite you to learn about Giuseppe Prisco, the manager of the 3D studio, and Bobby Handa, our IT procurement administrator.
You can also get to know our team by following our Instagram. Over the summer, a different member of IT took over the @AdelphiTech page almost every week, sharing personal stories about their life at Adelphi, and what they do on and around campus. Make sure to follow us for more personal perspectives throughout the fall semester. If you're not on Instagram, you can now see all our latest social posts right on our IT homepage.
Get the AU2Go Advantage
We've recently added Digital I.D. cards to AU2Go, and they can now be used at many places around campus, including Swirbul Library and the Fitness Center. They can also be used to pay for food at many dining areas on campus!
Have you seen facilities around campus that need repair, but don't know how to go about letting someone know? Using the Maintenance Repair feature, located in the eCampus section of AU2Go, you can send a request to Facilities to let them know about an issue on campus. You also have the ability to attach photos to better illustrate the problem.
Also located under the eCampus tile of AU2Go is the Center for Career Development's new Handshake tool. Increase your career opportunities by searching for jobs and internships directly from the app.
AU2Go is going to be getting some more updates in the coming months, including a brand new message center.
Tech Workshops
We've been preparing for Fall Technology Workshops on new topics and others that are back by popular demand: Google Apps, Microsoft Office, online security and more.
Start a 3D Project
Stop by the 3D Printing Studio on the first floor of Swirbul Library to see some of the projects (big and small) that have been printed over the past year. You can also follow the action from Adelphi's 3D Studio on Instagram. To discuss possibilities for how to use 3D technology for your class or other projects, make an appointment with one of our studio consultants or stop in to say hello and check it out in person.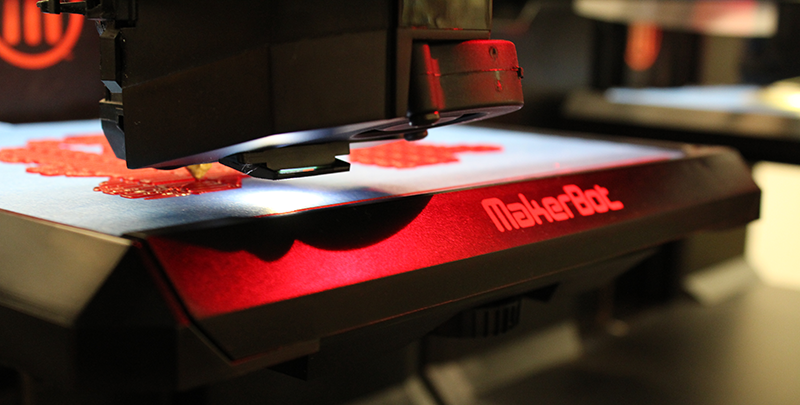 Technology Discounts
Start off the year a brand new or refurbished computer or get a sweet software suite. Did you know you can get Microsoft Office for as low as $9.95 for one device license? See tech offers on eCampus.
Coming Soon…
We're working on a rollout of Google Teams this fall and a huge redesign of eCampus for spring.
Have a project idea with a tech componenet? See our Technology Project Management guidelines.