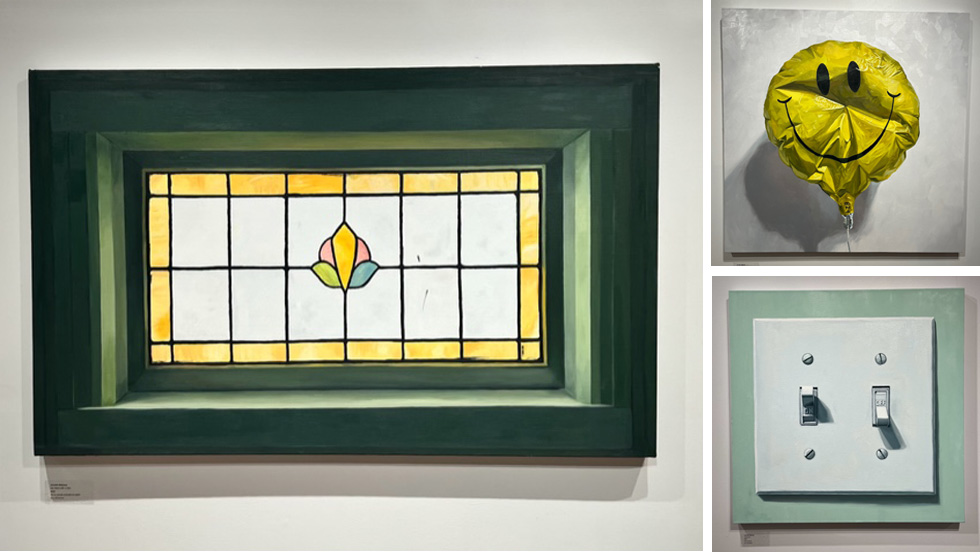 The Green House, an exhibit of paintings by Jennifer Maloney, associate professor of art and art history, opened at the Adele and Herbert J. Klapper Art Gallery in the Ruth S. Harley University Center on Adelphi University's Garden City, New York, campus on October 23. The exhibition will run through December 15.
We asked Maloney to share her inspiration for the 12 paintings that comprise The Green House.
What is The Green House exhibit all about?
A greenhouse is a structure designed to nurture and cultivate. These paintings tell the story of a house that was green, that nurtured and cultivated me.
There is always an autobiographical component in my paintings. I often use objects as stand-ins for people. I believe objects tell stories, and spaces hold memories. With this body of work, I wanted to create a dialogue between spaces and objects. I wanted to bring the viewer up close. I wanted to see how and if our stories could intersect.
My childhood home or, as I fondly call it, The Vortex, was the source of many memories, joys and traumas. An outsider would call the green house a hoarder's house, but to me it was a treasure chest that was filled with unsorted objects, collectibles and detritus.
After the death of my parents, I began the arduous task of emptying my family home and putting their life stories back in context. As I prepared to sell the house they lived in for 45 years, I decided to revisit this microcosmic universe in order to better understand small fragments of its complicated, tense beauty and power.
Do you have a favorite piece from this exhibit? What makes it your favorite?
This body of work was made during my semester-long sabbatical. All of these paintings are important to me and I love seeing them all together in the gallery. To me, they are in dialogue with one another. If I had to pick a favorite, I'd be torn between two paintings: Her Room With a View and Self Portrait.
Her Room With a View is a painting of a stained glass window in my childhood home. I made the panel to the exact dimensions of the window. I feel as if I get to keep that part of the house and take it with me wherever I go.
Self Portrait is a painting of a deflating balloon. I think this work is simultaneously humorous and melancholy. It speaks to how I felt in that green house. I was always positive and optimistic. I was a motivating force in the house. When tasked with emptying and selling the house, I felt heavy and burdened. I felt as if I was floating just above the floor hoping I wouldn't crash to the ground.
What is your background as an artist, and how long have you taught at Adelphi?
I have been painting for almost 30 years. I am primarily a still life painter with an interest/obsession with trompe l'oeil painting—French for "deceives the eye," this painting style creates a highly realistic illusion of three-dimensional space and objects on a two-dimensional surface.
I've been on the faculty of Adelphi University's Department of Art and Art History for 22 years. I specialize in teaching Foundations courses, Color Theory, and Painting, and I have led our study abroad program Adelphi in Florence since 2008.