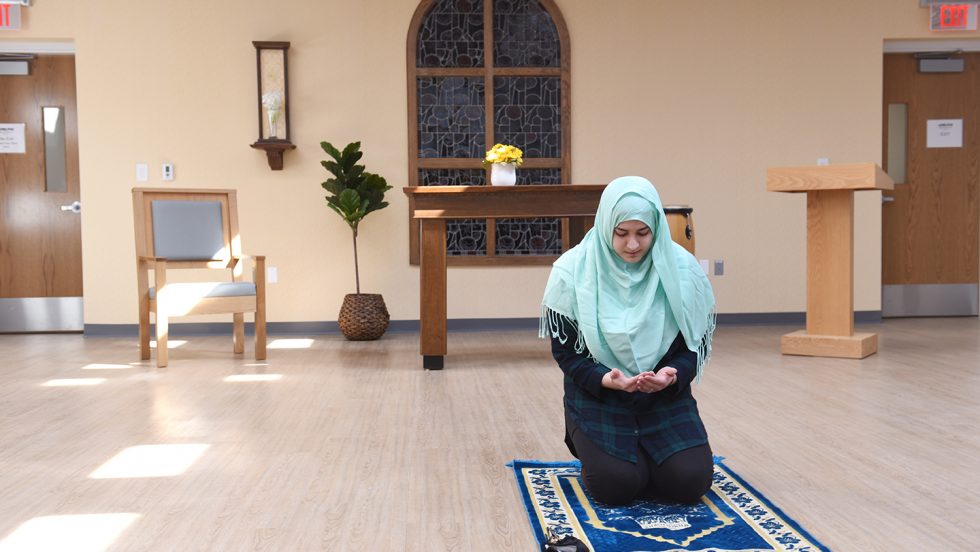 On Adelphi's busy campus, there's a place where students, faculty and staff can find a moment for prayer or reflection and meet with others to worship, enjoy a meal or share ideas.
This space is Adelphi's Interfaith Center(IC). Located on the third floor of the Ruth S. Harley University Center, it offers a prayer space that can be reserved online and used for different faiths and practices.
The center also hosts events, such as Black Voices of Faith, in which local religious leaders speak about their identity as Black individuals of faith, and organizes memorials and candlelight ceremonies to commemorate events or recent tragedies so that members of the Adelphi community can come together to remember, mourn or find solace. The center occasionally arranges visits to places of worship in neighboring communities and partners with outside groups for events.
The Interfaith Center also oversees and coordinates the Panther Pantry, a place on campus that provides free food, clothing and toiletries to the Adelphi community. Orders for these items can be placed anonymously online. A team of volunteers will then prepare the order and notify customers when it's ready for pickup.
Representing the Adelphi Community of Different Faiths
The center's day-to-day activities are handled by a team that consists of religious leaders to help with services on campus—including Protestant chaplains, a Catholic campus minister, two rabbis and a Muslim chaplain—as well a graduate assistant, an intern, and the coordinator of the IC and spirituality services, Michael Hoffner.
Prior to joining Adelphi in February 2020, Hoffner founded the Community Growth Center, a nonprofit organization in Suffolk County, New York, that focuses on integrating spiritual and mental health. He is still involved with the organization.
Shortly after taking on his new role at Adelphi, the pandemic hit, forcing everyone to go virtual. But Hoffner's team was determined to keep the IC accessible by translating certain groups and services to the virtual space.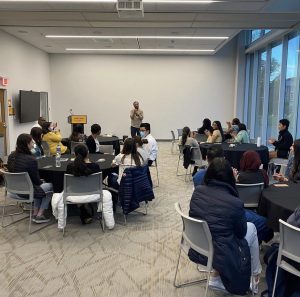 "During the pandemic, people felt isolated," he said. "Religion and spirituality are a source of connection for many people. It was important to us and to Adelphi to create these spaces of connection." The IC reopened its doors to religious ceremonies in Fall 2021.
But the center isn't just for followers of organized religions. It also supports community members who consider themselves spiritual rather than religious. "We want to make sure we're providing a welcome space where everyone in the Adelphi community can engage in spiritual growth and personal exploration," said Hoffner. To help meet this end, the IC creates programs that bring together spirituality and social issues. At a recent forum, students and faith leaders spoke about how their spirituality shaped their relationship with nature and how they use that to address the issue of climate change.
Additionally, for those members of the Adelphi community who don't align with a particular religion, it offers meditation and other spiritual explorations—something that Hoffner hopes to offer more of in the future.
Room for Growth
As part of the remodeling of the University Center's third floor, the IC will soon be joined by a brand-new Mindfulness Center. "I'm hoping to work with them on expanding our reach and offering additional meditation services," said Hoffner excitedly.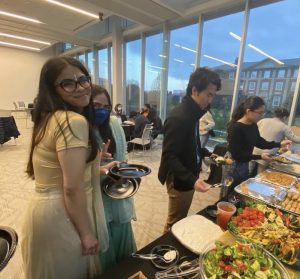 The IC currently oversees six different religious groups. But Hoffner and his team are always trying to "widen the circle," as he put it, and look for new religious groups to represent. The newest group launching in Fall 2022 is the Hindu Student Association. With the addition of this group, as well as the other established groups below, it's evident that the Interfaith Center is working to ensure that all spiritual needs at Adelphi are being met, creating a sense of belonging for everyone within the community.
Below is a list of religious groups that currently work with the Interfaith Center. Although each one has a particular religious focus, all of them are open to people of different faiths and backgrounds.
Adelphi Christian Fellowship:

 

The Adelphi Christian Fellowship unites Christians of different denominations through Bible studies, prayer meetings and fellowship activities.
Catholic Newman Club:

 

Serving the Catholic community at Adelphi, the Catholic Newman Club provides prayer and spiritual direction, offering its members personal, moral and spiritual growth.
Chabad Jewish Student Group:

 

Rooted in the Jewish tradition, the Chabad Jewish Student Group instills its values in a warm and nurturing environment, allowing people to enjoy life and Judaism simultaneously.
Hillel:

 

Hillel looks to bring together the Jewish community by providing functions and services to deepen Jewish life and understanding on campus.
Muslim Student Association:

 

The Muslim Student Association is an organization that serves to promote unity among Muslims and non-Muslims alike through social, cultural, and religious activities and festivals.
Sikhs United:

 

Sikhs United is an organization that believes in justice, peace, equality, respect and unity, promoting these beliefs through social events and fundraisers.