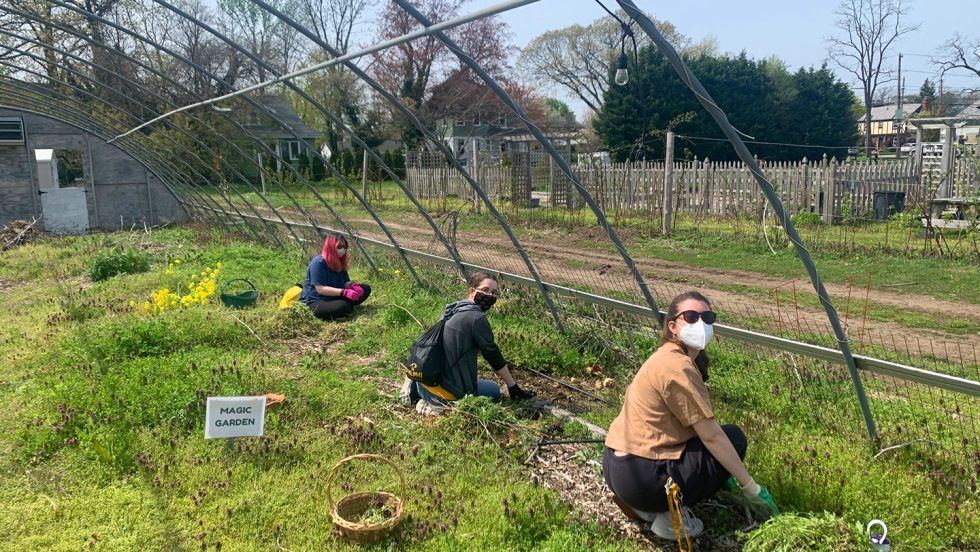 Students and alumni didn't let the pandemic dampen their altruistic spirits and continued to make a difference by helping local and global organizations throughout the 2020–2021 academic year.
"Our volunteers have a deep-rooted spirit of philanthropy and are innovative in their ways to help others, especially during the challenges presented by the ongoing pandemic," said Arianna Livreri, senior assistant director of the Center for Student Involvement (CSI).
Students Give Back
During the 2020–2021 academic year, student volunteers:
Completed more than 1,100 hours of volunteer work
Surpassed the University goal of $15,000 by fundraising over $18,000 for Relay For Life
Created 100 dog blankets for North Shore Animal League during Adelphi's Spirit Weekend
Participated in various service projects during Adelphi Gives Back Month and an Alternative Weekend Experience in collaboration with Crossroads Farm at Grossmann's
Worked side by side with staff, faculty and alumni at the Panther Pantry to fill orders and create educational programs to stop the stigma attached to food insecurity
In recognition of their efforts, more than 200 new members were inducted into the Adelphi chapter of the Gamma Beta Phi Society, the national honor and service society whose mission is to broaden their members' academic and philanthropic  lives so that they may graduate ready to make a difference in the world.
"Service has always been a passion of mine, and I am committed to giving back to the community through volunteering," said senior Timothy Lee. "Some ways I have given back are being a First-Year Community Action Program leader for the past three years and volunteering at local soup kitchens, hospitals, as well as the Panther Pantry. Adelphi offers numerous programs to volunteer for local, national and even global communities. The opportunities are endless, and I am forever grateful."
Alumni Give Back
Adelphi alumni also adjusted to virtual opportunities brought on by the pandemic by jumping on Zoom to help our students, share insight with other alumni and champion Adelphi in their communities, said Kate Haughie, senior associate director of alumni relations.
This year, alumni volunteers:
Served as Giving Day ambassadors, championing the 26 campaigns and helping bring in a record-breaking 1,596 individuals who donated more than $270,000

on March 31
Launched eight regional chapters and seven affinity groups
During virtual Spirit Weekend, planned milestone reunions, including the 50th reunion for the Class of 1970 and the 10th reunion for the Class of 2010
Marie Wicks, MS '00, District STEM Lab teacher, K–6, in the Franklin Square Union Free School District, said, "As the chairperson of our Alumni Advisory Council, I am so proud and thankful for our over 500-plus alumni volunteers. From leading regional chapters and affinity groups to assisting with service efforts, supporting [the Office of University] Admissions to offering mentoring, our alumni volunteers continue to make a positive impact on our alma mater."
Honoring Panther Volunteers During Volunteer Week
Held annually in April, National Volunteer Week is an opportunity to recognize and thank volunteers across the country for their meaningful contributions to organizations. This year, the Office of Alumni Relations and the Center for Student Involvement partnered between April 18 and April 24 to thank our Panther volunteers for their impact on Adelphi and the outside community. Through shared stories on social media, handwritten thank-you notes and a special recognition event on April 20, Adelphi celebrated our alumni, student, faculty, staff and parent volunteers.
"We are grateful for the energy, enthusiasm and dedication that you all bring to your roles as volunteers and the difference you have made, no matter how big or small," Haughie said. "Thank you, Panthers, for all of your hard work and your relentless determination to give back."