Meet Paran. He's a 19-year-old scavenger from the world of Numia, where, following The Scourge, humans live confined to the few remaining villages.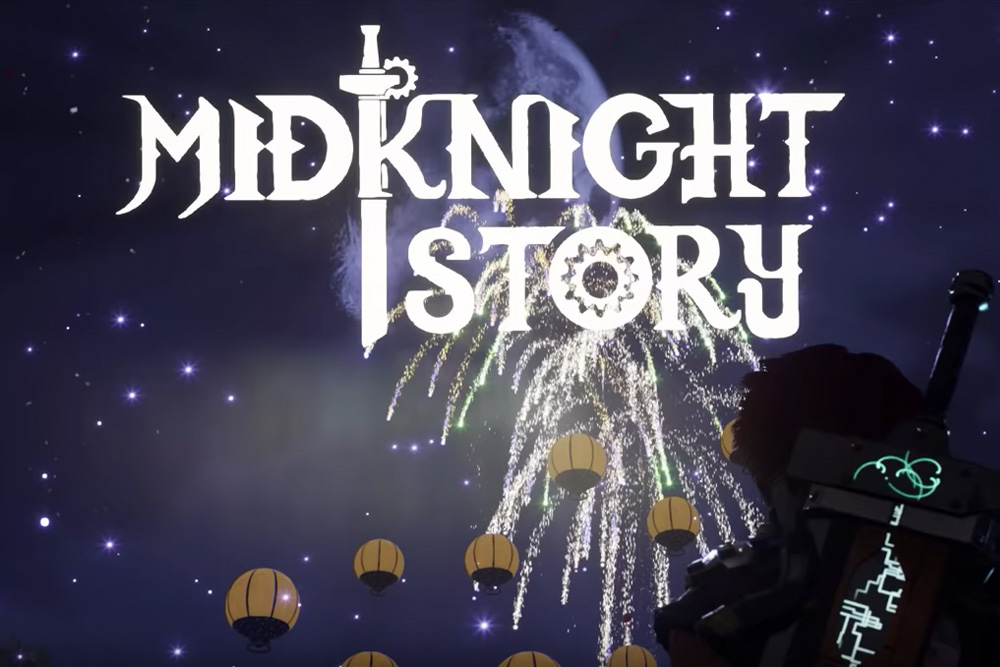 Meet Paran. He's a 19-year-old scavenger from the world of Numia, where, following The Scourge, humans live confined to the few remaining villages. When Paran discovers a powerful sword called Durindana, he is off on a quest to venture into the forgotten lands, explore secret places, fight fierce enemies, earn rare treasures and upgrade Durindana to unlock new abilities, such as (spoiler alert) a propeller that allows Paran to fly to new areas to explore.
As you may have guessed, Paran is the character in a video game. The game is called MidKnight Story, a "steampunk action RPG [role-playing game]," as described by its creator, Mattia Ciurlino '15.
Ciurlino came to Adelphi from Italy to study—not art, design, computer programming or even creative writing—but marketing in the Robert B. Willumstad School of Business. Marketing games, he said, "is something the average independent developer fails to accomplish, resulting in poor sales and traction." He uses his marketing skills to build a community around the game: he represents the game at conventions, and he maintains a website and Facebook, Twitter, Instagram, Discord and YouTube accounts. In April, he launched a Kickstarter campaign. "The fun part is that now I get to do marketing for my own product, and that, for me, is incredible," he said.
Eager to learn more, we asked Ciurlino, who is currently living in Zurich, Switzerland, about his background, how MidKnight Story came to be and about being a video game entrepreneur.
Why did you decide to attend Adelphi?
I came as a study-abroad student for a semester, interested in Adelphi for its proximity to New York City. I fell in love with the campus, the faculty and the University so much that I decided to transfer—I didn't want to leave!
What did you do after graduation?
I obtained an OPT (Optional Practical Training) visa to continue living and working in the States. I worked as a brand representative for Abercrombie & Fitch on Fifth Avenue and then on to two marketing campaigns for theatrical projects. At the same time, I was beginning to work on MidKnight Story.
As a business major, how did you get involved in video games?
It started as a hobby when I was at Adelphi. I downloaded the video game engines Unreal Engine 4 and Unity3D to play around with. I was surprised when I realized the potential behind these engines; it was finally possible for anyone to produce a video game without needing a studio, a team or a high budget. I spent a few weeks delving into the engines' features, creating levels and so on. Slowly, I began thinking about what I could create and what else I would need to learn to actually produce a video game or even a concept demo in all of its aspects.
Can you tell me about the story, the setting and the characters?
MidKnight Story is about a formidable engineer, Sumael, and a resourceful scavenger, Paran. Sumael is a mechanic by trade and daughter of a once-great scientist. She runs her own shop on the outskirts of town with Paran's help. Driven to better the lives of those living after The Scourge, she's chasing a big discovery that she hopes will finally ease their troubles. Paran is a young scavenger who spends his days searching for mechanical parts from before The Scourge. A curious find one day marks the beginning of his new life—a journey into discovering the hidden truths of the World Immersed.
How about the gameplay?
The player will take control of Paran and explore the world of MidKnight Story in 360 degrees. Whether a deep cavern in an ocean abyss or the bell tower that scrapes the sky over Endenheim City, the skillful player will be able to reach every place, and perhaps find precious treasure if they're lucky. Combat also features prominently in the game.
Paran employs a large range of strategies and abilities to help him overpower the enemies he comes upon. He can launch a surprise attack against his enemies, or he can throw himself into battle headfirst. To conquer each enemy, Paran needs to alternate between his sword and pistol. Ultimately, the choice is up to the player.
What graphics programs do you use?
The game runs on Unreal Engine 4. It's the platform where 3D models, 3D animations, sound effects and so on come to life through coding. The coding aspect happens in the engine itself, through either C++ language or Blueprints, a visual coding language, the last one being easier for artists without programming skills. Although Unreal Engine 4 is free to download, the company behind the engine retains 5 percent of the profit you earn once the game is on the market.
I create my 3D models in Blender, an open source software. Once the 3D model is ready, I create the textures on Substance Painter, which allows you to put in more details, colors and materials, such as skin, metal and fabric, into the created model.
If the 3D model is a person, an animal or something that will eventually move around the game world, it also needs to be "rigged" and animated. For 3D animation, I use Maya, another industry standard software that handles the creation of 3D animations as well as 3D modeling.
Who is handling sound engineering, voice-overs and music?
Fortunately, a few talented individuals are helping me with the sound engineering. Mothership Loudspeakerz has produced some of the official soundtrack as well as sound effects. Tilo Alpermann worked on the cinematography and sound for both game trailers and is currently working on the main theme of the game. Tom Ferguson is currently composing the character themes and some background tracks. Harry Critchley has worked on two ambient soundtracks so far. I consider myself lucky to have onboard such talented people who believe in the project as much as I do!
What's involved on the business side, such as financing the project, hiring people and marketing?
The business side of game development is where most independent developers fail to deliver, whether because they overlook it, they think it's a secondary aspect, or they simply don't have the knowledge to handle it. First of all, you need to compose budgets for both the development of the game and for marketing. How much funding do I need to bring this concept to store shelves and make it successful? How much time will be invested in development? Do I have the resources to complete the project? How many people will I need to bring on board? These are all important questions one needs to ask before venturing into an endeavor like this. It's also important to have a clear vision of how you want the project to turn out and how to deliver the same vision to the other artists who are commissioned in other areas of development.
How has your education at Adelphi prepared you for this project and being an entrepreneur?
Adelphi gave me the tools to create the community that I built around the game, which is as important as developing the game itself. No one will buy a game, even an outstanding one, if no one knows it exists in the first place. Adelphi also taught me how to be more outspoken and to believe in what I can achieve. Last year I had the chance to present my game in front of a big crowd of people at FANTASY BASEL, one of the biggest gaming comic cons in Switzerland, and I was thankful that I knew how to speak publicly in a professional manner, and convey with my words the vision that I have for the game.
Did you develop a marketing plan?
When you're an independent developer, you are also in charge of bringing your product, your game, to the mass market. And this is why marketing is so important. You have to constantly share your work, interact with people on social media, maintain a website and other media channels. Do these tasks long enough, keep your pages updated, and you will have a community from the beginning of game development to beyond its final release on the market. And when your game is finally ready to be showcased and played, you can participate in comic cons with your own stand, letting potential consumers try out the game and getting the word out there. I think that's the best part of marketing—interacting with the people and seeing them excited about your product.
How can gamers use social media to promote their projects?
There are plenty of groups on Facebook with thousands of gamers and other developers excited to see and share other people's work, especially when they are impressive projects. Create a Facebook page, then share your work within these groups to raise awareness, likes, follows and so on. The same can be done on Instagram and Twitter, but I've found Facebook's groups a better environment in which to share the work. Reddit is also a great platform because it allows you to post your game trailers, updates and news to specific gaming subreddits, where posts can reach thousands of views very easily. There's also a website called Indie DB where you can create your own dedicated page. And this is only the organic marketing. One can also create sponsored/paid campaigns on social media when they need to get the word out fast.
What are your goals for your Kickstarter campaign?
My goal for this Kickstarter campaign is to get more funds so I can have more people on board, and to increase the game's community. The Kickstarter launch of a game is also important for marketing and visibility because the press is more than willing to feature promising Kickstarter games on their articles.
Update, May 26, 2019: MidKnight Story reached and exceeded its Kickstarter goals.
---
For further information, please contact:
Todd Wilson
Strategic Communications Director 
p – 516.237.8634
e – twilson@adelphi.edu