Emma Dalton is part of the IT asset management team.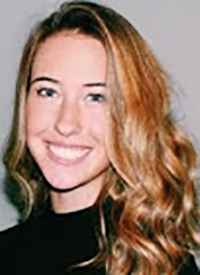 The staff of the Office of Information Technology would like to congratulate
Emma Dalton
Student Worker of the Month for February 2017
Emma has been working in the Office of Information Technology since July 2016 as part of the IT Inventory team. Part of the class of 2017, she is a marketing major in the Willumstad School of Business and member of Adelphi's Phi Sigma Sigma sorority.
Here are some of the comments we received from IT staff members and other student workers who nominated her:
"Emma is a dedicated student and student worker. She is very conscientious about her school work and student work in the IT Inventory group. She continually takes the lead on projects as well as shares her knowledge with new student workers. Emma helps guide them in learning the procedures of the department. She is very eager to learn new processes. Emma is always friendly and smiling and eager to share her knowledge. She is a great asset to Adelphi University!"
"Emma has proven unrelentingly her commitment to IT Asset Management group as well as the Information Technology department as a whole. She goes above and beyond the call of duty at a moment's notice. Emma never questions an assignment and is always looking for ways to make things easier for everyone involved. We have two new students who joined our team the beginning of the fall semester and Emma has been fundamental in the training of these students. We really could not have done it without her."
---
About IT's Employee of the Month Nominations
It is important to demonstrate our appreciation for the contributions of our student workers to their teams, to the Office of Information Technology, and to Adelphi University as a whole. At the end of each month, we will honor one student worker who has demonstrated commitment, leadership, and initiative in their position. The recipient will be presented with a certificate and gift, as well as a featured spot on our IT website.
All IT employees (including student workers) are encouraged to submit nominations for their choice for Student Worker of the Month. Your nominee should display qualities deserving of recognition.
Please submit all nominations through the Student Worker of the Month Nomination Form.
---
For further information, please contact:
Todd Wilson
Strategic Communications Director 
p – 516.237.8634
e – twilson@adelphi.edu