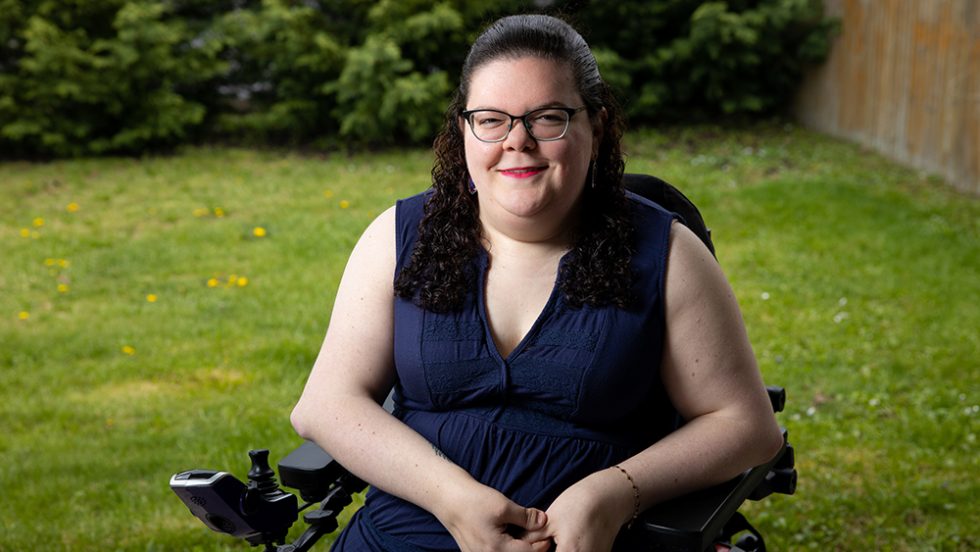 A communications consultant, writer, public speaker and disability rights activist, she chose to pursue a career in the disability field. Her work has been featured in The New York Times, HuffPost, SELF, The Washington Post and U.S. News & World Report.
Member of Adelphi University's 10 Under 10.
Communications Consultant, Writer, Public Speaker and Disability Rights Activist
"Don't put yourself or your career goals into a box."
"As a wheelchair user and dedicated student, I wanted to attend a liberal arts school with a solid reputation that could meet my physical access needs," said Emily Ladau, B.A. '13, about why she chose Adelphi. "After connecting with the Disability Services office and being accepted to the Honors College, I knew that Adelphi would offer both the academic rigor and wheelchair accessibility I was looking for in a university."
Ladau has a genetic joint and muscle disorder called Larsen syndrome. However, she has never let it get in the way of achieving success. "It's a part of my identity and I'm quite proud to identify as disabled," she said.
When she first arrived on Adelphi's campus in 2009, Ladau's goal was to become a high school English teacher. She ultimately decided, however, to pursue a career in the disability field. "Making the change to pursuing a career in the disability field was an intimidating leap but it turned out to be the right path for me," she said. "Along with the solid educational foundation that Adelphi provided, being open to a new path and a different plan allowed me to discover the career of my dreams." She was partly inspired to change her path after taking a Disability and Social Justice class taught by Professor Deborah Little. "Being surrounded by a group of engaged, curious students and being able to have open, honest dialogue about disability was an incredibly rewarding experience," Ladau said.
During her senior year at Adelphi, Ladau applied for the American Association of People with Disabilities' prestigious summer internship program that places students with disabilities at disability-focused organizations. She was accepted to the 2013 cohort and placed with the Association of University Centers on Disabilities, a membership organization that supports and promotes a national network of university-based disability-focused interdisciplinary programs.
Following the completion of her internship, Ladau returned to New York and launched Words I Wheel By, a website that featured disability rights topics. Shortly thereafter, she started an independent consultancy, Social Justice Media Services, through which she works with multiple disability rights organizations to manage their online presence including social media, websites, and outreach. She also began working on a disability-focused podcast which she co-hosts with her friend Kyle Khachadurian, called The Accessible Stall and she started freelance writing about disability issues for various publications, and booking regular public speaking engagements at colleges, conferences, and other venues. She has been featured in media outlets such as The New York Times, Huffington Post, SELF, Salon, Vice, NPR, The Washington Post, and U.S. News and World Report. She said her greatest professional accomplishments thus far have been, "Appearing on Sesame Street to educate young children about my experiences with disability," and "Speaking on a panel held at the U.S. Department of Education in honor of the 25th anniversary of the passage of the Americans with Disabilities Act."
In addition to her freelance writing and speaking engagements, Ladau currently holds three jobs- as a communications consultant for Concepts, Inc. through which she supports key U.S. Department of Labor Office of Disability Employment Policy initiatives, a digital communications manager for Sibling Leadership Network, an organization providing information and support for siblings of people with disabilities, and she is the editor in chief of the Rooted in Rights blog, where she works with people in the disability community to amplify their voices and tell their stories. Ladau also currently serves on the board of the National Council on Independent Living, an organization dedicated to advancing the rights of the disability community.
About how Adelphi transformed her life, Ladau said, "My professors were always open to allowing me to complete assignments from a disability perspective whenever possible. For instance, as an English major, assignments often involved critical analysis and interpretation of works of literature. I often analyzed works through a disability lens, which allowed me to dive deep into my own personal experiences as a disabled woman, as well as to learn more about how disability influences my understanding of the world."