Emily J. (Cierley) Horcher '62 grew up in Brooklyn in a family who already had a rich history at Adelphi.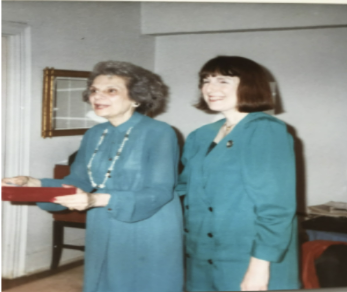 She attended Adelphi, following in both her mother's, Josephine Harkavy Cierley '36, and her aunt's, Miriam Harkavy Teicher '41, MS '69,  footsteps, both of whom graduated in 1936. Her mother served on Adelphi's Board of Trustees and was greatly involved in alumni events, hosting one just weeks before Emily was born. During her senior year of high school, Emily had a choice between two colleges: Barnard or Adelphi. A campus tour prompted her decision—and changed her life forever. "I just remember feeling at home at Adelphi."
Emily loved the beautiful campus. She  lived in East Hall (now Alumnae Hall) for four years, where she met many of her lifelong friends. She participated as an admissions ambassador and really enjoyed sharing her love for AU with prospective students. "Adelphi made me feel so warm when I visited campus and I wanted to share that experience with them." 
Emily's activities on campus included working in the medical office and being the editor of the Delphian, where she spent many enjoyable late nights producing the paper. Emily was also a sister of the Sigma Kappa sorority, a wonderful experience that taught her the importance of working with others. 
Emily was an English major and she has fond memories of faculty—particularly Dr. Curry, who taught Chaucer and welcomed students into his home for classes, and Dr. Grobes, who had also taught her mother and aunt. After graduating, Emily changed her mind about becoming a teacher and went into work at the New York Telephone Company, coincidentally in the same job that her mother had after her college graduation. In addition to her career at the telephone company, Emily also volunteered, holding leadership positions in the national women's movement. Throughout her career and activism, she utilized the leadership and managerial skills she gained from Adelphi.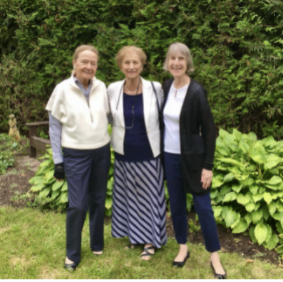 Emily married Joel Eriksen in 1963, a year after graduation. She remarried in 1987 to Al Horcher, whom she met at the same telephone company which she had devoted so much of her life. She now has two children, four step-children, and 11 grandchildren. Her daughter-in-law, Jacqueline Lawrence Horcher '88, also attended Adelphi, where she got her masters degree in social work. The bonds Emily made at Adelphi remained strong after graduation; many of those friends are godparents to her children. After the birth of her second child, Emily moved to Uniondale and became more involved in the alumni community as a part of the Alumni Association. She loved running events, much like she had seen her mother do growing up, attending reunions and connecting with her fellow Panthers.
Because she received a full scholarship to Adelphi, Emily started giving back soon after graduation. Emily gives annually to Adelphi in honor of her mother, wanting to provide the same support to students as she herself had received as a student. "I had a full scholarship and I felt very grateful."