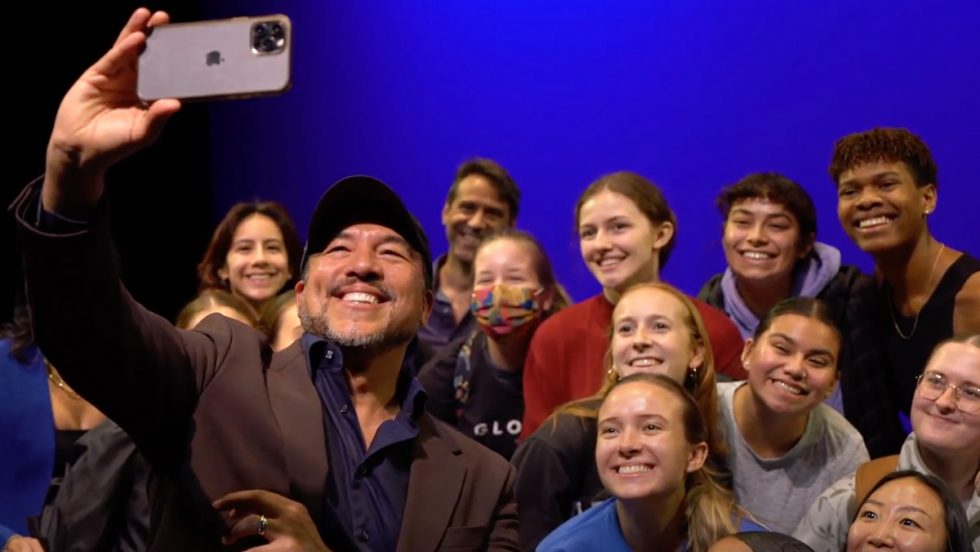 This fall, Adelphi proudly welcomed a renowned alum back to campus. Eduardo Vilaro '85 is the CEO and artistic director of Ballet Hispánico, the largest Hispanic arts organization in the United States.
He is a dancer, educator, business leader and passionate advocate for the power of art to change lives. Under his leadership, the company performs works that celebrate Hispanic cultures, offers dance classes in its Upper West Side studio to children and adults, and engages and enriches communities, particularly those of color, through its Community Arts Partnership programs. Vilaro has received numerous awards and accolades; most recently, he was named a Compassionate Leader for 2021 by Forbes and a Notable Hispanic Leader 2022 by Crain's New York Business.
The event, "Ballet Hispánico: An Afternoon With Alum Eduardo Vilaro '85," held on October 5, was spearheaded by Priya Wadhera, PhD, associate professor and chair, and Carmen Castellon, administrative assistant, of the Department of Languages, Literatures and Cultures. They wanted to celebrate Hispanic heritage and culture during National Hispanic Heritage Month and decided to do so through the universal language of dance.
Castellon, a lover of dance, music, art and poetry, said she was looking for a Latinx individual in the arts "who was not only accomplished and influential but whose work would enlighten attendees to the richness of Hispanic heritage and culture, one whose work inspires people and fills their hearts." She was drawn to Vilaro, not only due to all of the above, but because he also happens to be an Adelphi alum. And, she added, "Like me, he grew up in the South Bronx."
Dr. Wadhera said that Vilaro's "story was inspiring—in the true sense of the word from the Latin root inspirare—breathing life into our students and motivating them to pursue their dreams. As an educator, there is nothing more gratifying than seeing students find their way."
After an introduction by Dr. Wadhera, Vilaro was joined by Tamia Santana, chief engagement and inclusion officer of Ballet Hispánico, for a Q&A. Vilaro spoke about his search to find connectivity and belonging, his time at Adelphi, and his notable career.
From Linus to Adelphi to Ballet Hispánico
Vilaro was born in Cuba in 1964, shortly after the Cuban revolution. When he was six years old, his parents immigrated to the United States, settling in the South Bronx in New York City. Vilaro had to adapt to being in a new country, learning a new language, dealing with the pressure to assimilate and how to come out to his family. He longed to find connection and belonging.
He found a home on the stage when he was in the eighth grade and cast as Linus in a school production of You're a Good Man, Charlie Brown. He was told to create his own choreography for the number "My Blanket and Me," and he ran with it.
"I did it right, he said. "I went into the audience. I was dancing, twirling. … It was everything for me at that moment. To hear the applause, to feel the connectivity you have without verbal language, that corporeal, that emotional connection. It's what we in the theater and in the arts understand. … It is so important for us, when we connect with community. That was it. I was stuck. I wanted to perform."
Vilaro found connection again at a summer intensive he attended at the Alvin Ailey Dance Company, and then at Adelphi.
"It was remarkable," he said of his time here. "To be onstage working with these extraordinary teachers that had wonderful careers themselves. This is where I cut my teeth." In addition to dance, he learned other skills, such as production direction and "what it means to be an artistic entrepreneur."
In 1985, Tina Ramirez, the founder and artistic director of Ballet Hispánico, asked Vilaro to join the company, and he "immediately took on a variety of roles," he said. In addition to touring the world as a dancer, he taught dance classes and developed community programs, such as one for children living in homeless shelters.
"I was becoming a voice for the organization in many different ways," he said. "And there was a lot of learning there. A lot of fun. And glorious moments with community and people seeing transformation happening because of dance right before your eyes. It's a remarkable thing."
After about a decade with Ballet Hispánico, Vilaro moved to Chicago, where he earned a master's degree and founded Luna Negra Dance Theater. In 2009, Ramirez invited him to return to Ballet Hispánico to take on the role of artistic director. In 2015, he was named CEO of the company.
A Lasting Impression
The conversation was interspersed with excerpts from Ballet Hispánico's repertory. Línea Recta (2016, Annabelle Lopez Ochoa) and Club Havana (2000, Pedro Ruiz) showcased Hispanic heritage, while the solo and duet, respectively, from Con Brazos Abiertos (2017, Michelle Manzanales) depicted the conflicts LatinX immigrants face. The three dancers—Chris Bloom, Antonio Cangiano and Dandara Veiga—later joined Vilaro onstage to take questions from the audience.
After the event, students swarmed onstage to talk with Vilaro, Santana and the dancers. Vilaro also reunited with his former professor, Nick Petron, MA '70, now chair of the Department of Theatre. "It was a joy to see Eduardo again," Petron said. "He was an exceptional student, and to see the heights that he has reached is no surprise. It is very rewarding when a performing artist from Adelphi becomes successful. It always makes their professors proud."
Frida Molina, a senior dance major and marketing minor, said, "From having firsthand insight on Eduardo Vilaro's creative direction and life story, to seeing the Ballet Hispanico company perform, I felt seen and inspired as a Dominican American dancer coming from similar origins and experiences."
Dr. Wadhera said other Hispanic students told her that Vilaro's story "about how deeply he wanted to find a sense of belonging, and how he connected with his community of Spanish-speakers, discovering a sense of his Latinidad," resonated with them, adding, "Many of our students have shared their delight with the event; some students have even sought us out to add a minor or a major in languages, especially Spanish. Eduardo is a role model to every student who dares to dream of an art-filled life, of a life filled with leaders and trailblazers who look like themselves. One student taped the poster [of Vilaro] on my door and said, "Please keep doing this, Dr. Wadhera, please. It means a lot to us."