"It's an honor that the Nebletts have chosen to support a student like me, who may not have the perfect GPA, but works hard and is involved in so many aspects of the University and School."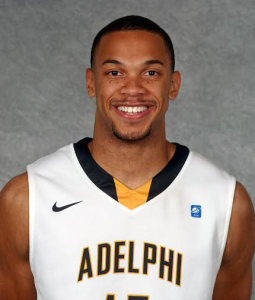 "It's an honor that the Nebletts have chosen to support a student like me, who may not have the perfect GPA, but works hard and is involved in so many aspects of the University and School
." 
 —Duane Morgan
Duane Morgan made his mark in Adelphi men's basketball history when he scored his 1,000th point his senior year. While he is a star athlete, Morgan's accomplishments extend far beyond the court and into the classroom, across campus, and throughout the community.
As a high school student with offers to many Division I schools, Morgan made a visit to Adelphi. "I fell in love with the University," he said. "At Adelphi I saw students and professors who really knew each other. I realized I didn't want to go to a huge school. Adelphi felt more like a community."
His biggest concern about transitioning from high school to college was how he would perform academically. But Morgan, a business management major, has found "the right formula" to succeed. "I try to spend as much time in my books as on the court," he said. "Each semester my GPA has gotten better and better."
Outside of the classroom, he has gotten involved in the local community. The summer after his freshman year, he started a player and personal development camp for elementary school children in his New Jersey neighborhood. He and fellow Adelphi teammates have also contributed their time working with the Nassau County Police Activity League Special Needs Unit. In addition, he holds two jobs on campus; as an intramural referee and a student-worker in the Office of Public Affairs.
His efforts have not gone unnoticed. Morgan, who is also the recipient of an athletic scholarship that enabled him to attend Adelphi, learned he was being named the recipient of the Marcus Rayman Neblett Award his junior year. "Receiving the Marcus Rayman Neblett Award is a privilege," he said. "It's an honor that the Nebletts have chosen to support a student like me, who may not have the perfect GPA, but works hard and is involved in so many aspects of the University and School."
After graduation, Morgan plans to stay in school to pursue his M.B.A. or a master's degree in sports psychology or play basketball overseas. But before then, he is looking forward to May 21, 2015: Commencement.
"Nobody in my family went to college. Last year my brother graduated, I'm going to be the second one," he said. "I'm looking forward to that moment…walking across stage and getting my diploma."
---
For further information, please contact:
Todd Wilson
Strategic Communications Director 
p – 516.237.8634
e – twilson@adelphi.edu