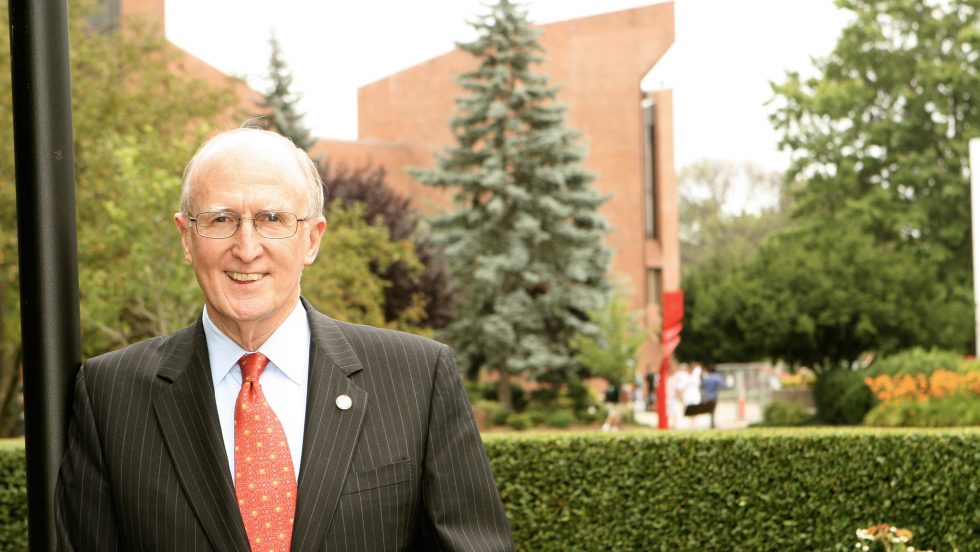 The University is at the strongest point in its history thanks to nearly a decade and a half of Dr. Scott's leadership.
Dr. Robert A. Scott, Adelphi University president, chief executive officer and professor of anthropology and sociology since July 2000, announced today his decision to conclude his service as president and CEO at the end of his 15th year in the role. Effective July 1, 2015, Dr. Scott will assume the positions of president emeritus and University professor. A national search for his successor is underway.
"These years have been immensely gratifying to me," Dr. Scott said. "With the support of a dynamic and talented team, we charted a course that would bring distinction to the University, create a campus community that is focused on student success, engage our regional partners in finding solutions to critical challenges and reconnect with our alumni. Adelphi's endowment has tripled, undergraduate enrollment has grown by 63 percent and we have achieved the highest graduation rates among comprehensive private colleges in the Long Island region. Annual giving by undergraduate alumni, one indicator of engagement, continues to grow every year and is trending towards 10 percent, up from 2 percent at the start of my tenure. We have added or renovated more than 500,000 square-feet of state-of-the-art facilities while maintaining our "A" rating by Standard & Poor's. Confidence in this direction can be measured by the response of our faculty, staff and alumni to the University's first-ever comprehensive fundraising campaign, with 100 percent of the board, 60 percent of the faculty and staff and more than 16,000 alumni contributing," he concluded.
Robert B. Willumstad '05 (Hon.), chair of the University's Board of Trustees said, "President Scott has been the driving force of the transformation that has taken place at Adelphi since 2000. The board is exceedingly grateful for his exceptional service, especially his commitment to ensuring that Adelphi is an excellent and relevant university dedicated to student success. Of equal merit has been his focus on creating an organizational culture that values the role of alumni in ensuring a robust and forward-looking institution." In regards to the search, Mr. Willumstad stated that the board has begun the process of forming a search committee that will include trustees, faculty, staff, students and alumni. Mr. Willumstad said that he expects to announce the membership of the search committee in the coming days.
The University is at the strongest point in its history thanks to nearly a decade and a half of Dr. Scott's leadership. Highlights of recent accomplishments, many of which have been achieved as part of the University's strategic plan, AU 2015, include:
External Recognition
Academic Strength
Enrollment and Student Success
Facilities
Philanthropy and Alumni Involvement
The University has established a presidential search website where the president's message to the campus, his bio and details of the search process can be found.
About Dr. Robert A. Scott
While serving as president, Dr. Scott continues to be a prolific writer and often participates in the public dialogue through his lectures and service on numerous boards including the Long Island Association, the Paul Taylor Dance Company and Global Kids, Inc. and his membership on the Council on Foreign Relations.
Frequently published, his essays have earned Gold International MarCom and BOLI awards. The host of the television program Exploring Critical Issues, which has garnered multiple Telly Awards and a Gold International MarCom Award, Dr. Scott and his guests tackle important regional and national public policy issues.
In recognition of his ethical and transformational leadership, the audit firm Grant-Thornton dedicated its 2013 annual report on higher education to Dr. Scott as the leader of Adelphi's progress. Since joining Adelphi, Dr. Scott has been named one of the 100 Most Influential Long Islanders by Long Island Business News and was recognized with the 2008 Chief Executive Leadership Award by the Council for Advancement and Support of Education (CASE) District II. He has received numerous additional accolades, including: The Association for Commerce Industry and Technology Award for Distinguished Service in the Field of Higher Education; the Raoul Wallenberg Humanitarian Leadership Award; the Garden City Chamber of Commerce Achievement Award; and the Outstanding Paper Award for Excellence from Emerald Group Publishing, Ltd. in 2003, among others.
» Read more about Dr. Robert A. Scott
For media inquiries, please contact Lori Duggan Gold, Vice President for Communications (p – 516.877.3262, c – 516.724.0693, e – duggangold@adelphi.edu) or Kali Chan, Director of Media Relations (p – 516.877.4040, c – 516.993.5677, e – chan@adelphi.edu)