Dr. Richard Garner is an accomplished scholar, published author, Alumni Legend and current and founding dean of the Honors College.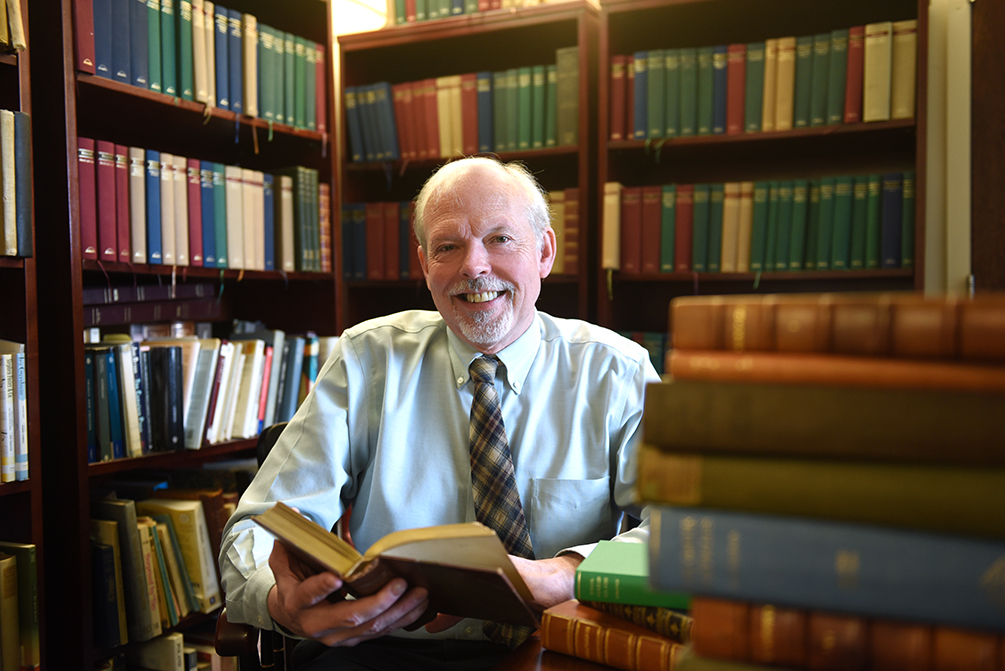 Even though Adelphi was closed on Tuesday, March 13, because of inclement weather, Dr. Richard Garner, who was named an Alumni Legend in 2017, was still working in his office. He was handling some last-minute preparations for the University's second annual Giving Day—an event where, on March 21, Adelphi alumni, parents, students, and friends come together to support and donate to a cause of their choosing. "The Honors College had the most donors last year," he declared proudly—a feat that he accomplished again this year.
Representing less than 4 percent of the undergraduate class, the Honors College is a prestigious community of scholars who study a variety of topics in addition to their majors, including the arts, humanities, sciences, and history. And in 1994, Dr. Garner became its founding dean. In the 20+ years since then, he has been a visible, driving force in the community. He interviews every applicant for the Honors College (there were 450 candidates this year alone), takes students to shows in Manhattan, hosts student dinners and book discussions at his house on campus, and assists students with their graduate school applications and senior theses.
Dr. Garner's true passion, however, lies in teaching. "I came from a family of teachers," he said. "I always felt like I would be a teacher one day too. It felt right." Currently, he's teaching a yearlong course in great books (The Human Condition in Literature), where he and his students analyze classic literature, from Dante's Divine Comedy to Homer's Iliad and Odyssey to Shakespeare's plays. "It's the best part of my day," he added happily. As a teacher and Dean of the Honors College, Dr. Garner hopes to educate his students on, what he calls, humanity's greatest monuments: the intellectual achievements of our past, which, he also hopes, will enrich his students' lives and open their horizons.
---
Biography
Dr. Richard Garner is an accomplished scholar with a bachelor's degree from Princeton University, a master's degree from both The University of Chicago and Harvard University, and a Ph.D. from The University of Chicago. He is also a published author. His books include Law and Society in Classical Athens and From Homer to Tragedy: The Art of Allusion in Greek Poetry.
---
For further information, please contact:
Todd Wilson
Strategic Communications Director 
p – 516.237.8634
e – twilson@adelphi.edu