My relationship with Adelphi is a two way street - as much as I have provided for the University, it has done the same for me.
Marilyn Blau Klainberg '63, MS '77, was a candy striper when she discovered Adelphi, and she was immediately drawn to its 4-year nursing program. As an only child from the Bronx, she fell in love with the campus and the new experiences it offered. As a student, she developed many friendships within her sorority, Delta Phi Epsilon, and in her classes. Today, Marilyn continues to stay connected to her friends from her nursing cohorts through regular Zoom meetings.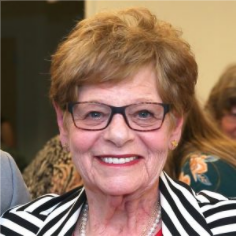 At the end of her sophomore year, Marilyn married Bernard Klainberg and moved to lower Manhattan, where she completed her undergraduate years as a commuter student. She continued her education at Adelphi and received her MA in community health nursing in 1977 and her EdD from Columbia University's Teachers College in 1994. Today, she has four children and ten grandchildren–a big family that she is deeply proud of and grateful for. 
Recalling her own tumultuous journey to becoming a nurse, Marilyn credits Adelphi faculty and community members, including Jackie Hott and Kathy Dirschel, for both supporting her and pushing her to achieve her academic goals. Now a notable professor and encouraging mentor at Adelphi, Marilyn hopes to assist aspiring nurses "thrive in their careers and understand the importance of their education."
On the occasion of Bernard and Marilyn's 50th wedding anniversary, their family and friends honored them with the creation of The Bernard and Marilyn Klainberg Scholarship Fund, which recognizes the couple's dedication to education and provides resources to the next generation of nursing students. 
Marilyn donates to Adelphi every single year. "I hold Adelphi close to my heart because I feel I grew up with the University. I support Adelphi the same way I support loved ones in my life who are important to me."