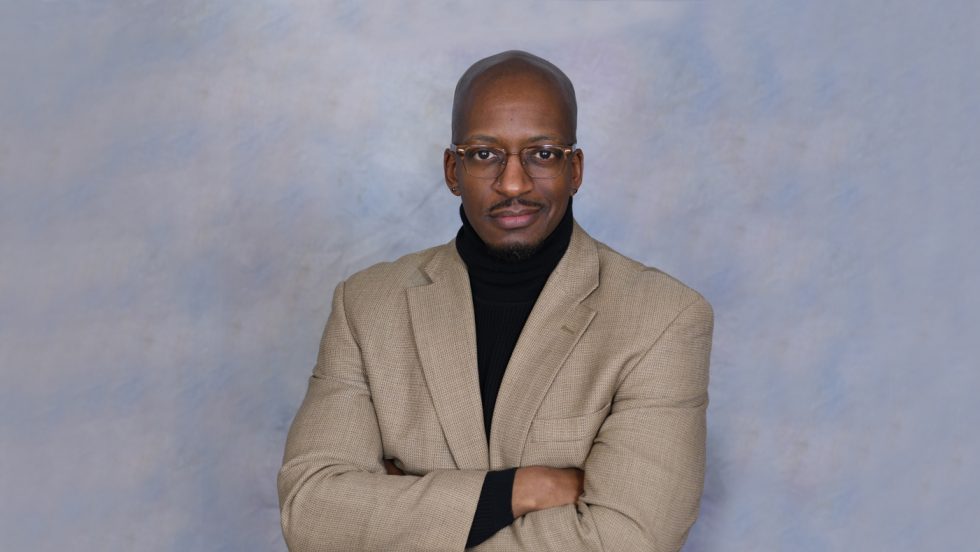 Warren Graham grew up in Hempstead, New York, in a family of civil servants. His stepfather worked in corrections and his mother worked administratively in police stations—and Graham had a lot of questions.
"I've always been interested in the human condition, the social condition, but without knowing how to articulate the question," said Graham, a doctoral candidate in social welfare policy at Adelphi University. "I wanted to get the answers to the questions around human behavior that I was seeing around me, especially as they relate to mental health and addiction."
He was drawn to social work because of its practicality. "It's active and proactive, especially when you identify a social condition or social issue," he said. "You are given the actual tools and you learn to do something about it."
Today that means Graham focuses on the ways racism is expressed, both in society and individually, such as microaggressions in social work settings, aggressive policing, oppression, white fragility and implicit bias. He is the founder of Obsidian and Indigo Consultants, through which he facilitates organizational training around issues of diversity, equity and inclusion. He also founded Preferential Peace, his clinical practice, which increasingly includes Black professionals struggling with race-related issues in their personal and professional lives.
Graham is also assistant dean of field education and clinical associate professor at Stony Brook University's School of Social Welfare. He's taught at Adelphi and at Hunter College, Fordham University and Touro University. His lengthy résumé also includes numerous publications and conference presentations, including speaking at Adelphi's Black Men's Mental Health and Wellness Conference last April.
"The faculty and staff at Adelphi understand what it is to navigate race in higher education and have been extremely supportive," Graham said. "Administrators and professors have been extremely responsive to my concerns, even when they didn't necessarily understand them. There are no perfect organizations or institutions, but Adelphi has made the effort to correct the wrongs whenever they manifest themselves. And that is something to be celebrated."
Twenty years in the field
Graham's professional journey began two decades ago, beginning with outpatient substance abuse. Ever the questioner, he started to peel back the layers of child abuse and neglect and a lack of resources that many patients had, and he kept asking why.
"I started to see a common thread," he said. "New questions around systemic issues and systemic inequalities and social determinants of health kept coming up. The more I went down the rabbit hole, the more I found that there was more work to do, not just around substance use or mental health, but around trauma, in all the ways in which people are traumatized, and what that looks like for different populations."
For more than a decade, he worked with the Nassau County Family Treatment Court and Juvenile Treatment Court. He became active in the National Association of Social Workers—he's currently on the diversity committee—and the Council on Social Work Education. He worked at the North Shore Child & Family Guidance Center. He began teaching.
A love of teaching
"I fell in love with being in the classroom, with the faculty and administrators, where I can really indulge these questions that I was having around causality," he said. "And with my students, representation matters. For students coming from very isolated and insular communities, standing in front of them as an educated Black man who speaks well, it's important for them to see that I am not the stereotype they may have been accustomed to."
Having a Black professor is equally as important for his students of color, Graham said, noting that when he was in his social work master's degree program, he had almost no Black professors.
"I didn't necessarily feel like the classroom was a safe space," he said. "So now I enjoy creating those safe and brave spaces, so that students can share their lived experiences."
Teaching led him to the doctoral program at Adelphi, Graham said, noting that his own lived experience made it clear he needed the credential.
"I pretty much have always been in leadership positions since coming into the field," he said. "But I started to find myself marginalized and my voice silenced. I could see that it's almost as if once you become a doctor you have license to speak freely and people actually listen. So I said, 'Is this what it's going to take to amplify my voice so that I can continue to speak for others?' Then this is yet another reason why I need to walk this walk."
Plus, he simply loves the challenge.
"I wake up excited because I get to do the things to create change and be a part of the change process, for not only students, but the people that they work with, in communities," he said. "Being a part of community in systemic change."