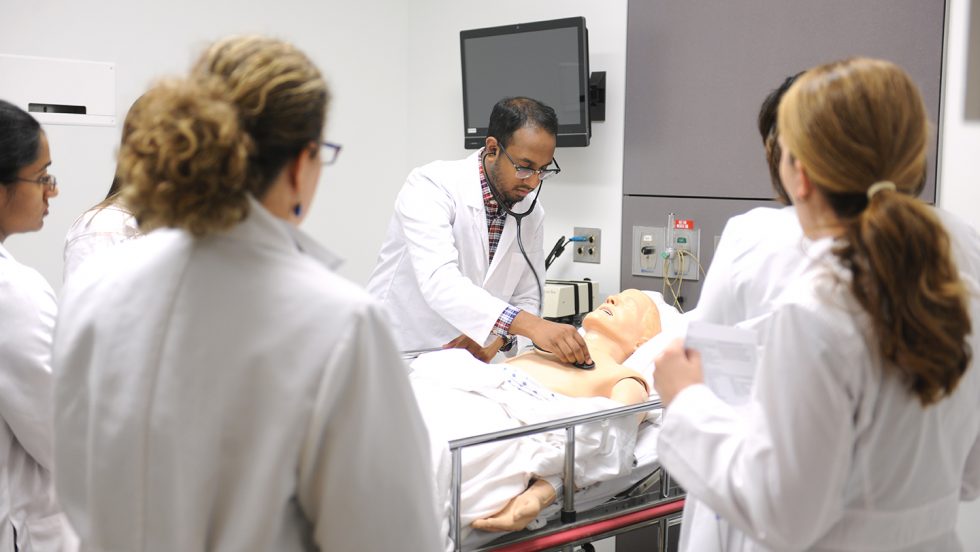 The Commission on Collegiate Nursing Education (CCNE), the accrediting branch of the American Association of Colleges of Nursing (AACN), has recognized Adelphi University's Doctor of Nursing Practice (DNP) program in adult gerontology primary care.
CCNE is officially recognized by the U.S. Secretary of Education as a national accreditation agency for nursing education programs.
This accreditation assures that Adelphi University College of Nursing and Public Health (CNPH) students are receiving a high-quality education for their nursing career.
Deborah Hunt, PhD '12, CNPH's Dr. Betty L. Forest dean, said, "The College of Nursing and Public Health is committed to excellence in teaching and scholarship and providing future nurses and advanced practice nurses with the knowledge, skills and competencies to practice in a variety of settings."
She added, "We are at a critical time in nursing and healthcare and need more advanced-practice nurses who are prepared at the doctoral level to serve as clinicians, leaders and educators. We are honored to receive CCNE accreditation for our Doctor of Nursing Practice, which recognizes the high quality of our program and faculty."
Dory Ferraro, DNP, clinical associate professor and director of the DNP program, said, "The recent accreditation of our DNP program by CCNE is a direct result of the hard work of our DNP faculty in developing a high-quality program for adult gerontology primary care nurse practitioners who want to earn their doctorate in nursing practice. We are looking forward to the significant role our DNP graduates will have in improving patient outcomes and the overall delivery of healthcare."
Christopher Storm, PhD, Adelphi provost and executive vice president, said, "Congratulations and thanks to Mary Hickey, associate dean; Maryann Forbes, associate dean for academic affairs [and former interim dean]; Marie Cox, clinical associate professor and chair of the graduate nursing department; Dory Ferraro, clinical associate professor and DNP program director; Cait McElroy, director of strategic initiatives for the College of Nursing and Public Health; and all DNP faculty for their hard work to achieve this important accreditation."
The next DNP cohort will begin in Spring 2023.
The DNP accreditation comes just four months after the College received another highly regarded accreditation for its Master of Public Health (MPH) program. That recognition came from the Council on Education for Public Health (CEPH), an independent agency overseen by the U.S. Department of Education to accredit schools of public health and public health programs.
Next, CNPH will be working toward accreditation and certification for its Clinical Education and Simulation Lab in the coming year. As one step toward that prestigious national honor, the College participated in in a national initiative in September—the Society for Simulation in Healthcare's Healthcare Simulation Week.