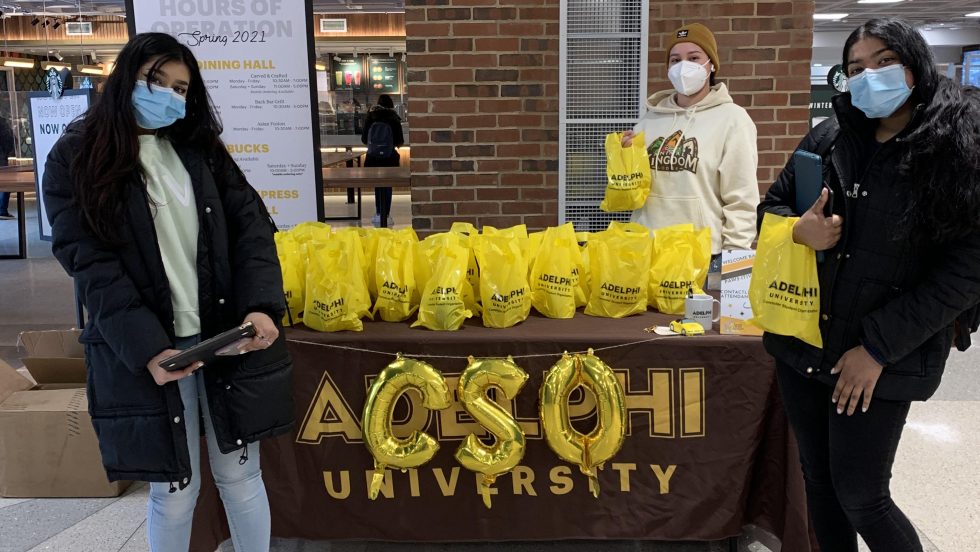 As we head into the end of the spring semester, we reflect on how we've overcome a year of unexpected change and challenge to work together in new and innovative ways to stay safe, learn and thrive—as Panthers do!
The Division of Student Affairs was no exception. The division was, and continues to be, committed to providing programming, resources and assistance for Adelphi students.
The division encompasses nine departments:
The Office of the Vice President of Student Affairs and Dean of Students
Center for Career and Professional Development
Center for Student Involvement
Health Services Center
Interfaith Center
Office of Residential Life and Housing
Student Access Office
The Office of Student Conduct and Community Standards
Student Counseling Center
Coming off a successful virtual New Student Orientation and virtual Welcome Weekend this past summer, the division charged forward into the academic year under this new normal. No one quite knew what to expect, but one thing remained unchanged—our relentless dedication to student success. With spring here, the division reflects on some of our most notable achievements, the plethora of opportunities and activities that took place for leadership and involvement, and what we did to help students feel at home in our Panther community.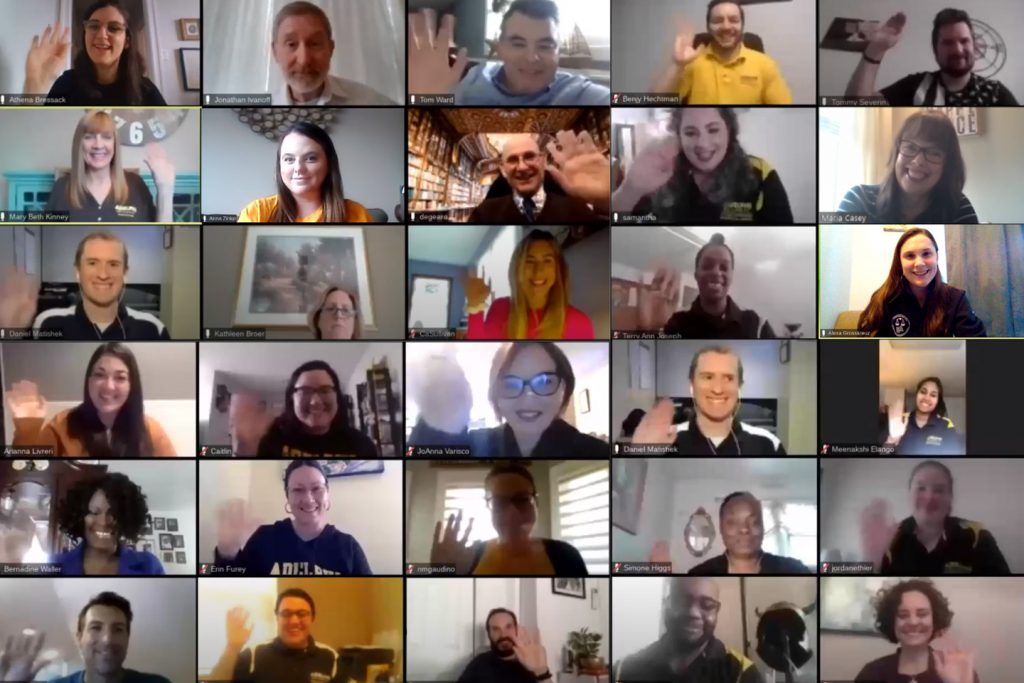 Take a look at what we accomplished:
COVID-19 testing and contact tracing are two components of keeping infection rates down. As of March 2020, Student Health Services has tested at-risk community members seven days a week and has contact traced more than 1,300 Adelphi community members.
Under the Center for Student Involvement's leadership, a student advisory board, the Equitable Adelphi Action Team was created. The board advises the Division of Student Affairs on creating a more equitable campus community, free of racism, microaggressions and other forms of oppression. Their work included providing feedback to academic leadership on diversifying the curriculum, recommending the development of a Panther Pantry advisory board, and advocating for the expansion of diversity and inclusion training for student leaders.
Our Gamma Beta Phi community service honor society was recognized as one of seven chapters nationwide as a Distinguished Chapter from the organization's national office, citing the amount of service projects Adelphi has completed amidst the COVID-19 pandemic.
The Panther Pantry fulfilled 545 orders and distributed 7,872 items to community members since the beginning of the academic year.
The Office of Student Conduct and Community Standards launched a new website that provides transparency about their processes. The updated website is also more user-friendly, allowing the Adelphi community to easily share information.
Since the beginning of the academic year, the Center for Career and Professional Development has reviewed nearly 1,200 résumés, coordinated 72 career-related events and presentations and hosted more than 650 virtual career counseling appointments for students.
Since its inception 12 years ago, the Jaggar Community Fellows Program has served communities by providing more than 500 students with paid internships at more than 100 local, regional and global nonprofit organizations.
The division welcomed first-year and transfer students through an online Introduction to Accommodation Services platform developed by the Student Access Office.
The Student Access Office worked in close collaboration with the Web Development and Digital Strategy team on a 7,000-page Americans with Disabilities Act (ADA)-compliant, mobile responsive and user experience (UX) focused website. This site earned Adelphi a Silver Award for Institutional Websites in the eighth annual Education Digital Marketing Awards.
The Student Counseling Center offered virtual support for students, holding 2,264 telehealth appointments and offering Headspace, a mindfulness and meditation app, which has been downloaded by more than 200 students.
The Student Counseling Center created an LGBTQA+ weekly studentempowerment group and the Panthers Persist wellness and well-being workshop for first-year students.

The Office of Residential Life and Housing presented 150 virtual programs this year and had more than 1,200 students in attendance.
More than 70 attendees participated in "Taking A Stand Even If It Hurts" with transgender rights artist and activist Imara Jones. The event was co-hosted by the Alcohol and Other Drugs program and LGBTQ+ and Allies Committee.
The Student Government Association began a diversity speaker series bringing impactful voices to our community, such as George Floyd's aunt and uncle, Angela Harrelson and Selwyn Jones; the founder of the True Black History Museum, Fred Saffold; and the first hijab-wearing Miss Minnesota USA contestant, Halima Aden.
Adelphi Spirit Weekend, our annual tradition led by the Center for Student Involvement, virtually engaged more than 1,700 Adelphi community members and had more than 40 virtual events.

Since September 1, 2020, the Division of Student Affairs has hosted more than 1,665 events attended by more than 13,788 students.