Finding a previously undiscovered fossil is something archaeologists and paleontologists only dream of. However, that's exactly what Michael D'Emic, assistant professor of biology at Adelphi University, believes he and three of his students have done.
When Adelphi University Assistant Professor of Biology Michael D'Emic, Ph.D., took three of his students to south-central Utah on a dig for dinosaur bones, the small team went to a relatively new dig, still rich with bones.
"The chances of finding any bone are pretty much guaranteed," Dr. D'Emic said, speaking during a rare moment of Wi-Fi access. "It's just a jumble of bones of 10 or 12 individual dinosaurs that were washed down there." What they didn't expect to find, Dr. D'Emic said, was "a bone—a shoulder blade—that doesn't resemble any known species as far as I can tell."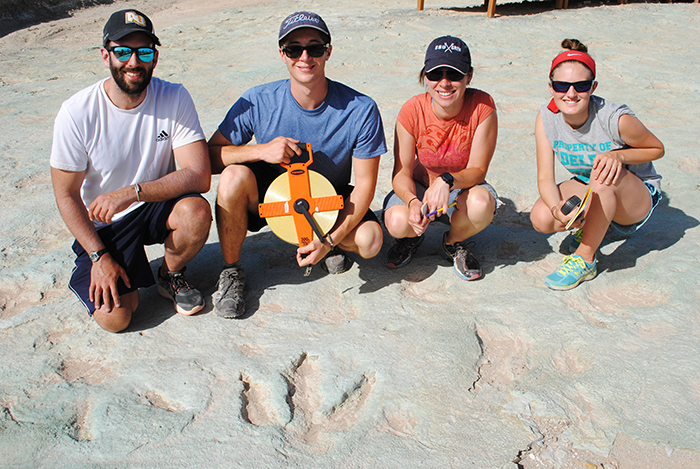 It happened on the first day of the dig. Jacob Virginia, a junior majoring in exercise science, was working on freeing a partially exposed bone and Dr. D'Emic got curious. With the assistance of the two other students on the dig—junior anthropology major Laura Jacobson and Christina Chahalis, currently working on her master's degree in biology—they completed the difficult, delicate work of dislodging the shoulder bone from the hard sediment where it had been housed for centuries upon centuries. The bone will now go through a lengthy process of examination before it can be declared a new discovery.
The bones were in a pit in what is now part of federally managed public lands in south-central Utah, managed by the Burpee Museum of Natural History in Rockford, Illinois, where Dr. D'Emic is an adjunct curator. While the connections to the time before our two-legged ancestors began to walk the earth are invaluable, new discoveries—artifacts that don't just add to collections of relics but reveal new information about prehistoric life—aren't so common.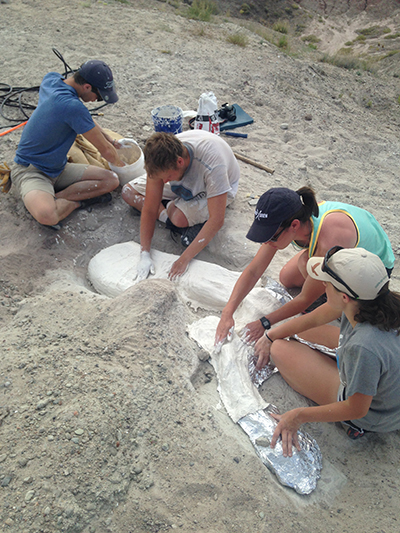 But this one was something special. The large and as-yet-unidentified shoulder blade Dr. D'Emic and his students uncovered satisfied what no doubt was a wish secretly harbored by the students. It's not unheard of at the site, he said, but it's not an everyday occurrence.
The trip also included visits to the Capitol Reef National Park and Arches National Park, where the students were able to visit the Mill Canyon Dinosaur Trail and (with permission) go off the trail to actually walk into the prehistoric tracks, solidified in stone, which were discovered along the ancient riverbed.
"This is a more recent discovery," he said. "The tracks were only discovered in 2009. Scientists are really only starting to work on them."
Dr. D'Emic is no stranger to discoveries. He recently made national news with a paper that put forth the theory that sauropods grew very quickly with little to no help from their parents. He has also published work strongly suggesting dinosaurs were warm-blooded, a point that has been debated for decades.
 The Utah trip was a first for Adelphi and something Dr. D'Emic hopes to build on in the coming years.
---
For further information, please contact:
Todd Wilson
Strategic Communications Director 
p – 516.237.8634
e – twilson@adelphi.edu