Diana Cristiano '13's life was shaped by the nature. Now she uses her M.S. in environmental studies to protect the nature that raised her.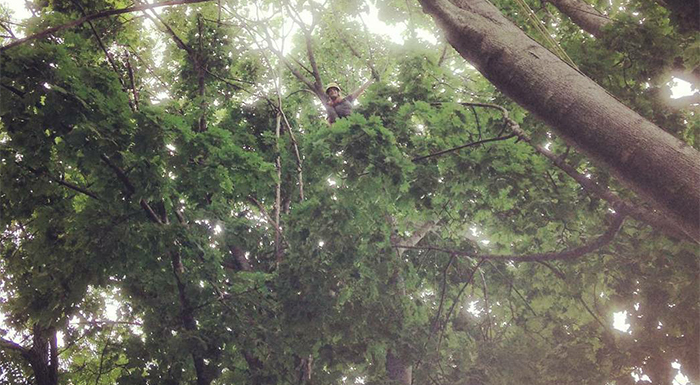 by Jim H. Smith
In the front yard of the tidy house in Massapequa where Diana Cristiano '13 grew up, there's a 30-foot tall linden tree that holds mythic significance for her. When she was a kid, Cristiano could often be found up in its limbs. Tree-climbing is in her genes.
So is the need to be of service. Cristiano came to Adelphi planning on a career in nursing, but weather disrupted her plans. In her sophomore year she took a course on weather and climate taught by Beth Christensen, Ph.D., who directs the University's Environmental Studies program. The course, declares Cristiano, was "inspirational."
The deeper she got into the subject matter, the more she felt that she "could make more of a difference in environmental science," says the lifelong Long Island resident. "I grew up on the water and we used to harvest clams in our backyard. When I was 18, however, there was a really bad red tide. Since then we've been unable to harvest clams. It had a strong impact on how I view the environment."
So great an impact, in fact, that Cristiano changed her major, earning a bachelor's degree and then a master's in Environmental Studies. After graduating from Adelphi she spent a year working for the New York State Department of Agriculture before joining the U. S. Department of Agriculture's Animal and Plant Health Inspection Service. Today she's on the front lines of two wars against insect pests threatening Long Island.
One is the deer tick that spreads Lyme disease. The other is a bug called the Asian Longhorned Beetle, an invasive species that destroys 13 different kinds of deciduous trees. Since 2013 it has killed more than 2500 Long Island trees.
Her childhood of tree climbing could not have better prepared Cristiano for any other career. A professional tree climber, she covers 54 square miles in central Long Island, as well as parts of Queens and Brooklyn, regularly scaling mature trees to look for signs of the pesky beetle. In addition, she serves as a program safety coordinator in connection with both of the wars she's engaged in.
"I've always been drawn to the outdoors. This job is perfect for me," she says, adding that it's a job she wouldn't have found were it not for her Adelphi education.
---
For further information, please contact:
Todd Wilson
Strategic Communications Director 
p – 516.237.8634
e – twilson@adelphi.edu