This past academic year, The Delphian, Adelphi University's student newspaper which is also known as "voice of the students," was awarded best college newspaper by the Press Club of Long Island.
The Delphian Named Long Island's Best College Newspaper for 2018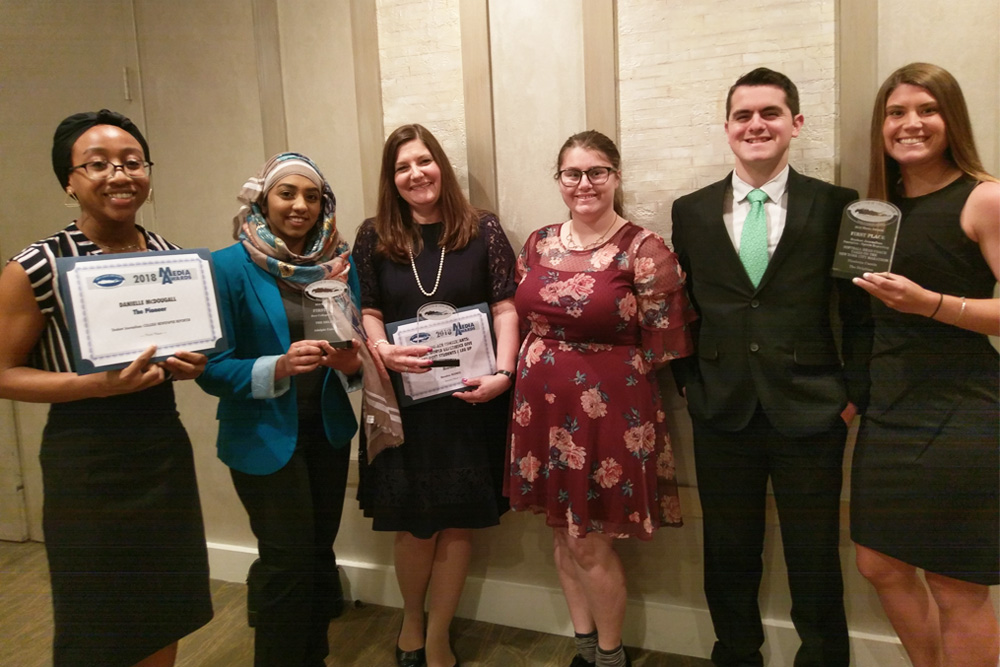 This past academic year, The Delphian, Adelphi University's student newspaper, has covered student shootings and gun control, DACA and Dreamers, student protests and sustainability. It has profiled artists, athletes and alumni and reviewed performances and sporting events. Called the "voice of the students," it has sought out numerous students from all across the academic spectrum to give a voice to their thoughts, concerns and criticisms on everything from sports and entertainment to politics.
The hard work of editor-in-chief Gabrielle Deonath and the staff has paid off: The Delphian was awarded best college newspaper by the Press Club of Long Island, who announced the winners of its annual journalism awards at a dinner at the Woodbury Country Club on Thursday, June 7.
"We've been honored for our work for seven straight years," said Liza Burby, senior adjunct professor, Delphian faculty adviser and an author, journalist and editor in her own right.
The Delphian won in the following categories:
First Place for Best College Newspaper: The Delphian Staff
First Place for Sports Reporting: Nicoletta Cuccio for "Softball Head Coach Takes on New York City Marathon"
Third Place for Best College News Reporter: Danielle McDougall
Third Place for Narrative Feature: Jami Glatter for "`Peter and the Starcatcher' Changes Sails for Autism-Friendly Performance"
In addition, Burby, won:
First Place Columnist for WorkingMother.com
Second Place for Business Reporting in Newsday
Third Place for Education Reporting in Newsday
Seeing The Delphian win first place was a proud moment for Deonath. "We are competing against college newspapers that are twice or triple our size or even larger, so I really feel that this award is indicative of the talent, strength and dedication of our small staff," she said. "This was only possible because everyone, from writers and editors to the graphic designers, came to table every issue with their best ideas and their best work."
She also gave credit to Burby, saying, "It helps tremendously to have an adviser who is so involved in the process, is always available to provide assistance and guidance, and who had such extensive experience in an industry that many of us hope to break into."
Deonath will continue writing for her own website, The Hijab Diaries, and serving as assistant editor for Brown Girl Magazine, while Cuccio takes the reins as editor-in-chief. "I know I am leaving The Delphian in good hands with Nikki, who won first place last night in an individual award for the sports narrative category," said Deonath. "I couldn't be more proud, and I wish The Delphian continued success. What a way to end my run as editor-in-chief."
In addition, alumni Sarah O'Connor '16 and Silas W. Kelly M.S.W. '14 were part of a group honored with First Place, Breaking News-Radio, for a piece called "Z-100 Get Active–Sarah O'Connor and the INNcredible Bike Ride." The story documented O'Connor's fundraising efforts for the Interfaith Nutrition Network—known as The INN—a Hempstead nonprofit organization that provides food, shelter and other supportive services to the homeless and others in need.
---
For further information, please contact:
Todd Wilson
Strategic Communications Director 
p – 516.237.8634
e – twilson@adelphi.edu