Her advice to students: Get involved on campus and build your professional reputation off campus.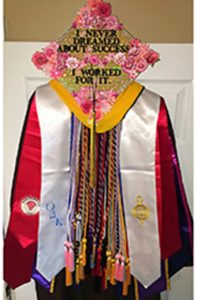 These are the words I tell people when they ask how I have achieved all that I have during my undergraduate college career. I graduated from Adelphi University in May of 2017 with a Bachelor of Science (B.S.) degree as a Finance major and Mathematics minor. I am proud to say that I was on the Dean's list each semester of my Adelphi career, and earned more honor cords than most of my graduating class. My diligence and work ethic are a testimony of my great potential.
On top of devoting my time at Adelphi to building my professional reputation, I held several leadership positions, most notably: Finance Society President, Delta Gamma Vice President of Finance, Delta Sigma Pi Vice President of Finance, and Peer Leader of the Health and Wellness Peer Education Program. I was a well known leader on Adelphi's campus and I know that the hard work I put in has left a lasting impact at this University. Holding all of the leadership positions I did, while still excelling in the classroom and in the workplace, certainly wasn't an easy task and consisted of many sleepless nights. Despite the hardships I have faced, it was definitely all worth it in the end. Because of my achievements, I was invited into eight different honor societies and was one of ten students selected to attend the Northeast Greek Leadership Association conference. I was the Student Government Association's recipient of the Women's recognition award and was recognized by Adelphi's Center for Student Involvement as Adelphi's Student Leader of the Year 2015-2016. I also had the opportunity to study abroad in China and was able to participate in a community service alternative winter break trip in South Florida.
Throughout my college experience, fellow classmates of mine told me how much of an inspiration I was to them. To me, the most important thing that makes a leader is their ability to inspire others, and I believe I have accomplished this.
Being a student on the Dean's Advisory Board I was able to develop a close relationship with Dean Sanyal. The Dean's Advisory Board consists of a select few students from the Business School to represent the views and opinions of the Willumstad School student body and to actively promote its programs. We would also provide feedback to the Dean on issues related to the operations and advancement of the Willumstad School. Having the opportunity to converse so openly with Dean Sanyal, my learning experiences and opportunities I was presented with were positively impacted. Upon the Dean's request, I had the great honor to have the Finance Society "sponsor" the visit of Mr. John Flahive, director of fixed income investments for BNY Mellon Wealth Management. This turned out to be an extraordinary opportunity for me and the members of the Finance Society to meet, greet, dine and converse in person with a very successful finance professional. Mr. Flahive is one of the many individuals I had the chance to meet with on a personal level due to the connections I made within the Business school and its faculty.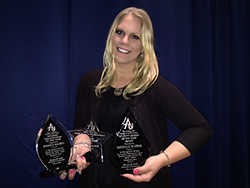 As the President of the Finance Society my junior year, I made it my duty to have a guest speaker at each and every weekly meeting whether it be a familiar faculty member or executive professionals of large firms. Through the help of Professor Michael Driscoll, I invited Ms. Jacqueline Coleman, Senior Specialist of Human Resources at Northwell Health, to come and speak to those members of the Finance Society about potential internships at Northwell Health. Upon Ms. Coleman's departure, I thanked her for her time and handed her one of my resumes. Just a few short days later she invited me to her office for an interview and that is how I was offered my first internship opportunity.
At Northwell Health, my internship was for the Office of the CIO, under alumna Barbara Morrissey '89, Vice President of Intellectual Property and Information Technology, and Scott Silberlust, Vice President of IT Finance and Administrative Services. Most of my days were spent working with the IT Legal team; however, at points I also helped other teams in my office, such as IT Sourcing. Under Barbara Morrissey's direction, I spent most of my day accurately entering client and contract data into a company based software program, assigning contracts to attorneys and confirming contract status, communicating with vendors and business owners, and preparing contracts for the Chief Information Officer, John Bosco. For IT Sourcing, I would review planned orders, create requisitions for purchased items using PeopleSoft, and manage the approval and purchasing order process. My favorite thing about my internship experience at Northwell Health were the opportunities that I was given that made me feel more like an employee, rather than an intern. I was trusted by my colleagues and was given the same standard and difficulty of tasks. I quickly picked up on everything I was taught and I even began to train other interns, that same summer, on the PeopleSoft program. Northwell Health does a great job exposing you to different areas and departments across the Health System through various lunch and learns planned for the duration of the summer.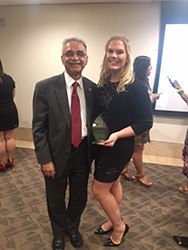 Near the end of summer my junior year, Mr. Neil Halloran reached out to me about an internship opportunity for Merrill Lynch. Although I already had an internship secured for the year with Northwell Health, we decided it would be best for me to go for the interview with Merrill Lynch because an interview alone is a great learning experience. Professor Halloran did his absolute best to make sure I was well prepared for the interview. Even though it was the summer and I wasn't on campus he still prepared me to the best he could. Professor Halloran not only provided me with mock interview questions, but he also provided me with tips and key information about the firm that I familiarized myself with. He called me several times answering any questions I might've had and even gave me a mock interview over the phone the night before my interview. Upon my arrival at Merrill Lynch I felt very well prepared and I can owe that all to Professor Halloran. I can't think of any other University spending so much time to ensure that their students are putting their best foot forward during their interviews and making sure that they are very well prepared for any question thrown their way.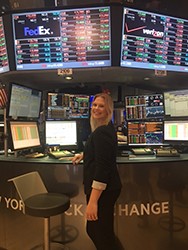 Receiving the call that I was offered the internship with Merrill Lynch, I was ecstatic. And yet, I was also conflicted because I already had a secured internship with Northwell Heath. Luckily for me, my bosses at Northwell Health were nothing but happy for the new opportunity I was presented with. They wanted me to make whatever decision I thought would be best for me and my future. They ensured that if I decided to leave Northwell Health, I would be leaving on great terms and they were always willing to welcome me back to their team. I ended up accepting the internship with Merrill Lynch. For a normal college student, one internship a semester is enough. For me, I wanted to continue to build my professional reputation at Northwell Health even during the duration of my twelve week Merrill Lynch offer. With that being said, I spent my first semester of my senior year interning at both Merrill Lynch and Northwell Health.
At Merrill Lynch, I was a wealth management intern in the operations department where I developed business acumen through assisting Private Wealth Advisors in client research, administrative tasks and team projects. I ran weekly reports for management, created wealth outlook goals and performance analysis, and even increased a financial advisor's Client Experience Standard by over 65%. I was required to complete Merrill Lynch educational courses on business ethics, communication efficiency, fraud detection and corporate law. The skills I learned at Merrill Lynch are skills that I can carry with me for the rest of my life.
Although my time at Merrill soon came to an end, my time at Northwell was just beginning. For the duration of my senior year I continued to intern for the same team, eventually taking over the tasks of a full-time employee during her maternity leave. I even had the experience of training a new full time employee as she began her midlife journey at Northwell. Today, I am still with Northwell Health and I couldn't be more proud of the journey I took and the outcome it had. Adelphi University has given me so many opportunities you wouldn't be able to find anywhere else. As I continue my journey at Northwell, I will forever remember everything I have learned from Adelphi and Merrill Lynch. If I can give any incoming student advice, it would be to get involved on campus and build your professional reputation off of campus. Adelphi provides its students with countless opportunities. Remember, you can't dream for success, you have to work for it.