Clinical Associate Professor John Wygand put "cupping"—the therapy responsible for those blotches—through its own Olympic-like trials.
Did those strange, purplish circles on swimmer Michael Phelps' back and shoulder contribute to his incredible performance in the 2016 Summer Olympics?
That's what John Wygand, clinical associate professor of exercise science and health studies, wondered while watching the Rio Games on television. But, unlike other viewers, he decided to look for answers by putting "cupping"—the therapy responsible for those blotches—through its own Olympic-like trials.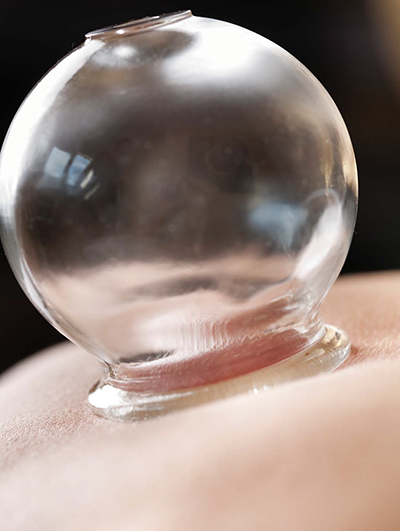 "Cupping isn't new and it wasn't unfamiliar to us—Adelphi trainers have been using it on varsity athletes—but not a whole lot is known about its effectiveness," he said. "After the Olympics, we decided to see if it had any scientific basis."
Wygand teamed up with colleagues in the department of Exercise Science, Health Studies, Physical Education and Sport Management to develop a set of rigorous, scientific tests to determine whether cupping actually improves measures of athletic performance. Robert Otto, Ph.D., who directs Adelphi's Human Performance Laboratory, John Petrizzo, D.P.T., assistant professor, and Shelby Stoner, an exercise physiology graduate assistant who completed her master's degree this spring, collaborated on the project, which was presented at the 2017 American College of Sports Medicine Annual Meeting in Denver, Colorado.
Cupping is an ancient practice that is part of traditional Chinese medicine. Bell-shaped cups are placed on the patient's skin above targeted muscles, and air is withdrawn to create a vacuum that is expected to increase blood flow under the cup. This increased blood flow is believed to have a positive impact on sensory response and performance.
Following Institutional Review Board approval, the experiments tested the effects of cupping on three important aspects of performance: balance, flexibility and muscular power. The first set measured the effects of a single session of cupping therapy on 12 healthy college-age volunteers. It included tests of single- foot balance with a sway index on the Biodex Balance System, range of motion through hip extension and straight-leg raises, and hamstring/quadriceps muscle power using a Biodex Isokinetic dynamometer. Each test was given 15 minutes before cupping therapy, then both 15 and 60 minutes after therapy.
The second set of experiments measured the effects of extended cupping therapy. Treatments were administered to the same group of volunteers on four consecutive days, followed by identical tests of balance, flexibility and muscular strength.
The results of the experiments were clear: Cupping, whether administered once or over a number of days, did not yield statistically significant changes in any of the areas studied.
"We did everything we could to make sure that our tests were objective and that we got good results," Wygand said, "and we just didn't find anything that supports the idea that cupping improves strength, flexibility or balance."
He explained, though, that cupping is also thought to enhance recovery and decrease muscular fatigue, and that the experiments did not examine those claims. While the group may look into cupping's effect on fatigue in the future, he doesn't feel a strong need to do that, considering the clear results of his recent research.
"Some journals say that cupping actually hurts recovery," he said. "In any case, we've done four studies on another alternative-medicine practice—acupuncture's effect on recovery from injury—without finding scientific evidence of its benefit."
Wygand said he and his colleagues plan to submit their research for publication. Whether trainers and athletes like Michael Phelps who believe in cupping will accept its findings is unclear, and it is always possible that cupping has a placebo effect. Still, the results are now official: There is no scientific basis for using cupping to improve performance.
John Wygand is a clinical associate professor of exercise science and health studies in Adelphi's Physical Education and Sport Management program and serves as the director of the undergraduate exercise science program. His primary research interests are in clinical exercise physiology and sports performance physiology. In 2014, he was named an American College of Sports Medicine Fellow.
---
For further information, please contact:
Todd Wilson
Strategic Communications Director 
p – 516.237.8634
e – twilson@adelphi.edu