The Ammon School's first campus-wide Conversations on Race event took place in 2014. Current news events have shown us that the need for such dialogue is probably greater than ever.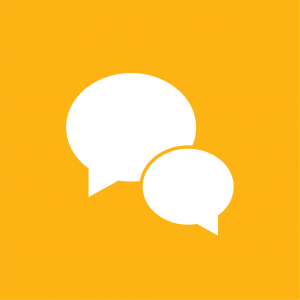 Current events have demonstrated that the need for dialogue across racial divides is probably greater than ever. The Ammon School helped to meet that need with its first campus-wide Conversations on Race in October, 2014.
In Fall 2017, according to event co-facilitator Lyudmila Bryzzheva, Ph.D., an associate professor from the Ammon School, the Conversations on Race team joined forces with Community Dialogues, an initiative of the School of Social Work led by Laura Quiros, Ph.D., associate faculty/professor, and Schanica Pickens, director of student engagement and academic success. Community Dialogues facilitates a safe for conversations about the racial climate both on and off campus. Perry Greene, Ph.D., then associate provost for faculty affairs and institutional diversity, was also instrumental in forging the alliance.
Past events have included town hall and roundtable-style events discussing lived experiences of racism and responses to national stories. One such discussion took place in Fall 2014, focused on the deaths of Michael Brown and Eric Garner in separate, unarmed confrontations with white police officers in Ferguson, Missouri, and Staten Island, New York. There also have been panels of speakers related to national initiatives on race, such as the December 2015 International Conversation on Race and Human Rights and the Truth Telling Project in Fall 2016.
Conversations on Race has regularly worked with the Collaboration Project, the University Diversity Committee, the Center for African, Black and Caribbean Studies and many other campus organizations. They also partnered with Adelphi Community Reads for the 2015 selection, The Color of Water by James McBride, and cohosted a lecture by the author.
Motivated by an awareness of the possibility of different realities experienced by different racial groups on Adelphi's campus, Dr. Bryzzheva and Devin Thornburg, Ph.D., Ammon School professor, had begun a grassroots initiative in late 2011 to bring dialogues about race to the Adelphi community. Those meetings began as fact-gathering dialogues inside University departments to bring awareness and institutional change to the Adelphi community. They gradually grew to the campus-wide Conversation on Race events, which draw about 200 attendees.
The original purpose remains unchanged: to bring about institutional change and racial equity by fostering critical dialogues on racial issues.
---
For further information, please contact:
Todd Wilson
Strategic Communications Director 
p – 516.237.8634
e – twilson@adelphi.edu