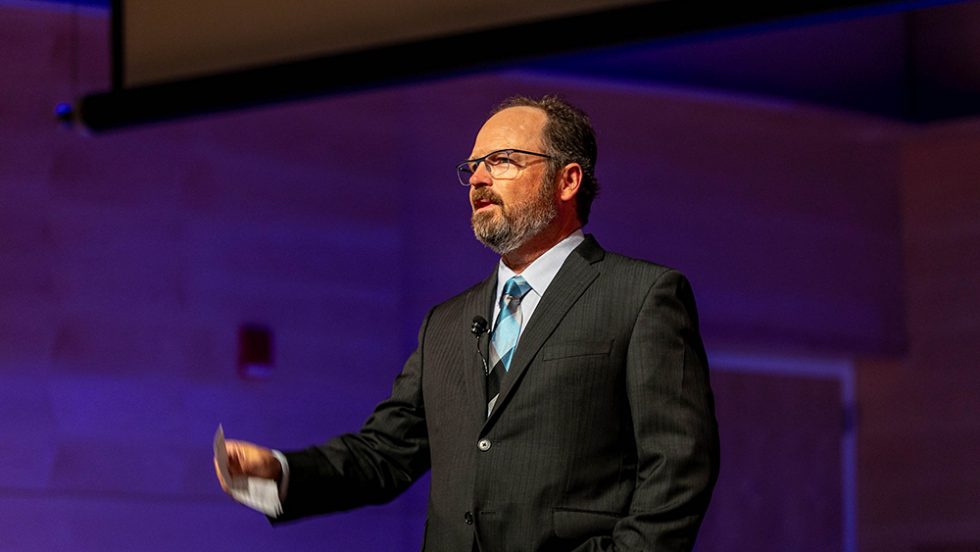 Community is important to filmmaker Todd Robinson '82. It's what he found at Adelphi, he says, and it's what's at the heart of his new movie, The Last Full Measure.
He gave his Adelphi audience a special in-advance screening of his next major feature and stayed for an onstage Q&A with his mentor, Nicholas Petron, MA '70, professor and theater department chair, and actor Travis Wade.
"I owe Adelphi much, not only for a world-class education but the human connections that I made while I was here," he said to the audience at a preview screening at the Adelphi University Performing Arts Center on October 17. "What I found here were my people, and those people have really inspired me and supported me all these years. And this movie is about community."
With a cast that includes A-listers like William Hurt, Ed Harris, Diane Ladd, Samuel L. Jackson and Christopher Plummer, The Last Full Measure is based on the true story of a group of Vietnam veterans who lobbied to have their brother-in-arms awarded a posthumous Medal of Honor. The group of Air Force veterans is aided in their efforts by a Pentagon investigator, played by Sebastian Stan, who takes on their case.
The selfless acts by the real William H. Pitsenbarger Jr. were recognized with the Medal of Honor in December 2000, 34 years after he died in service. But Robinson stressed that the movie isn't just the story of one airman.
"This isn't a story about Pits," he said. "It's really a story about service greater than the self."
Robinson got the idea for the movie—which he wrote as well as directed—while working on another script. That project, an adaptation of a book about Air Force and National Guard rescue forces, led to multiple conversations about Pitsenbarger and the posthumous prize. Robinson recognized the dramatic potential of the story, but securing the funding to finish the project took close to two decades.
During the Q&A, Travis Wade, a Marine veteran who plays one of the airmen in the film, said that working on the film gave him a new dedication to representing the sacrifices of servicemen and women on-screen.
"This journey was just getting back to my roots, finding out that I shouldn't have pulled so far away from a community that I was a part of because I wanted to explore other characters," he said. "This film gave me an opportunity to get back to service. You service what Fitz and all those men did, you service what all the men and women in the armed forces do."
Asked if he had advice for theater students in the audience today, Robinson told them to start building a professional community on Adelphi's campus.
"The main thing I say to you students is, connect with each other, collaborate with each other," he said, "because you don't know where this is going to take you, but it's going to take you somewhere."
The Last Full Measure opens in theaters on January 17, 2020.