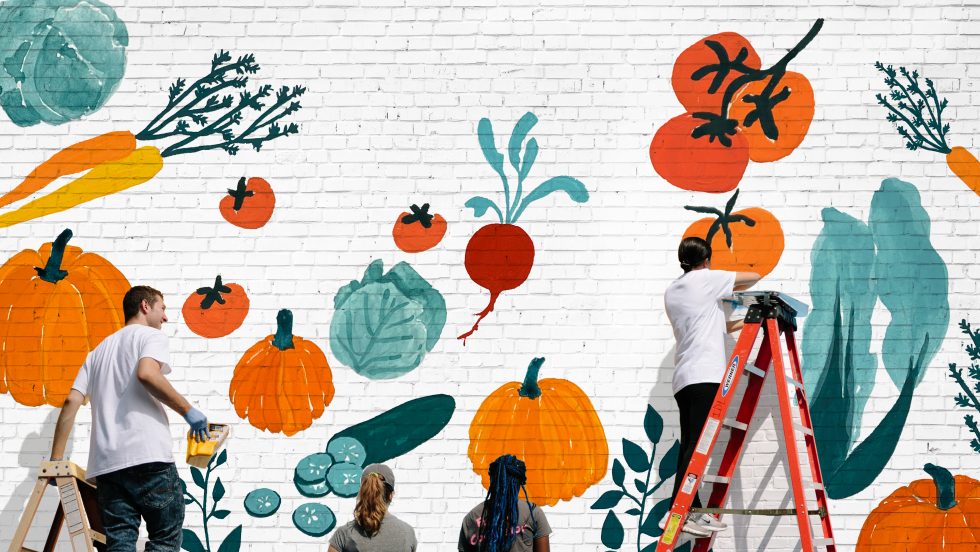 Our faculty, students, leadership and staff are active participants in the greater Long Island region, rolling up their sleeves and offering their expertise to solve problems, provide services and improve the lives of our neighbors (including oysters). Another benefit? Valuable, hands-on experience for our students.
Planting Seeds of Sustainability
When it was time to harvest pumpkins, radishes, zucchini, tomatoes, collard greens and other produce last fall, the growers had a lot to be proud of. After all, through their hard work, they were able to donate 200 pounds of food to families in the Hempstead Union Free School District, as well as to local food pantries.
The gardeners were 85 first-graders from the Jackson Annex School and Barack Obama Elementary School in Hempstead. The students planted, maintained and harvested their gardens through the nonprofit Garden Vines, a program started in 2016 by Cynthia Proscia, MA '92, clinical assistant professor in the Department of Health and Sport Sciences, and Sharla-Renee Hart '09, MA '14, in partnership with Reigning In Life Training Center, a faith-based, not-for-profit organization in the Village of Hempstead.
The students plant the seeds, transplant the seedlings and then care for them throughout the school year. Proscia maintains them during the summer.
She said the gardens serve many purposes, from education to food support. "As a registered dietician, my focus is about food choices, healthy options and helping underserved communities," she said. "Children are the most vulnerable population, so it's important to instill in them in elementary school a knowledge about food and where it comes from and why we need to take care of the environment."
All the food goes back into the community. Garden Vines sets up a free food stand at the elementary schools every Friday for the families, and whatever is left over is donated to Meals on Wheels and the Interfaith Nutrition Network.
Garden Vines also gets plenty of help from Adelphi students. Panther team members come to off-load garden beds donated by Mayfair Construction, art students have painted murals in the gardens, and numerous volunteers work with the first-graders throughout the year.
Kelly Fairclough, principal of Barack Obama Elementary School, said the program is showing her students that education goes beyond the classroom. "This is a community-building, tangible experience for everyone involved," she said. "And, who knows, we may get a future botanist, horticulturalist or nutritionist out of this. It opens up a whole new world for the children and heightens their awareness at a young age."
All About the Oysters
Long Island diners enjoy their oyster dishes. But overfishing and dredging of the natural reef habitat have put the oyster population in jeopardy. A solution? Returning shells to the water. The artificial reefs provide habitats for young oysters, boosting the oyster population. Aside from keeping restaurants and customers happy, oysters provide the vital function of filtering water, and their calcium carbonate shells reduce ocean acidification.
For 10 years, the Town of Hempstead has been working on an oyster reef restoration project to create artificial reefs placed in Hempstead Bay in Nassau County. The process is labor-intensive, according to Stephen Naham, a conservation biologist with the town. "All the shell we use in the hatchery has to be bagged up first. We rely on volunteers to move the material around," he said.
Aaren Freeman, PhD, associate professor in the biology department and graduate coordinator of the environmental studies program, who said while he was aware of shell collection programs across the East Coast, he knew it wasn't standard practice in Nassau. He met with Naham to see how he could help. He then approached Ruth Coffey, PhD, visiting assistant professor in the Department of Environmental Studies, who is the faculty adviser for the student Environmental Action Coalition (EAC). Together they launched Community Oyster Restoration Effort (CORE) in 2017. This oyster shell recycling program, supported by a grant from the Long Island chapter of the Sierra Club, aims to restore the oyster ecosystem by collecting oyster shells from restaurants and oyster festivals.
Enter 
Adelphi's biology and environmental studies students have been eager to dig in. Their first effort was the Oyster Bay Festival in October 2017, when CORE set up blue buckets to collect their first batch of shells. "It turned out to be two tons of shell donated to the town and just one weekend of effort," Dr. Freeman said.
CORE continued to collect shells at 2018 oyster festivals. Then the Town of Hempstead wrote the organization into a state grant in order to recycle shells from several area restaurants daily. CORE has also held events on campus with the EAC.
To date, CORE volunteers have collected more than 30,000 pounds of shells, resulting in 2,000 bags of material that will be used throughout the restoration program.
The oyster population isn't the only beneficiary. "Our students are getting field experience, getting their feet wet, literally," Dr. Freeman said. "The program has plenty of social and economic implications that help the students make the connection that they're filling a necessary gap in a conservation issue."
Thought-Provoking Theater for Social Justice
During a theater rehearsal in December 2018, Maggie Lally '82, associate professor in the Department of Theatre, asked her students what personal security means to them. Their answers reflected the issues that fill the news, from their fears of being assaulted to being bullied to concerns about gun safety.
This wasn't just a random conversation; it was the first stage in developing monologues they would perform on January 31 for the Nassau County Human Rights Commission as part of its annual conference for high school students. The conference has taken place at Adelphi since 2007 to create an opportunity for rising high school juniors and seniors to discuss issues of race, ethnicity, gender and bigotry, said event coordinator Patrice Armstrong-Leach, MEd, assistant dean of the College of Education and Health Sciences. She said Lally's performers have become a powerful part of the event, and invariably the high school students say their performance is the best part of their day.
Lally and 10 Adelphi theater majors created an original theatrical piece called Homeland Insecurity that featured their personal stories and experiences and asked the question: How do gun violence, drug abuse, suicide, sexual assault, bullying, racial and gender intolerance, and xenophobia inform your sense of safety in your immediate world?
Lally, who directed the show, said the group's mission was to "bring evocative and diverse stories on social justice issues to students through a theater experience—to engage, educate and entertain."
Carson Ferguson, a sophomore acting major who performed for her second year, said that being able to have a Q&A with the high schoolers and hear their experiences showed "that we can make a change, that there are things we can do to help others and let people know they are there for them, is so important. I wish I had had that experience in high school."
The Gift of Hearing, Speech and Language
Whether they're fitting someone for a hearing aid, evaluating a preschooler's speech or helping a stroke patient improve their swallowing, students in the Hy Weinberg Center for Communication Disorders, a nonprofit, full-service speech and hearing center clinic in the Department of Communication Sciences and Disorders, are acquiring clinical skills. They're taking part in a busy community-based clinic that offers low-cost services throughout Nassau County. The clinic serves people from 18 months to 85 years and the list of services they offer is extensive.
Ashwini Namasivayam-MacDonald, PhD, assistant professor of communication sciences and disorders.
Patients who need swallowing screenings and therapy are evaluated at the Aging Swallow Research Lab, directed by 
Additional services are offered through an aphasia clinic for those who have suffered language impairment from a stroke or early-onset dementia to improve speech and communication through individual and group therapy.
According to Deborah Friedman, clinical coordinator of speech-language pathology, the Hy Weinberg Center also offers speech assessments and services for students from pre-K through high school, including early intervention programs and social language groups for children to adults on the autism spectrum. A new telepractice program created and run by Dawn Cotter-Jenkins, clinical supervisor, provides sessions via computer platforms for both adults and children who are unable to get to the clinic.
Deborah R. Senzer, AuD, clinical coordinator of audiology, said the clinic serves everyone from newborns to senior citizens. Hearing screenings are conducted every Friday in the community and complete hearing evaluations are offered at the on-campus clinic. A hidden gem at the Garden City campus is the hearing aid dispensary, which offers the latest technology to the public—and an opportunity for students in the program to learn the business side of audiology.
At Adelphi's Manhattan campus, a transgender voice group is providing free voice modification services for clients. The group was co-founded in 2016 by Steven Cox, PhD, a speech-language pathologist and assistant professor, and Irene Kling, PhD, an adjunct faculty member.
Dr. Senzer said that all these services are popular with the larger community. But the real advantage may be how Adelphi students get to work with a range of populations they may not have had experience serving before.
Counseling Services for Public School Students Who Need It Most
In the Hempstead Union Free School District, where the graduation rate is only 37 percent, the needs of students are staggering, according to Jonathan M. Jackson, PhD, director of the Center for Psychological Services and Field Training in the Gordon F. Derner School of Psychology. "The students' needs aren't just problems of adjustment or distraction—it's an entire context of families that in some instances don't have a physical home, are displaced. Some don't have transportation to school," he said.
For four years, the Derner Hempstead Child Clinic has been providing psychotherapy, diagnostic assessment and testing to students and families in the district. Adelphi students, under the supervision of faculty, come from the doctoral program in clinical psychology, the school psychology and mental health counseling program, and the School of Social Work. They rent space in Hempstead through a grant from the high school.
"At Derner, we see the psychologist's role in the world as being aware of social injustice and making some contribution to rectifying it," Jackson said. "We want our students to be equipped to work in the world. And this is the real world. The likelihood that they'll be in settings where there are underserved people is very high."
Tiarra Currie, a fourth-year doctoral student who has been working at the clinic since 2015 as part of her degree, said that while the needs of the population can be challenging, it's their progress that is memorable.
"One of my clients was a 12-year-old Latina who had symptoms of depression and anxiety, because her mom was undocumented and her father was deported," Currie said. "I've seen her for two years and she's made a lot of progress. Her depressive issues decreased because she had a place in our relationship where she could talk about what was going on."
Helping Others Become Diverse and Inclusive
Christine M. Riordan, PhD, Adelphi's president, champions diversity and inclusion as one of our institutional goals. Since she joined the University in 2015, about 600 faculty, staff and administrators have participated in a Diversity Certificate Program designed to promote a positive, respectful workplace and learning space.
Word of the program has spread to surrounding school districts. Perry Greene, PhD, vice president for diversity and inclusion at Adelphi, said the Sewanhaka Central High School District approached his office in the fall of 2017 to see if they could start a similar program there. It was so successful, the school district offered it again in the fall of 2018. The Roosevelt Union Free School District began its program in January 2019.
"As a university in the community, we have an obligation to engage with our neighbors in positive and constructive ways," Dr. Greene said.
Adelphi faculty and staff are the primary instructors on campus and off. For instance, Dr. Greene said the University's Title IX coordinator runs a related workshop, and sessions on the Americans with Disabilities Act are facilitated by its director of the Student Access Office.
Fabian Burrell, MS '17, coordinator for programming and community engagement for the Center for African, Black and Caribbean Studies, also runs the Diversity Certificate community partnership. One of the participants in the Sewanhaka group was Roi Daconto, an art teacher at H. Frank Carey High School as well as an adjunct professor in the Center for African, Black and Caribbean Studies.
"I couldn't wait to take the diversity training because it is so important to foster inclusion and have open dialogue about diversity and unconscious biases," Daconto said. "Even though I felt I knew a lot, there is so much we all must work on. To be able to work with colleagues and administration as a team also interested me."
Burrell said the partnership is training 20 teachers and administrators from Eastern Suffolk BOCES. She hopes the program spreads to more school districts.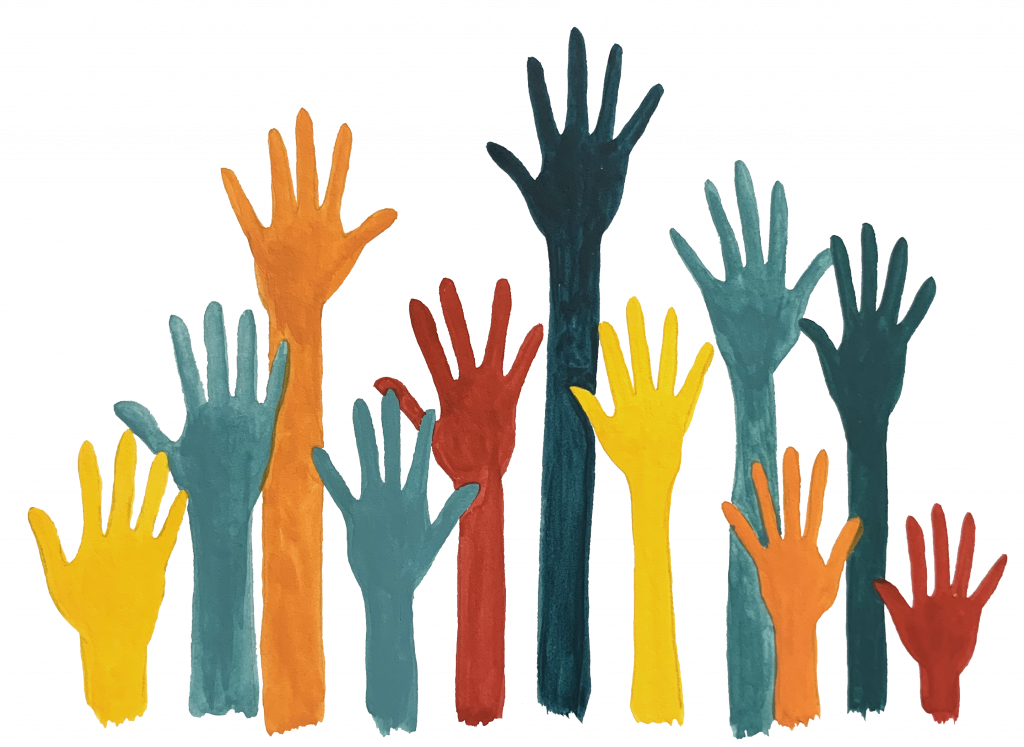 While in Training to Be a Guide Dog, Harpo Offers Puppy Therapy
Students loved stopping by the Harvey Hall office of Daryl Gordon, PhD, associate dean for academic affairs in the College of Education and Health Sciences. However, she wasn't necessarily the one they were coming to see. The attraction was her temporary resident Harpo, an 18-month-old black Labrador who knew the students' schedules well enough to wait at the door in anticipation of their enthusiastic greetings.
While this puppy therapy was welcomed by both canine and human, Harpo had another purpose. Dr. Gordon volunteers as a puppy raiser for Guiding Eyes for the Blind, a nonprofit in Yorktown, New York, that trains guide dogs to lead the blind and visually impaired. Before Harpo, Dr. Gordon raised Gadget, a yellow Lab who now serves as a guide dog to a man in Michigan.
Part of raising Harpo was making sure he was socialized in all the places a visually impaired person may take their dog. That's why he was seen visiting Swirbul Library and classes like the First-Year Seminars.
Harpo moved on to his professional training in January, which meant Dr. Gordon had to give him back to Guiding Eyes. But the students' campaign to get Dr. Gordon to take in another puppy worked: Bentley joined Dr. Gordon in February. He'll be at Adelphi for the next 15 months to be socialized and provide plenty of puppy cuteness and love.