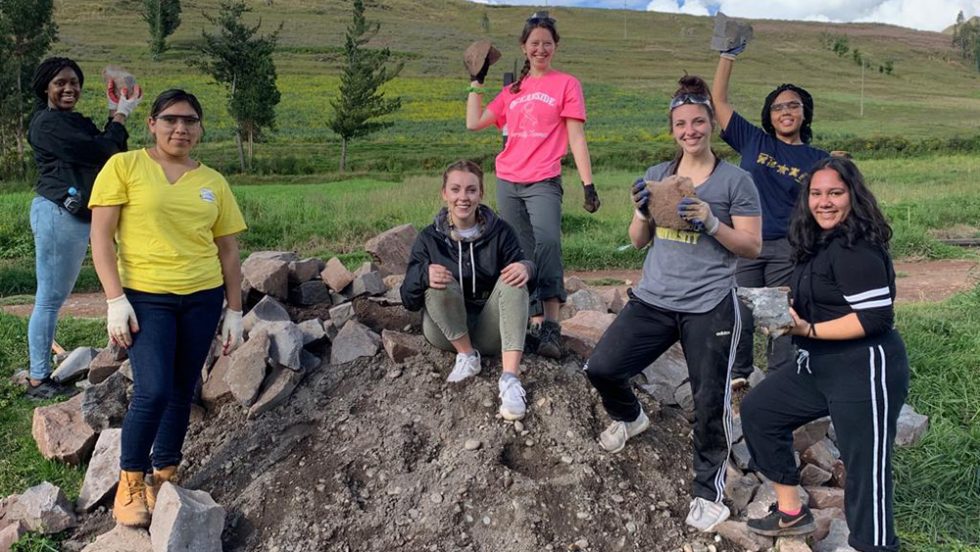 The dedication of our students shows why Adelphi recently earned the Carnegie Community Engagement Classification.
Our students are currently observing the "new normal" of social distancing and were forced to give up their community service projects this semester. However, community service has always been in our DNA—as evidenced by these extraordinary student stories of commitment, kindness and compassion.
Senior Jada Fletcher spent this past winter break in Hawaii, sorting donated items at an understaffed women's shelter and weeding to preserve native plants at a botanical garden. This was made possible by Adelphi's alternative break programs, which offer opportunities to join community service projects across the nation and the globe.
"As students, it's easy to get stuck in the bubble of our academics and personal lives," said Fletcher, a neuroscience major and public health and psychology minor. "It's crucial that Adelphi offers these opportunities for us to get our hands dirty and apply what we're learning in our classes to the real world."
Adelphi Earns a Carnegie Community Engagement Classification
Adelphi's strong commitment to serving the community recently earned it a 2020 Carnegie Community Engagement Classification, a designation received by only 119 universities nationwide. Adelphi empowers students and faculty to get involved in community work through a range of internship and service programs.
Janice Chuquitaype, a master's degree candidate in social work, participated in two alternative break programs as an undergraduate, one as a junior in San Francisco (where she served as a team leader) and one as a senior in Cusco, Peru. A dual U.S.-Peruvian citizen, she saw an opportunity to return to Peru for the first time in five years. "I wanted to really engage with the community there because I'd never done that," she said.
Chuquitaype and her team helped renovate an orphanage in an impoverished community. They built a roof to help keep clothes dry outside, created a sidewalk to prevent flooding, and weeded the backyard to give kids space to play.
"We'd all be changing different roles: mixing cement, working in the yard, playing with the kids," Chuquitaype said. "We worked really hard. There was a lot of teamwork, a lot of communication."
Chuquitaype, who speaks Spanish, served as an interpreter between Adelphi students and the local community in Cusco and helped fellow students understand the different cultural norms in Peru.
"As a social work major, I was always taught how to speak to people, be empathetic and be culturally competent," Chuquitaype said. "I used what I learned at Adelphi to listen to students and ask questions like, 'Why do you think this population has to deal with this issue?' I really appreciated that experience."
Engaged in Long Island Communities
Chuquitaype and Fletcher both volunteer lots of their time close to home as well. Fletcher is involved in the Levermore Global Scholars program, which prepares students to become global leaders through seminars, internships and service projects. As president of the program's student council, she organized a fundraiser for relief after Hurricane Maria, which devastated Puerto Rico in 2017. She organized a trip to Washington, D.C., for March for Our Lives, a student-led demonstration for stricter gun laws. Fletcher is also working with local community partners to collect unused food at Adelphi and redistribute it to shelters and people in need.
"I think community engagement and service is crucial, especially considering where we are located," Fletcher said, noting Adelphi's Garden City location is close to under-resourced communities in nearby Hempstead. "It can be very beneficial for students to seek these opportunities. Take advantage of it."
Chuquitaype, who plans to receive her Master of Social Work in May, has an internship doing discharge planning for social work at Northwell Health.
She isn't the only Adelphi student gaining experience—and helping members of the larger community—at Northwell. More than 200 nursing students from the University gain clinical experience at Northwell Health centers every year. Numerous students in the Jaggar Community Fellows Program have spent their summers at Northwell on paid internships.
"Last year, I saw one of our former Jaggar fellows, Jennifer Aviles '16, who is now a registered nurse at Northwell Health, recognized at the hospital's Nurses Week Center of Excellence celebration," said Launette Woolforde, EdD, vice president of nursing education and professional development at Northwell Health.
Chuquitaype also continues her community service by working with a Hispanic cultural center in White Plains.
"I try to do as much as I can on campus, too," she said. "I just really want to be involved in the community and I've been grateful for all the opportunities Adelphi gave me."