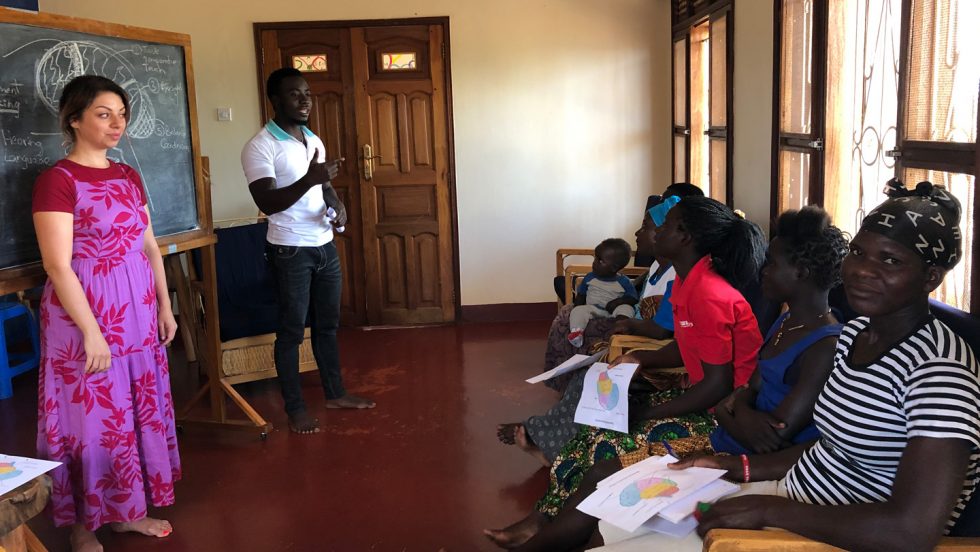 Melissa Randazzo, PhD, assistant professor of communication sciences and disorders, is taking her expertise to Uganda to train educators and therapists there.
Melissa Randazzo, PhD, Assistant Professor of Communication Sciences and Disorders is bringing her expertise to train educators and healthcare professionals in Uganda.
During the summer of 2019, Dr. Randazzo, who previously co-directed Teachers College, Columbia University's graduate study abroad program for speech pathology in Cambodia, spent a week in Uganda with Imprint Hope, a nonprofit organization that provides training, rehabilitation and support for parents and their children who have disabilities.
Her work with the organization began as what she says was a fact-finding mission to explore how to expand Adelphi's Communication Sciences and Disorders program's global practice through collaboration with organizations outside the United States.
Today, she continues to work remotely with the Imprint Hope team, demonstrating how global partnerships can continue even in an age of travel restrictions and social distancing.
A Shortage of Speech Pathologists
Dr. Randazzo learned about Imprint Hope from Chelsea Rojas '18, who had volunteered with the organization while a student at Adelphi.
Although Makerere University, Uganda's largest and oldest university trains speech pathologists from the country and across the east and central Africa regions, Dr. Randazzo said there are very few speech pathologists in Uganda. The demand for speech pathologists is large as there is a high incidence of birth injuries, malnutrition, and lack of access to healthcare. Although improving, stigma and discrimination towards people with disabilities persists in Uganda.
Imprint Hope and Speech Pathology Practice in Uganda
Imprint Hope was founded in 2016 by Clare Byrne, an American occupational therapist, in a bid to fight the stigma and discrimination and to provide rehabilitation and medical services to children with disabilities. Dr. Randazzo found Imprint Hope a good choice for possible collaboration. She is drawn to the organization's work training local professionals in education and rehabilitation, which lessens the center's reliance on bringing in professionals from abroad.
Imprint Hope hosts parents and their children for six weeks at their center in Jinja. The parents are educated about the human body, the specific type of disability their child is diagnosed with, and basic health and hygiene. The children receive physical therapy, occupational therapy, special education, and medical care, while the families receive counseling, job training, and microfinance loans during their six-week stay at the center.
During her weeklong visit, Dr. Randazzo worked with visiting speech pathologist Samantha Dalmas to set up Imprint Hope's first speech and feeding clinic. Additionally, Dr. Randazzo educated the Imprint Hope team on how to conduct basic hearing screenings and write interprofessional goals as a team. She taught Imprint Hope families about the brain, speech, and language. She also worked closely with the special education teacher on strategies to support academic access for children with disabilities.
Collaborating Virtually
Today, Dr. Randazzo said, "I help the special education teacher come up with ideas for working with the children in a group setting, "and I am in constant contact with Clare about how I could get back there to help work toward the bigger project."
Imprint Hope is looking to build a bigger rehabilitation center which when completed, Dr. Randazzo said, will provide a lot more opportunities for Adelphi to support their work. Imprint Hope is also planning to build inclusion programs in government-run schools, which creates an opportunity for Adelphi's College of Education and Health Sciences faculty to support educational access for children with disabilities abroad.