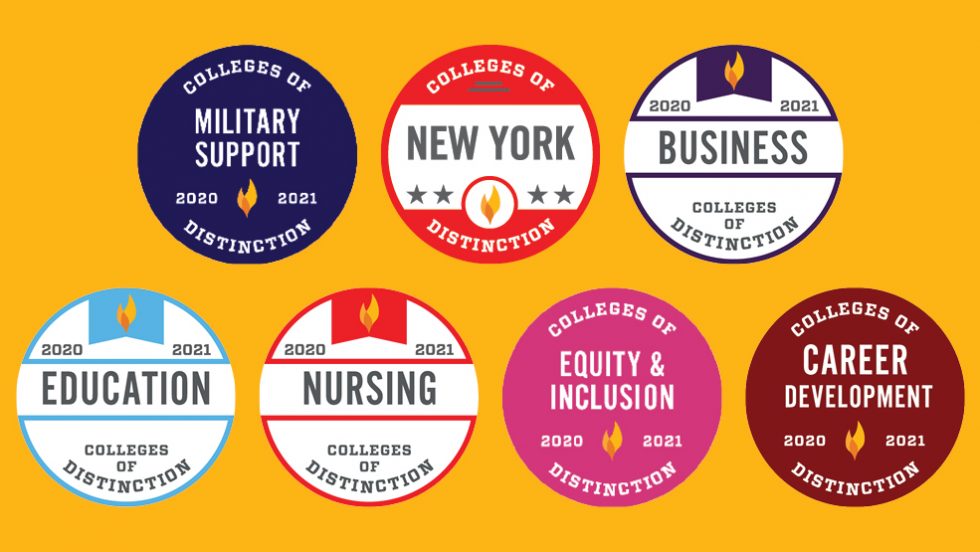 Adelphi University's commitment to helping students overcome obstacles and achieve academic and personal success has earned the institution several badges from Colleges of Distinction, a guide for college-bound students. The University was first honored with a Colleges of Distinction badge in 2010.
After detailed interviews and in-depth research on Adelphi, Colleges of Distinction determined that the University met the criteria for the organization's primary distinctions: engaged students, great teaching, a vibrant community and successful outcomes. In turn, Adelphi was honored with seven badges, stretching across six specific areas of the University.
In addition to an overall citation for the University as a whole, this year, Adelphi has received special recognition in military support, business, education, nursing, equity and inclusion, and career development. These additional accolades reflect a need for colleges that focus not only on course material, but also in developing practical and soft skills. Adelphi has met these needs with a blend of liberal arts education, program-specific training and abundant opportunities to prepare students for the real world.
"Each school is different, just as every student is different," said Wes Creel, CEO of Four Distinctions, the organization behind Colleges of Distinction. "There is no number-one college for everyone, so we never rank those in our cohort. Adelphi's inclusion is informed by the unique ways it commits to achieving success."
Since its founding in 2000, Colleges of Distinction boasts its long-standing support for student-centered schools that are primarily focused on student success and satisfaction. Instead of relying on just on peer reputation, size of endowment and alumni salaries, the resource focuses on showcasing positive student experiences.
"It's inspiring to see firsthand Adelphi's commitment to providing students with a personalized education experience," said Stephanie Espina, director of Undergraduate Admissions at Adelphi. "We have a responsibility to ensure success for all students and to establish an unforgettable sense of community for them, starting with our very first interactions."
See more about Colleges of Distinction at collegesofdistinction.com.