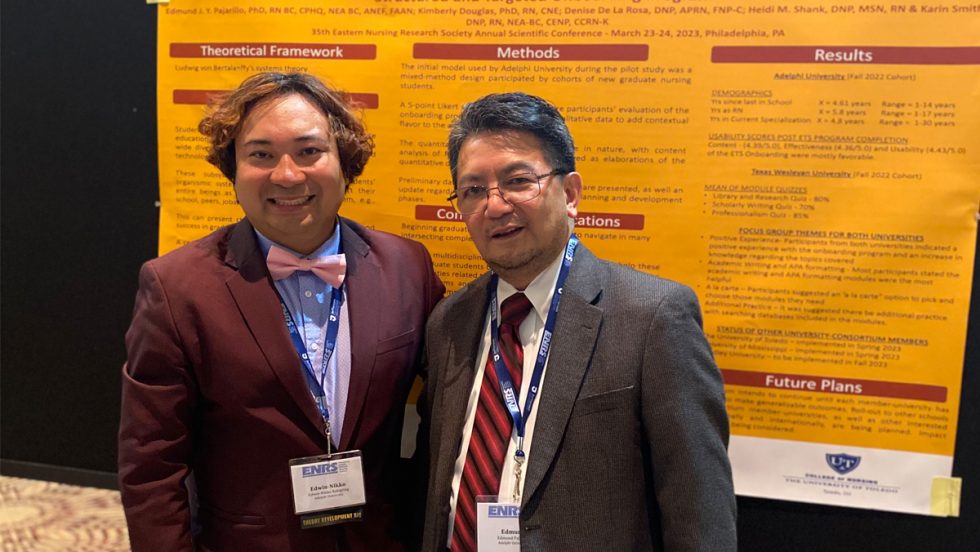 College of Nursing and Public Health faculty presented on a variety of topics at the Eastern Nursing Research Society (ENRS) 35th Annual Scientific Sessions, which took place March 23 and 24 in Philadelphia.
Two presentations dealt with palliative and end-of-life care—both involving Assistant Professor Zainab Toteh Osakwe '06, PhD. One of her presentations concentrated on "Integration of Hospice and Palliative Care Into Undergraduate Nursing Education," with Associate Professor William Jacobowitz, EdD; Professor Marilyn Klainberg, '63, MS '77, EdD; and Charleen Jacobs '06, a CNPH PhD candidate who worked during the summer as Dr. Osakwe's research assistant.
Dr. Osakwe also presented on the "Association Between Neighborhood Disadvantage and Hospice Use in the U.S.," with Kaydeen Pierre, an Adelphi sophomore premed biology major who works as Dr. Osakwe's research assistant.
The other CNPH presenters delved into a variety of subjects. "Development of the Informational Brochure on Cervical Cancer and Pap Smear Testing in Botswana," for instance, was the poster presented by Associate Professor Ditsapelo McFarland, PhD.
Joy Scharfman '78, PhD '23, senior adjunct professor, presented on "Exploring Nurse's Perceptions of Nursing Presence in Mental Health Setting." Shan Liu, PhD, associate professor, was Dr. Scharfman's presentation adviser.
Professor Edmund J.Y. Pajarillo, PhD, spoke on "Addressing New Graduate Students' Professional, Personal, Academic and Technological Inequities Through a Structured and Targeted Onboarding Program."
Edwin-Nikko Kabigting, PhD, assistant professor, was the facilitator for ENRS' Research Interest Groups.
Assistant Professor Karen Mancini, PhD '16, attended as a representative of the PhD Council, CNPH's internal council for the PhD program. She is also a member of the ENRS Theory Research Interest Group.
Dr. Pajarillo and Dr. Kabigting also served as abstract reviewers for the Scientific Sessions, as did Dr. McFarland; Annie George, MS '11, PhD '20, adjunct faculty; and alumna Carol Soto, PhD '15, a professor at Queensborough Community College.
Other CNPH alumnae who presented at ENRS included Lily Thomas, PhD '99, vice president of system nursing research at Northwell Health's Institute for Nursing, and Professor Donna Nickitas, PhD '89, interim provost and executive vice chancellor for academic affairs at Rutgers University's School of Nursing.
Dr. Thomas participated in a workshop titled "The Nurse Scientist Role in Advancing Disciplinary Knowledge Through Research: Opportunities and Challenges," while Dr. Nickitas served on the publishing panel "Mentoring Colleagues Through Manuscript Submission, Review and Publication."