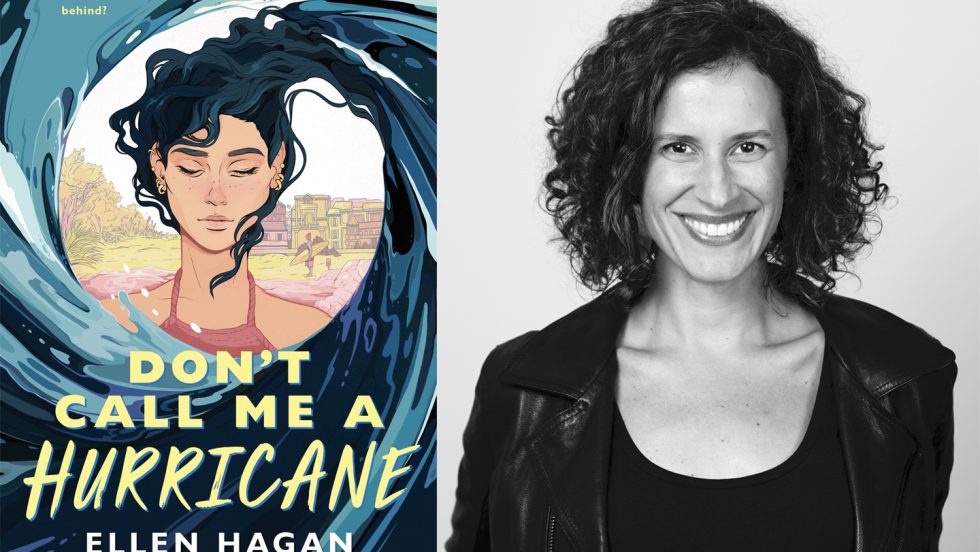 Growing up, adjunct faculty member Ellen Hagan's first love was poetry. She began her journey as a poet, which led to her becoming a teacher. She's been an educator for more than 20 years and co-leads Adelphi's Alice Hoffman Young Writers Retreat for high school students every summer. Hagan has been drawn to poetry since the seventh grade, and she also loves "the idea of following a story," she said.
"I was writing poetry and I was trying to figure out how to write novels," said Hagan. "All of a sudden, I got this idea of a novel in verse because I was reading other novels in verse that were very much inspirations to me."
That idea soon became Hagan's third young adult novel, Don't Call Me a Hurricane, published by Bloomsbury and releasing in July. The story follows a group of student environmental activists who live through a hurricane on their island home. It's the summer before their senior year of high school and their biggest action is protecting the Clam Cove Reserve, an area of marshland that's in danger of being destroyed and becoming overdeveloped. While trying to protect the reserve, the main character, Eliza Marino, finds herself falling in love with a tourist who is holding on to a secret.
"This one feels like the biggest love story that I've written," said Hagan. "I had so much fun writing this book because it felt like even though they were dealing with very serious issues, they kept coming back to this core of friendship and finding love."
Inspired by the Classroom and Climate Change
"Everything I do in the classroom fuels what I do as an artist," she said. When writing her upcoming novel, she explored climate change and climate justice with her students. The book is set on Long Beach Island on the New Jersey shore, which is also where her family lived for 20 years. Though Hagan grew up in Kentucky, her family was affected by Hurricane Sandy, the destructive hurricane that occurred in 2012.
"The more I followed what's happening in this global crisis, the more I thought, 'How does art respond to some of these issues?'" she said. "'How do young people speak back to what's happening? How do you create and begin to be in dialogue with some of these larger social justice issues?' That's really what inspired the book."
Sharing the Stories of Young Minds
After graduating from the University of Kentucky with her Master of Fine Arts, Hagan went straight into teaching. Creating art with her students not only informs her work but gives her a space to write authentic stories that encourage young minds to use their voice and stand up for what they believe in. She does this in her previous young adult novel, Watch Us Rise (Bloomsbury YA, 2019). Co-authored with Renee Watson, New York Times bestselling author, the book follows two high school students tackling social justice issues.
"I'm always looking to young people as my guides," she said. "As an educator, it is absolutely a back-and-forth. I am hopefully teaching them, but they are, at the same time, teaching me. It's a constant dialogue. So I am hopeful that the work I do speaks to them."
Hagan has now written three young adult novels and has published three poetry collections. Her poems and essays have been published in Underwired Magazine, She Walks in Beauty, Huizache, Small Batch and Southern Sin. She advises aspiring writers to write as much as they can and find their voice.
"My biggest superpower is that I am able to be an educator," she said. "I've been lucky to have that gift of teaching, and I think that absolutely informs all the work that I do as an artist."