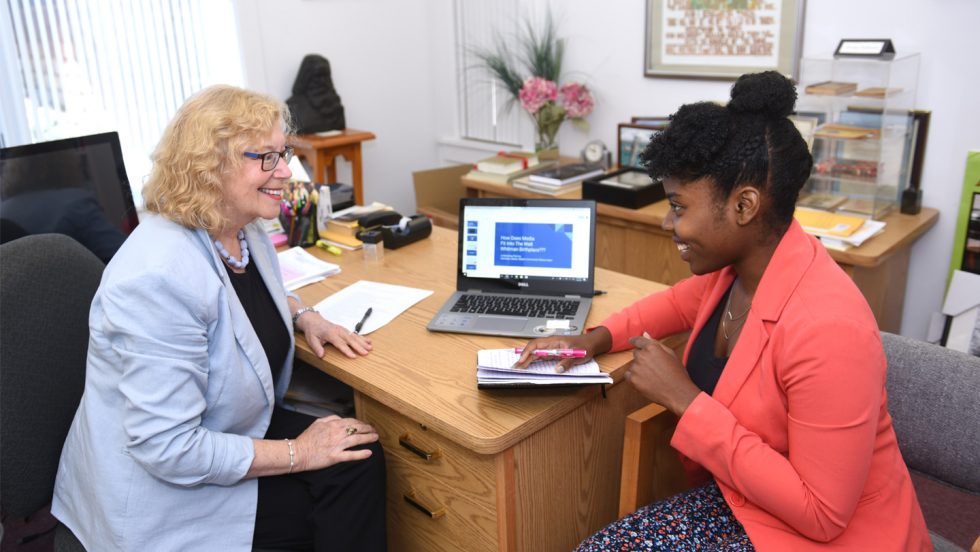 The results from Adelphi's 2020 Undergraduate and Graduate Outcomes Report are in: Not even a global pandemic can keep Adelphi's award-winning Center for Career and Professional Development career educators from preparing students for lifelong personal and professional success.
Each year, the National Association of Colleges and Employers (NACE) conducts a First Destination Survey that tracks the progress of new college graduates as they enter the job market. As in past years, Adelphi encouraged graduate and undergraduate degree recipients to participate in its Graduate Outcomes Survey, aligned with the NACE study, in order to track the progress of Adelphi graduates as they enter the job market.
Thomas J. Ward Jr. '93, assistant vice president for career development and strategic partnerships in the Center for Career and Professional Development, noted that the expectations for career outcomes for these recent graduates were understandably softer than in past years due to the pandemic. "We're all in the struggle together," he explained. "During these turbulent times, our recent graduates have experienced additional challenges in terms of securing employment. At the same time, there is plenty of good news to prove that Adelphi is getting it right."
Graduates Are Advancing Professionally
Of the Class of 2020 survey respondents, 94 percent reported that they received job offers either prior to graduation or within three months of having graduated. The greatest percentage—46 percent—of new baccalaureate graduates reported landing jobs in healthcare and education. More than 52 percent of new master's degree graduates also reported being hired in the healthcare and education fields.
"Other good news comes from knowing that $70,750 was the average annual salary reported by Class of 2020 respondents who were employed full time," Ward added. "That figure is 28 percent greater than the average annual salary of $55,260 for Class of 2020 bachelor's degree graduates, according to NACE."
Graduates Feel Primed for Success
An Adelphi education is a transformative experience—and one that is valued by the University's newest alumni. The survey reports that 93 percent of the new baccalaureate and master's degree graduates say that Adelphi increased their intellectual curiosity, ability and potential as a curious, successful person.
According to 93 percent of the baccalaureate and 94 percent of the master's degree respondents, graduating from Adelphi University increased their understanding of the roles and responsibilities of professionals in their fields—a key asset in preparing for career success.