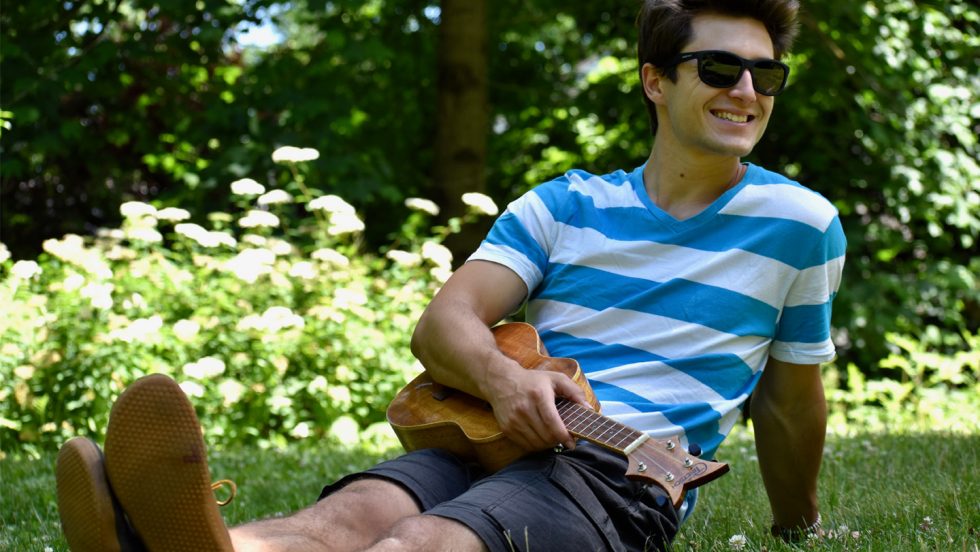 How do you get to the Adelphi PAC Living Room? Practice, of course, plus a webcam and you're there.
That's how Christopher Trietsch '17 was able to appear on the hallowed, virtual stage in August, putting a second cap on his time at Adelphi with a livestreamed performance playing the ukulele he built for his Honors College thesis project.
Trietsch majored in physical education but it was his lifelong interest in music that led to his thesis project. Growing up on Long Island, he watched his parents and their friends swapping songs in the backyard and wanted to be a part of the picture.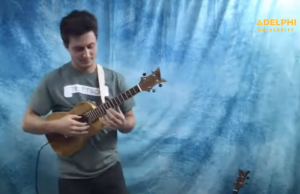 After discovering ukulele sensation Jake Shimabukuro, young Chris knew he'd found his passion. He and his father (a luthier—a maker of stringed instruments—who'd crafted his own guitars) built his first uke together, and years later, Treitsch proposed building another one—and fully documenting the process—for his senior project. He designed and built a new instrument—a baritone, larger than the standard ukulele—and since graduating has recorded an album on the instrument. He also plays it on his Live from the Adelphi PAC Living Room performance, which is still available to stream via YouTube.
"Because [the ukulele uses] a different scale, you research spacing of frets and you also compensate it," he explained. "It's very technical and luthery."
An Often-Overlooked Musical Instrument
While ukuleles may seem to have a built-in giggle factor, his thesis adviser, Richard Garner, PhD, then dean of the Honors College, stressed that it was a serious effort.
"I would compare this to the work done by our students whose thesis is based on a portfolio of their own artwork or a senior recital—they do some research to pick a program," he said. "But their performance is the real thing. They write an accompanying essay.
"Some people might think this is something you build from a kit," he added. "Not so. Chris first did a lot of research. What kinds of wood are used? What different qualities do they finally bring to a finished instrument? It might be helpful to think about what goes into selecting wood for a violin or a piano. People tend to think of these more traditional noble instruments as requiring great expertise. The ukulele presents the same problems.'"
After graduating, Trietsch had time to focus on the instrument, and on the landscape around him, resulting in Beginning Today, his self-produced recording of his own ukulele compositions based on the sights and sounds of Long Island.
"It was another awakening," he said. "I could breathe and see everything around me and say, yeah, I chose to be here."
Trietsch remains on Long Island today, teaching tae kwon do at the Albertson Martial Arts Training Center—he has competed nationally in martial arts—while looking for ways to promote his new record. A scheduled performance at Rockwood Music Hall in Manhattan had to be canceled under the lockdown, but he was able to make another online appearance in June via the Brooklyn Ukulele Festival.
Adelphi in the Family
Trietsch isn't the only musician in the family. His father plays guitar in addition to building instruments, and his mother, who served as producer for the record, sings and plays piano. It's also an Adelphi family. His brother, Michael Trietsch '14, who plays clarinet and saxophone, participated in the Adelphi/Columbia University joint degree program, earning a BS in physics from Adelphi and a BS in mechanical engineering from Columbia University in 2016 (he also obtained an MS in mechanical engineering from Columbia). He is now a designer for Con Edison. Their sister, Carolyn Trietsch '12, MS '14, PhD, received her bachelor's and master's degrees in biology from Adelphi and her doctorate in entomology from Penn State University, where she is currently employed as a technical communication specialist.
"I naturally followed in my brother and sister's footsteps, being the youngest sibling," he said. He did look around at other exercise science programs, but "Adelphi gave me the best scholarship; it made the most sense for me.
"I'm glad that I did," he added. "I wouldn't have had this opportunity in building my own ukuleles."
An Alum's Online Presence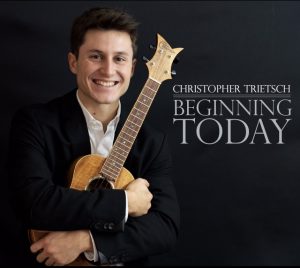 Trietsch posts on his Facebook and Instagram accounts and maintains a YouTube channel, where viewers can watch him perform his original compositions as well as Beatles standards, Eric Clapton's "Tears in Heaven" and excerpts from video game soundtracks such as Legend of Zelda. His album can be heard through various streaming services accessible on his website.