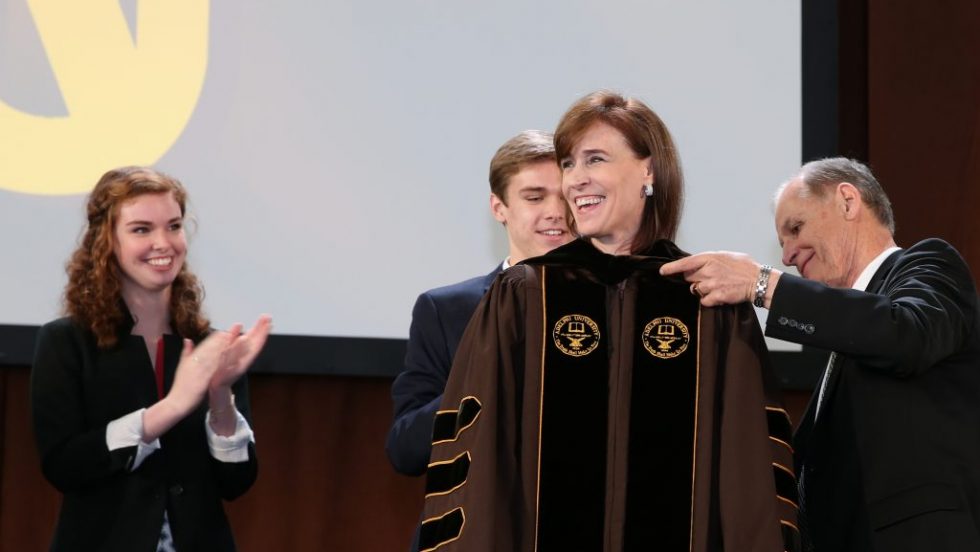 Dr. Riordan shared her vision for Adelphi with an audience of hundreds of faculty, students, staff, alumni and representatives of other universities.
An audience of hundreds packed Adelphi's Center for Recreation and Sports on Friday, March 11, 2016, for the Inauguration of Christine M. Riordan, Ph.D., as Adelphi's 10th president. Dr. Riordan is the first woman to lead Adelphi in its 120-year history, and she told the assembled guests that she was "extremely proud" of setting the precedent. Newsday, News 12 Long Island and other outlets from across Long Island covered the event.
In her 25-minute address, Dr. Riordan laid out her strategic vision for Adelphi, which revolves around four imperatives. In her words, Adelphi will be relentless in its commitment to student success. It will enhance and strengthen its core academic programs. Adelphi will be a model for creating and maintaining a diverse and inclusive culture, and it will be a connected university
"Education is changing the world and our students' success will change the world," Dr. Riordan said.
Joining the hundreds of Adelphi faculty, students, staff and alumni were delegates from more than 50 institutions of higher education.
The festive ceremony opened with "Inaugural Fanfare for President Riordan," an original composition by Paul Moravec, university professor and winner of the Pulitzer Prize for Music. It closed with a lively performance by Adelphi students and alumni of "Seasons of Love" from the hit Broadway musical Rent, written and composed by Jonathan Larson '82.
Dr. Riordan's historic inauguration was covered by a number of media outlets, including The Corridor magazine, Long Island Herald, MyLITV, FiOS1 News Long Island, Anton Media Group, The Delphian student newspaper and the blog Her Campus Adelphi.
Read the full story in Newsday.