Student Danielle Hyatt talks about her internship with New York Cares and how it led to her job at IBM, thanks in part to Adelphi's internship opportunities.
I was fortunate enough to be selected for the Jaggar Community Fellows Program at the end of my freshman year and Junior year at Adelphi University. I was the training and professional development intern at New York Cares, where I helped facilitate workshops and served as the main point of contact for community partners. I loved coming into the office every day to meet new people who were passionate about community service.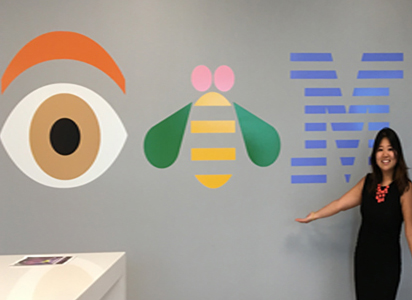 After my internship ended, I made it a point to stay in touch with my managers at New York Cares. When I got my offer letter from IBM in the fall of my senior year, I was excited to tell my previous managers. Not only were they happy for me, they also offered me a part-time job as a children's education programs associate. I was happy to lend a hand until the end of my senior year. I engaged with over 30 community partners and team leaders to organize and implement their volunteer projects. I learned a great deal about planning and managing large events and even got the chance to attend several of them.
Thanks to my internship, I learned the importance of maintaining connections. This prepared me for my first full-time position as a business transformation consultant at IBM. I knew consulting would be exciting and fast-paced, but I learned firsthand how important networking is in this field. As a consultant, I have to take charge and seek project opportunities for myself. Therefore, I need to maintain my relationships with those I worked with previously in order to reach out to them when looking for projects. If it weren't for my past internships, I would find networking to be much more difficult.