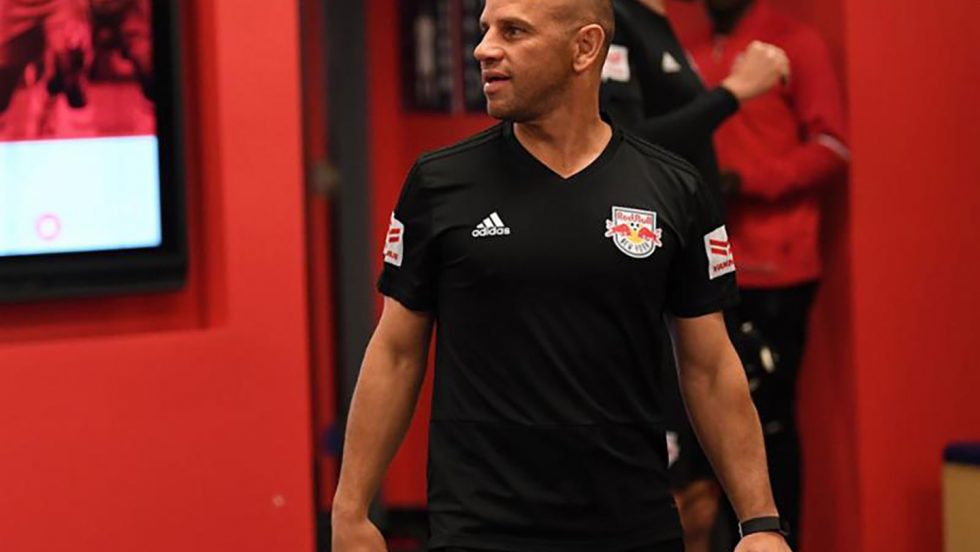 There's no limit to how far an Adelphi background in soccer and a strong work ethic can take you.
Just ask Chris Armas '94.
The former star midfielder for the Panthers and one-time head coach of Adelphi's women's team reached the elite level in soccer coaching in December 2021 when he became an assistant coach for one of the world's most famous clubs, Manchester United, of England's Premier League.
Armas landed the coveted position when Manchester United hired Ralf Rangnick as its interim manager for the remainder of the 2021–2022 season, which ends in May. The German-born Rangnick, a highly respected strategist, worked in management for the New York Red Bulls of Major League Soccer when Armas coached there as an assistant from 2015 to 2018 and as the head man from 2018 to 2020.
A global spotlight is on Armas, who runs Manchester United practice sessions, as the team competes for a title in the Champions League, a 32-team tournament that features Europe's best soccer clubs. The Red Devils are also battling to stay in the top four in the Premier League, which would qualify them for next year's Champions League.
A 2005 inductee in the Adelphi University Athletics Hall of Fame, Armas has long impressed many with his soccer intelligence and grit. Despite being among the smallest players on the pitch at 5-foot-7 and 150 pounds, Armas still made his presence felt in games and got the most out of his talent. If not for a serious knee injury in an exhibition match in Washington, D.C., Armas would have played for Team USA in the 2002 World Cup.
"Aside from the physical pain of an ACL tear, there's a psychological and mental pain as well," Armas told Adelphi University Magazine in a Spring 2015 article. "You're very alone in those moments."
Armas was born in the Bronx and raised in Brentwood, New York. He graduated from Adelphi in 1994 with a degree in physical education and went on to star for 12 seasons in Major League Soccer, helping lead the Chicago Fire to the 1998 championship. He was a six-time All-Star and was USA Soccer Athlete of the Year in 2000.
"Chris has taken the lessons learned on and off the soccer pitch at Adelphi University, along with those from his youth on Long Island, and taken them to the highest levels of his profession," said Danny McCabe, Adelphi's director of athletics and campus recreation. "One of the great things about Chris is that he never forgets from where he came. His passion for Adelphi, for Long Island and for youth soccer always remain. He's one of the truly genuine people in professional sports."
For Armas, getting the Manchester United job five months after being replaced as head coach of the Toronto Football Club, a dysfunctional team in the MLS, may have felt like falling out of a tree and hitting the ground running.
Manchester United has a global fan base, and expectations are always sky-high. The Red Devils have won a record 13 Premier League titles—but none since 2012–2013.
The club hired Armas to help change that. He's working with a star-studded roster, which includes midfielder Paul Pogba, defenders Harry Maguire and Raphaël Varane, and striker Cristiano Ronaldo, one of the greatest goal scorers in history.
If Rangnick, the interim manager, isn't offered the job full time, he has a two-year consulting contract with Manchester United to fall back on. Armas' status after the season is less certain. Club management may judge him on whether he can mold a group of talented yet inconsistent players into a championship team by season's end.
This much is certain: The entire soccer world will be watching.